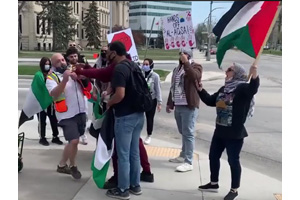 By BERNIE BELLAN
Now that a ceasefire has been put into effect between Israel and Hamas, we can take stock of the tumultuous 11 days that began with rockets being fired from Gaza into Israel beginning on Monday, May 10, until a ceasefire was declared May 21.
The repercussions of the often hateful divisions that came to the surface between pro-Israel and pro-Palestinian groups around the world will undoubtedly be felt for a very long time. In Canada rallies of pro-Palestinian groups were often met with counter rallies by pro-Israel groups.
Winnipeg was also the scene of some bitter taunts exchanged by supporters of both sides at a pro-Palestine rally that was held on Saturday, May 15, and which saw some 50 pro-Israel supporters show up in counter protest. Confrontations between individuals on both sides led to sporadic physical confrontations, with one pro-Palestinian woman knocked to the ground. (She was also handcuffed by members of the Winnipeg Police Service, although later the WPS admitted that was a mistake.) An Israel flag was torn from the side of a car and set afire.
The organizer of the pro-Israel rally, Ron East, was also accosted at one point.
But, Ron East was not only involved in confrontations with pro-Palestinians, he was also highly critical of the Jewish Federation of Winnipeg for not lending support to his rally.
In response, the Jewish Federation took the highly unusual step of responding to the criticism that it was not being sufficiently supportive of Israel.
In a statement issued by the Federation on Friday, May 14, it was noted that "We have been made aware of plans for an in-person rally for Israel at the Manitoba legislature. This event was not planned by or done in consultation with Winnipeg's organized Jewish community, and we would never encourage members of our community to gather on the Sabbath or in contravention of current public health orders."
Ron East, the self-styled protector of the Jewish community here, said in response: "Our federation is worthless when it comes to this sort of thing. It is despicable that they say that."
In a subsequent email sent out to members of the Jewish community on May 19, Elaine Goldstine, CEO of the Jewish Federation, and Joel Lazer, President of the Federation, further clarified the Federation's position re the May 15 rally:
Dear Community Members,
These are difficult times for all of us. We have watched with great concern and heartbreak as the violence in Israel and Palestinian Territories has escalated with each passing day. As casualties mount on both sides, we pray for calm and a cessation of hostilities without delay.
Unfortunately, we have also seen this unrest spill outside of Israel's borders and into Winnipeg's streets. The rallies that we have seen in recent days do little to further the cause or argument of either side, creating further resentment and animosity all around.
While we believe that members of our community should have the freedom to express their opinions without fear or concern, it is also our responsibility to ensure that we are taking actions to unite rather than divide.
Fanning the flames of this conflict through harmful rhetoric only benefits those who have no interest in peace. Any demonstrations that occur should be peaceful, conducted respectfully, and free of violence. They must also be in strict abidance of public health orders, especially while province-wide restrictions are at the critical level.
As a Jewish Federation, our support of Israel is unequivocal. Hamas and Islamic Jihad calling for the murder of Israeli citizens, using Palestinian civilians as human shields, and targeting Israeli civilians with unrelenting rocket fire is unacceptable and must be condemned in the strongest possible terms. We believe that Israel has a right to defend itself and its citizens from these threats, as any other country would.
We pray for a time when Israelis and Palestinians will look towards each other as neighbours and co-exist in peace. Am Yisrael Chai.