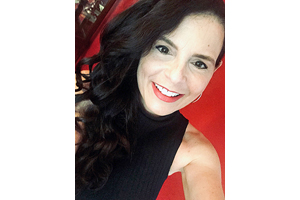 By MYRON LOVE Mindy Barsky – Rainbow Stage's new Development Officer (as of April 4) – says that she is very excited to be a member of the team behind the non-profit organization that is Canada's longest running outdoor summer theatre.
And, as it happens, the always popular theatre's second production this year is "The Wizard of Oz" (scheduled to run from August 22 to September 4), Barsky's favourite show.
(The opening musical this year is going to be "The Hockey Sweater" – June 30-July 17 – based on Roch Carrier's short story about his boyhood experiences growing up in rural Quebec in the 1940s and one vignette in particular about what happens when he is forced to show up for one hockey practice wearing the jersey of hated Toronto Maple Leafs instead of the de rigueur Canadiens colours.)
As William Shakespeare once wrote, "All the world's a stage and all the men and women merely players". During her career, the daughter of the late Percy and Shirley Barsky has played many a starring role, most built around the theme of working with historically marginalized communities and people facing barriers.
As was noted in a Rainbow Stage press release announcing her appointment, "Mindy is a dynamic development and fundraising professional in the non-profit sector. Her fund development expertise includes major and annual giving, donor cultivation and stewardship, grant writing, signature events, special projects, corporate and individual donations, government grants and planned giving campaigns. Over the past two decades Mindy has focused on improving the quality of life through special projects and raising funds for education and mental health programs."
Mindy grew up in Garden City, attended Talmud Torah and Joseph Wolinsky Collegiate, The University of Winnipeg Collegiate and York University.
Her first role in life was in dance. She studied dance at York University and upon returning to her home town, taught dance at the University of Manitoba, Royal Dance Conservatory and Kid's Etc.
"I was always interested in becoming involved in social causes," she says.
Her first opportunity came in 1989 when she was hired as Director of Communications & Fundraising for Age and Opportunity Inc. "During my time there, we established Canada's first elder abuse research centre," she notes.
Other organizations that have benefitted over the years from her abilities have included: Food Matters Manitoba (where she was involved in fundraising and project development); The DASCH Foundation (Direct Action in Support of Community Homes), where she launched a successful Planned Giving Program, and created The DASCH Recognition Awards; and Villa Rosa – an organization that provides transitional housing, education, and supports for women from very complicated backgrounds in varying stages of pregnancy.
One of the highlights of her time as Director of Development at Villa Rosa was the creation of an outdoor teaching garden alongside knowledge keepers, with an emphasis on Indigenous culture. Mindy established the annual Villa Rosa Celebration of Motherhood Dinner, awarding scholarships to underrepresented women and opening doors to a post secondary education.
Barsky's most recent posting was as the Fund Development Officer at The Link (formerly Macdonald Youth Services MYS where, alongside the Indigenous Initiatives Team, she helped to create and raise the capital for the Planting the Seeds of Reconciliation Project wherein Manitoba community members connect with their culture through intergenerational ceremonies and land-based education.
She also developed the concept and raised project funds for a bike sales and repair shop in a repurposed shipping container at MYS, providing youth with practical employment skills training.
At Rainbow Stage, Mindy Barsky will be working on securing grants, donations and sponsorships for the theatre, as well as developing outreach programs for underserved youth in the community, focusing on offering training and education in the performing arts.
Outside of work hours, Barsky devotes a lot of time to running – and cites one of her role models as her late Aunt Laila Silverberg, who began running in her late 50s and never stopped – racking up numerous records in her age group as the years went by. Barsky herself has been running for close to 40 years and has numerous marathons and half marathons on her resumé.
"I am passionate about what I do," she says. "If I believe in an organization, I believe that I can help make a difference."