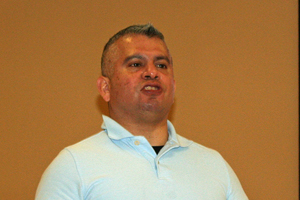 By BERNIE BELLAN Gerry Almendrades was born in Peru and served 20 years in the Canadian Armed Forces. In his current role he is the Director of Community Security for CIJA (The Centre for Israel and Jewish Affairs).
On Tuesday, May 3, he was in Winnipeg as part of a three-day tour of various Jewish facilities, including the Asper Campus, Winnipeg synagogues, and other Jewish community organizations.
I was already at the Campus to attend a Bridges for Peace luncheon, and while I was there Adam Levy, Public Relations & Communications Director for the Jewish Federation, who was also at the luncheon, asked me whether I'd like to attend a briefing that was to be given by Almendrades later that afternoon.
"Sure," I thought: "Why not? Might be interesting."
However, as pertinent as some of the information that Almendrades ending up giving might have been, his briefing turned into a two-hour lecture – which really could have been easily condensed into three simple words: "Run, hide, defend."
That was the easy to remember line that Almendrades emphasized repeatedly during his talk. Probably the most useful part of his presentation was when he played a very well done video made by the Peel Regional Police Force that showed an imaginary enactment of an armed perpetrator, armed with a rifle, making his way into a building and proceeding to go from room to room searching for victims to shoot.
The actors in the video attempt to leave the building by means of available exits, but some of them are unable to do so, so they end up hiding in different rooms. They lock doors, barricad them where possible, turn off lights and, where closets or storage rooms are also available, hide there as well.
It was all quite scary to watch, although used as we all are to seeing depictions of that sort of thing in films and TV programs, as well as videos of actual incursions, we're well innured to seeing how people react when an attacker or attackers invade a building in which they are either working or visiting. It's inevitable that people will panic, Almendrades said, but try to get out or hide, rather than confront the attacker, he warned.
Almendrades also reminded attendees at the briefing to silence their phones – but not to turn them off entirely in an attack situatiion.
And yet, should not everyone be able to escape an attacker or remain hidden, as a last resort, Almendrades said: Defend yourself. "Improvise defensive tools", such as a fire extinguisher, scissors, whatever is at hand, he said. "Work together as a team, there's strength in numbers."
Almendrades also suggested that every organization do a "security audit," looking for weak spots within their buildings that might allow an attacker to gain entry, and to educate workers within those buildings upon proper escape routes and where the best places to hide might be, should someone not be able to escape in time.
Still, as someone who used to have an office located within a local synagogue, I was well used to being able to see individuals at the front door of that synagogue on the closed circuit screen that was in our office. More often that not, they were delivery personnel, holding some sort of package. If you've ever seen "Three Days of the Condor," which is one of my all-time favourite movies, you'll understand that the first line of defense against any would-be attacker is to make absolutely sure you can authenticate who they are before they gain admission into your building.