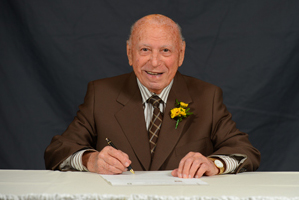 With the death of Abe Simkin last month in California, the last surviving member of his generation of the Simkin clan is now gone. You can read Mr. Simkin's obituary elsewhere on this website at http://jewishpostandnews.ca/obituaries/520-abraham-abe-simkin, but we present here an excerpt from Abe Simkin's life story as it appears in the Jewish Foundation's Book of Life. This excerpt was written in 2012 when Mr. Simkin had just turned 90:
Abe Simkin was born in 1922 in Winnipeg to Samuel and Fanny Simkin (née Breslovsky). Abe's parents arrived in Manitoba in 1908 after marrying in Russia in 1907, settling first in Winnipeg and then moving to a farm in Pine Ridge. Abe was the youngest of seven children, and is the only surviving member of his original family. Abe's brothers were Jim, Saul, and Israel (Blackie). His sisters were Jen (Cohen) and Clara (Erlichman). A third sister, Esther Malka, died at the age of two. Life on the farm was difficult, but Samuel still managed to make a living from the challenging soil and despite poor economic conditions. Samuel and Fanny were driven by hard work, a commitment to Yiddishkeit, and an unwavering belief in the importance of family and Jewish education. Those values have served as a vital foundation for Abe throughout his life. In 1928 when Abe was still a young boy, the family moved from Pine Ridge to Stella Avenue and Samuel launched Simkin's Fuel, the initial seed of what was to become a remarkably successful family business. As a child, Abe was an accomplished boy cantor in the Talmud Torah choir, once catching the ear of a prominent cantor from New York who offered to take Abe with him to train. (Samuel and Fanny turned down the offer.) Abe also played a lot of sports as a child, but his social life revolved around The Eagles Club. The young teens played sports together, but also debated the politics of the day, and performed acts of community service.
At one point, Abe's brother Saul was looking for some office help. Abe had noticed the cute "Little Fannie Rosenberg" who delivered groceries for her parents, and he told Saul about her. Saul tracked her down at the store while she was scrubbing floors, and invited her to come and work for the Simkins. The rest, as they say, is history.
Meanwhile, Abe's career was beginning to take shape. After success as a student at Talmud Torah, Aberdeen, and St. John's Tech, Abe attended law school at the University of Manitoba. He was the Treasurer of UMSU and active in community affairs, including the Canadian Jewish Congress, Zionist and Israeli organizations, and interfaith and civil liberties activities. One favourite memory is how he successfully helped lobby against admission quotas at the medical school. He was active in Hillel as a founding Vice-President and was President of the Greater Winnipeg Youth Council and, in 1946 at the age of 24, he became the youngest ever electoral candidate for the Manitoba Legislature. Also in 1946, Abe attended the World Youth Conference in London as a member of the Canadian delegation. While he was away, his fiancée Fan lovingly typed out notes from one of Abe's classmates so he wouldn't fall too far behind in his studies. Abe graduated in 1945 and he and Fan were married in 1946.
Abe, who was appointed Queen's Counsel in 1971, launched a successful legal practice with Alex Cantor, QC, and Roy Matas under the name of Cantor, Matas & Simkin which later became Simkin, Cantor, Goltsman & Rosenberg, and then Simkin, Gallagher. A highlight of Abe's legal career was his 25 years of idyllic partnership with the late Mr. Justice Roy Matas, an outstanding Manitoba jurist.
In 1968, Abe started to work with his brothers while still practising and pursuing his own business interests. Abe became president of BACM Industries, the family's construction enterprise, which later merged into Genstar Ltd. Abe became active in numerous business ventures from real estate development to electronic data management to part ownership of the original Winnipeg Jets, and much more. He remains active in business today at the age of 90. Fan was always by his side offering support, advice, and good humour, while battling a series of health issues that reduced her mobility over the years. Fan also supported Abe through his long list of volunteer activities in the community: the JNF, Talmud Torah, Joseph Wolinsky Collegiate, MTC, WSO, the UJA, the Jewish Foundation, and many others, including Zionist and Israeli organizations. He's always been philanthropic and generous with his time.
Abe and Fan raised three sons – Gary, Bernie, and Murray . There are 10 grandchildren and – so far – 10 great-grandchildren. To Abe and Fan, family was – and to Abe, still is – everything. The thrills and satisfaction of success in the business world were easily overshadowed by time spent with immediate and extended family, enjoying each other's company, and sharing vacations and Jewish holidays together.
As a couple, Abe and Fan touched everyone around them with their generosity, enthusiasm, curiosity, stamina, and wit. From modest beginnings in Pine Ridge and Sandy Lake, Abe and Fan built a beautiful life together.
Together, they had a tremendous impact on those around them. Fan passed away in 2009 at the age of 84.