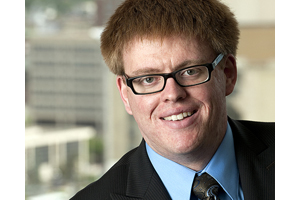 By MYRON LOVE
Seventeen years ago, a Gray Academy high school student by the name of Ari Hanson began doing volunteer work for the Jewish Child and Family Service (JCFS). Today, the 32-year-old tax and civil litigation associate with Fillmore Riley LLP is the youngest president in the history of the JCFS.
"It happened that one day a couple of representatives from the JCFS came to the school looking to recruit student volunteers," recalls the son of Shelley and Hugh Hanson.
"One of the needs was for volunteers to help socially isolated seniors by taking them grocery shopping, out for walks, and to programs in the community. I continued to help my first client for six or seven years, almost right up until she passed away."
His volunteer work resulted a couple of years later in a summer job offer from JCFS, doing what he was already doing as a volunteer but with many more seniors. "That was my first full-time job," he says.
"Each summer, I had a client load of 25-30 seniors whom I would take out weekly for groceries, appointments, walks, or drives. Being a history buff, I really enjoyed hearing their stories."
While working at JCFS in the summers, Hanson was excelling at university, earning the 2012 Gold Medal in law with a grade point average of 4.29 over three years. In an interview with The Jewish Post & News at that time, he credited his success to "hard work and some luck".
(Hanson's undergraduate degree is from the Asper School of Business.)
His decision to pursue a legal career – specifically as a civil litigator, he noted earlier in our interview, grew out of his participation in Gray Academy's debating program. He continued his involvement in debating at university. He was president of the University of Manitoba Debating Union, participating in debates across Canada as both a debater and a judge.
A year or so after he passed the Bar, he recalls, he was approached by Emily Shane – who was the JCFS executive director at the time – with an invitation from the Board's executive team to become a member.
"They were looking for younger board members," he says. "It was a good fit for me because I already knew a lot about JCFS."
He initially joined the Board and the Finance Committee. Two years ago, he was asked to become vice-president. "I developed an excellent relationship with Sherry (Lercher Davis), my predecessor," he says. "I learned a lot from her.
"I am really excited about my new role. The JCFS has always been dear to my heart. I am impressed with all the activities that the agency is engaged in. A lot of people think that the JCFS is only here for people undergoing hard times. But we do so much more. We respond to a wide variety of community needs.
"The JCFS is one of the pillars of our community, along with Gray Academy and the Rady Centre."
Of course, Hanson has assumed his new leadership role at a particularly challenging time for all concerned. "Because of COVID our staff, like many others, has had to transition to providing our services partially or fully remotely," he points out. "I am very impressed with how quickly our staff has adapted.
"As a result of the current situation, many of our older adult client and clients impacted by mental health issues have become more vulnerable and isolated. We are still feeling our way, trying to be as responsive as possible when new needs emerge."
Naturally, he adds, fundraising is a further concern when so many donors are dealing with difficult work situations. The annual fundraising activities of JCFS are very important for purposes of meeting ever-increasing day to day costs and supplementing the generous support received by JCFS from crucial community organizations. On a positive note, the JCFS endowment fund at the Jewish Foundation of Manitoba has grown by more than $1 million in the past fiscal year as a result of significant donor support, and now sits at $3.1 million, he reports.
When not involved in work or JCFS responsibilities, the lifelong North ender indulges his passion for vintage cars. He still has his first car, a '64 Buick Riviera given to him by his grandfather (Yudie Schacter) while in high school, which he drives in the summers and has been slowly restoring over the years.
And, he and his father share a love of vintage car racing. They have a Sunbeam Alpine and a Canadian-built '67 KIKI sports racer that they enter in Canadian competitions.
"My dad's the driver, I'm the crew chief. My mom wouldn't have it any other way," he says.