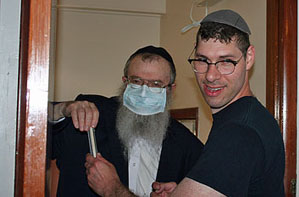 Ed. note: As part of our continuing effort to report on the impact that the COVID-19 pandemic has had on all Jewish organizations and agencies in this city, we present information about Shalom Residences and Gwen Secter Centre based on email exchanges we had with Shalom Residences Executive Director Nancy Hughes and Gwen Secter Executive Director Becky Chisick. We also present information from Rady JCC Executive Director Rob Berkowits about enhanced amenities at that facility.
Shalom Residences update:
We should note that we were invited to attend a mezuzah hanging event at the newest Shalom Residence at 841 Oxford Street, where Rabbi Yitzchok Charytan attached mezuzahs to every room in the house. Previously there were only mezuzahs on the front and rear door frames. Since I was not allowed into the house myself, I asked Nancy Hughes to take my camera with her and take some pictures inside.
Following is information Nancy Hughes provided us about the situation re Shalom Residences. I had asked Nancy what specific impact the coronavirus and subsequent lockdown has had on Shalom Residences:
We now have six homes rather than seven. This past year, we were saddened by the deaths of two long-time residents. There were some internal moves by residents to fill these vacancies and we closed a two-person rented home.
We now support 21 people living in the six homes, eight people in apartments and three people in outreach.
We have one vacancy in one of the community residences (group homes). We want to be able to offer a home to someone to fill the existing vacancy before we would plan for any new home. As well, currently there is very limited funding available for adults with intellectual disabilities for group living. Provincial government funding is given mainly to people who have a critical need to move.
The area where we anticipate expanding the number of people is in apartment living and outreach in the next while.
The most significant impact of the corona virus for us has been that the day programs attended by most of the people we support have been closed since mid-March.
This means all of those people have had to adapt to a big change in routine and we have had to provide a great deal of extra staffing for weekdays.
Our staff are required to wear masks and for a while also had to wear eye shields. The people we support became accustomed to staff in masks and for the most part have gotten along very well staying home with their housemates. Only the three young people at Oxford St who you saw last week have been attending day programs again.
We are particularly grateful for the support we receive from the Jewish Foundation of Manitoba as well as the Jewish Federation of Winnipeg. Above all, we are grateful to our staff who have worked throughout this challenging time accepting the risks involved in front line care and providing comforting and positive support.
If you would like to contact Nancy Hughes to find out more about Shalom Residences, her number is 204-582-7064.
Gwen Secter update
It seems that each time I check in with Gwen Secter's Executive Director Becky Chisick to see how many more meals Gwen Secter is producing and delivering for seniors, she astounds me with an ever increasing number.
In our April 15 issue (which was our last print issue for one month) I reported that the Gwen Secter kitchen staff had just turned out 60 meals for seniors the week of March 30 – April 3 – all free of charge. I also noted that Gwen Secter had stepped into the breach left by Meals on Wheels, which had stopped taking new clients as soon as the province went into lockdown mode on March 13.
Then, in our May 27 issue I reported that Gwen Secter had stepped up the production of meals for seniors to 286 during the last week in May, and to 340 meals the first week in June.
In our July 8 issue the figure had gone up to 400 meals (consisting of four meals a week delivered to individual seniors). The Gwen Secter Centre had also brought on Lauren Cogan as a volunteer coordinator for the meal program.
So, it should come as no surprise that when I contacted Becky for an update as to how many meals the Centre was now turning out, and whether Lauren Cogan was still coordinating the meal program, Becky responded (on July 27): "Last week we distributed 520 meals.
"Lauren Cogan is still the meal program coordinator."
In addition, Becky noted that "We have launched our transportation hotline for medical appointments in partnership with JCFS, thanks to a grant from JFM. The response has been great. We have hired a summer youth, Kendra, through the Canada Summer Jobs program as community development coordinator and she is currently managing the hotline." (In case you didn't see the ad in our July 22 issue for the hotline, the number to call for the transportation hotline is 204-899-1696.)
Rady JCC update
We received the following notice from Rady JCC Executive Director Rob Berkowits:
Someone once said to me that we become what we repeatedly do. That means if you want to live a well-balanced life, not only do you need to create positive daily routines, you also need to live them, day-in and day-out.
For many of us, before the pandemic hit, the Rady JCC was an important part of our daily routines. It was one of the many parts of our everyday lives that helped define who we are. Coming to our facility for a swim, a few laps around our track, or a simple visit with friends was as important as the meals we would eat every day.
When we shuttered our doors back in March, everything changed in an instant. Our daily routines we had worked hard to develop were put on hold, including regular Rady visits.
Well, that was then and this is now.
Fast-forward to June 15, and we reopened our doors to our fitness and aquatics facilities. Those who were ready to come back, did so proudly and cautiously. Members who made their return tell us how great it is to have the Rady back in their daily routines. They tell us about how much they missed this part of their lives. How even the simple things like saying hello to our Rady staff as they make their way upstairs for their workouts make their days better.
Many members who haven't yet returned tell us in order for Rady to be part of their routines once again, we need to add some additional amenities at our facility. Amenities that we temporarily put on hold when we reopened. Amenities that were once part of their routines.
With that in mind, beginning next week on Tuesday, August 4, our men's and women's locker rooms will reopen along with access to our showers. We are doing so with proper physical distancing and sanitization measures in effect. Everything we do is done so with the safety and well-being of our members and staff top-of-mind.
So, if your morning routine used to involve getting a workout in before you head straight to your office, this may be the added amenity that will bring us back in your lives.
For some others not quite ready to return: your daily routines do not include Rady right now. We understand and support your decisions. Please know that when you are ready to have us be part of your routines again, we will be ready to welcome you back through our doors.