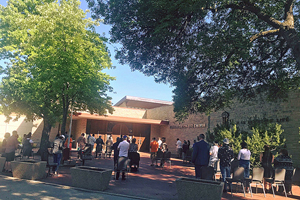 By MYRON LOVE
It is most definitely an understatement to say that this will be a yom tov like no other. In my last year's reporting about high holiday attendance at Winnipeg synagogues (including services held at Camp Massad) in The Jewish Post & News yearly survey of high holiday synagogue attendance I noted that about 4,500 Jewish Winnipeggers at least could be found in shul – at least at peak times – for shofar-blowing, Kol Nidre and yizkor.
This year, however, – due to COVID-19 – in-person attendance will likely be no more than 500.
To begin with, there will be two fewer options: Camp Massad, which usually hosts services for one day of Rosh Hashonah, will not be having any services – and the Saul and Clarabelle Simkin Centre, which has made a practice of including family members of residents in the synagogue services, this year – due to government pandemic regulations – will be restricting services to residents in their units.
"As we did for Pesach and Shavuos, we will be videotaping parts of the Yom Tov services with our chazan, Stephen Hyman, and we will be broadcasting them in each of our five units," says Marilyn Regiec, one of the spiritual health support staff at Simkin. "We will be doing the same thing for Sukkot."
Regiec will be leading the services – with assistance from Aviva Tabac. Regiec also would like to extend a grateful thank you to Barry Kay and his Cherry Tree Productions for doing the video-taping.
As for our community's largest congregations, both Congregation Etz Chayim and the Shaarey Zedek will be offering virtual Yom Tov services – just as they have since the province went into lockdown in late March.
"We still have to be cautious," says Ian Staniloff, Congregation Shaarey Zedek's Executive Director. "Although the government has raised the maximum number of people who can gather indoors to 30% of capacity or 500 (whichever is less) and we may allow some in-person attendance, all of our High Holiday services will be live-streamed."
(Last year, the Shaarey Zedek reported an attendance of more than 1,700 for the High Holidays.)
"We have begun asking the members of our congregation if they would be interested in attending in person, but there has not been much response yet. If we do have some people who would want to come, we would limit the numbers, have people at the door to take their temperatures, maintaining social distancing and sanitizing the seats."
Staniloff adds that the synagogue has a new set of mahzorim that would be distributed to people who are following online so that they could better follow the service.
He points out that Shaarey Zedek has been livestreaming services for several years now.
He further adds that, although the synagogue has been closed to the public since the lockdown began, Shaarey Zedek will soon begin to host B'nai Mitzvahs again – including some that were scheduled for the spring and had been postponed.
"We will be limiting the number of people in attendance to 50 and requiring everyone to wear masks except when called to the Torah," he notes. "We will be maintaining social distancing.
"And, rather than buffet kiddushes, we will have servers behind plexiglass partitions.
"We will be trying to phase our services back in on a smaller scale at first and see what shortcomings we may have to address."
Congregation Etz Chayim (where High Holiday attendance last year was about 850) will be offering only a virtual service this year – with the exception of ten people to form an in-person minyan.
"After careful consideration, for the safety of our members and Clergy, and given the uncertainty of distancing requirements, Congregation Etz Chayim concluded that we must offer our High Holiday Services online this year," writes executive director Jonathan Buchwald in a letter to congregation members.
"While services are going to look, sound and feel very different than what we are used to, Rabbi Kliel, Cantor Tracy and our entire Ritual team will offer a most meaningful and memorable "Virtual Sanctuary" for Rosh Hashanah and Yom Kippur". Our own Virtual Voices choral ensemble under the direction of Sarah Sommer will bring a special depth and beauty to our services. We are also excited to announce that we will be using a new Mahzor this year, made possible by the very generous gift of a member family.
Also in Etz Chayim's planning is an outdoor patio Selichot service (Saturday, September 12); Erev Rosh Hashanah Mincha and Ma'ariv services (Friday, September 18); and Tashlich the 2nd day of Rosh Hashanah (Sunday September 19) – weather permitting.
Rounding out our community's Conservative congregations is the Chevra Mishanyes congregation in Garden City. The Chevra Mishnayes Synagogue is planning on having in-person services for the High Holidays but, congregation President Marshall Kneller reports, "we are not sure what it will look like yet. We are still working on the details in consultation with our members."
Temple Shalom, our community's only Reform Congregation, will hold high holiday services entirely online – accessible either via a Zoom link or streamed live on the congregation's website: , or on Facebook Live at -– as has been the practice for Shabbat services for the past several months. Ruth Livingston, the congregation's co-President, reports that certain parts of the High Holiday service will only be available online for Temple Shalom members.
For Orthodox congregations in the city, virtual services are not possible. The board of Adas Yeshurun Herzlia congregation – our communty's largest Orthodox shul – is still working out the details for Yom Tov. "We plan to be open and have services indoors," says President Jack Craven. "We are considering shorter services for Rosh Hashonah and may have two same day services if time permits."
He notes that attendance will be restricted to 50 or, possibly 75 people (now that the province has raised the maximum number of people allowed in an indoor venue) and masks will be mandatory. (The sanctuary under normal circumstances can accommodate up to 300.)
The Lubavitch Centre resumed twice-daily minyanim several weeks ago. "We have even hosted three bar mitzvahs over the past few weeks," reports Rabbi Avrahom Altein, Chabad's long time spiritual leader in Winnipeg. "We have moved the women's section out of our big shul, are only allowing family members to sit together and, for kiddushes, all of the food is prepared and packaged ahead of time with people eating at their tables."
What will make preparing for Yom Tov a little more difficult, he notes, is that the Lubavitch Centre traditionally doesn't sell seats. "We are going to have to try to get people to register this year," he says. "We could take out the tables to create more room – but we have to be careful about numbers. We will have lesser numbers though."
And, whereas the tradition is that men being honoured with aliyahs come up to the bimah, recite the brachas while standing beside the Torah reader, and then follow along as the Torah reader reads, now those receiving aliyahs will say the bracha, then sit down again.
In north Winnipeg, the three Orthodox shuls are the Chavurat Tefila Congregation in West Kildonan, the Talmud Torah Beth Jacob Synagogue on Main Street and the House of Ashkenazi on Burrows Avenue.
The House of Ashkenazi has, over the past few years, been open only for morning minyanim during the week (and Sunday) and for Yom Tov. President Gary Minuk reports that the congregation is planning to restart morning services in mid-August and is planning on High Holiday services. Masks will be compulsory.
The Chavurat Tefila Congregation began having Shabbat morning services and yahrzeit minyanim again in late May. Masks will be on hand at Yom Tov for those who require them and hand sanitizer is also by the entrance.
The Talmud Torah Beth Jacob's plans are still uncertain.