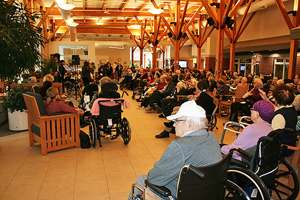 By BERNIE BELLAN
Even though the Province of Manitoba has eased the rules governing personal care homes and how visitors will now be able to see loved ones, the financial pressures facing all personal care homes in Manitoba had been huge even before the pandemic set in.
There had  been quite a few reports in different media within the past week about the dire situations in which all personal care homes find themselves these days. With the double whammy of having to deal with all the attendant problems associated with COVID-19 – in addition to the severe financial pressures all personal care homes were facing long before the virus struck, staff at pch's are not only having to deal with the anxiety residents are feeling, they are also having to deal with families of residents who have been beside themselves with concern for their loved ones.
I reached out to Laurie Cerqueti, CEO of the Simkin Centre, to see whether there was anything she (or anyone else at the Simkin Centre) could tell me about how staff there are coping with the unprecedented pressures which have been thrust upon them these past four months.
I had sent the following email to Laurie (who is always quick to respond – and who doesn't shy away from answering tough questions) on July 10: (I should note that, in my original email, I suggested that the last time I had been to the Simkin Centre, in May – just around the time outside visits were beginning to be allowed, it seemed to me that I saw volunteers helping with the outside seating. In her response to me Laurie explains that I was mistaken. There were not any volunteers helping with the outside visits.)
Hi Laurie,
I know how under the gun everyone is at Simkin Centre but I've talked with the families of some residents and, as I'm sure you're aware, they're terribly frustrated over not being able to see their loved ones beyond the rare occasions when you have sufficient staff to allow outside visits.
A few of them have told me they're quite willing to volunteer to help with those visits – if that would be allowed.
Is there any way volunteers can be involved in helping with family visits?
Regards,
Bernie
Here was Laurie's response:
Hi Bernie
We have not used volunteers to assist with visits, however we are exploring as to how this might work as well as other strategies that would help us be able to offer more visits. I know of many people that would gladly help us out and I am very thankful for this. As you know government has given us no extra resources to be able to do this. We are having to manage this from within existing resources. In this week's edition of the Simkin Star you will see that statistics for visits we have been able to support so I would not classify visits as rare. We are also bound by public health directives as far social distancing, inside visits should be limited and in a designated area close to the entrance and visitors must wear a mask. In room visits are not permitted at this time unless it is an end of life situation.
All personal care homes and family members in the province are expressing similar concerns and frustrations to ours. We have shared our frustrations and concerns with the WRHA, Shared Health and government.
It really is a very sad and difficult situation we find ourselves in and I am very proud of how our team has managed. This is no longer a sprint, this is now a marathon. I am also thankful for the support of our Board, family members and community.
Laurie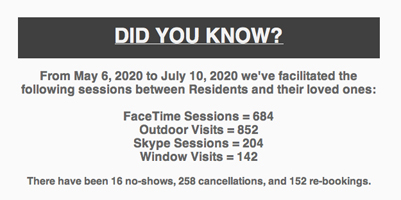 Accompanying this article is a reproduction of the statistics to which Laurie referred in her email about the number of visits that have been facilitated at the Simkin Centre.
In a subsequent email (on July 15) Laurie added that Simkin has begun incorporating some inside visits to what it had already been doing. She wrote: "We have also started indoor visits (not in rooms) last week. We will never be able to meet the full demand for visits until there are no longer restrictions."
I asked her to expand upon what Simkin is now doing.
Laurie responded: "At this time, occurring only Thursday mornings as indoor visits should be limited, outdoor visits are Public Health's recommended type of visit. Last week the visits were held in the synagogue. We had 2 visiting stations. The feedback was that the acoustics were bad so this week we are moving visits to the multi purpose room and there will be 4 stations. If it goes well we may be able to increase. I also purchased additional canopies and tables and starting Friday we will have 6 stations outside. We are also using donated funds and have hired some more summer students to assist with the visits. Scheduling, transporting residents, screening visitors, supervising visits and sometimes assisting with the actual visit makes them incredibly labor intensive. We really are trying."
On July 13, along with other media in the province, we received an impassioned plea for more help for personal care homes from The Manitoba Association of Residential and Continuing Care Homes for the Elderly (MARCHE).
That particular communication stated that "personal care homes in Manitoba have been chronically underfunded for years and resident care is suffering as a result.
"Lack of funding, human resource challenges and aging infrastructure are issues not just in Ontario and Quebec," says MARCHE Executive Director Julie Turenne-Maynard. "Many personal care homes—including all of those in Winnipeg—have not seen any funding increase for basic operations in more than 10 years. During that same time, dietary expenses at MARCHE homes increased by 36% and the cost of incontinent supplies increased 50%. Funding of these items had to come at the expense of other departments."
The email from MARCHE went on to describe problems associated with aging infrastructure in many pch's.
To be fair, the Government of Manitoba did respond to the MARCHE communication. This is not the place, however, to debate the degree to which the Province is providing sufficient funding for pch's.
Rather, it is simply an attempt to describe a situation which is probably quite apparent to anyone closely associated with a personal care home, whether as a resident, a member of the staff, or a family member. Personal care homes, including the Simkin Centre, have found themselves at the epicenter of the fight against the virus – but let's not pile on the staff at that particular facility when they have been providing the best possible care under the circumstances. As much as family members would like to be able to have outside visits more regularly, let's remember how extraordinarily difficult it is for a facility such as the Simkin Centre to manage itself in these times.