Proposal by College of Physicians and Surgeons to have all circumcisions performed in medical clinics "cut off" before it could go anywhere

By BERNIE BELLAN It began with an emailed message sent out by Jewish Federation CEO Elaine Goldstine to members of the community on July 13.
In her message, Goldstine informed recipients that the College of Physicians and Surgeons of Manitoba had issued a draft proposal that, if accepted, would prevent any circumcisions from being performed anywhere other than in a "medical clinic".
The proposal, however, did not include any specific reference to the Jewish tradition of "brit milah", which has traditionally been performed in a home setting.
According to Goldstine, "If brought into force, this draft as it is currently worded would therefore make the performance of a brit milah by a physician outside of a medical clinic a violation of the College's Standard of Practice.

 Even though the Draft Standard by the College has been in the public domain for approximately one month, the Jewish Federation was only made aware of its contents yesterday" (July 12).
Further, according to Goldstine, "

The Jewish Federation immediately reached out to the College of Physicians and Surgeons of Manitoba to discuss the matter. Based on those discussions, this was unintentional."
Subsequent to Goldstine's email to members of the Jewish community, the Winnipeg Council of Rabbis sent a letter to the College of Physicians and Surgeons, also indicating strident opposition to what was perceived as the College's new policy governing circumcisions.
In the letter, which was penned by Rabbi Allan Finkel of Temple Shalom, the Council enumerated a number of points, all of which detailed the long history of circumcision within the Jewish community.
B'nai Brith Canada also joined in the opposition to the College's proposal, noting that "If enacted, this would constitute a significant infringement on the important Jewish lifecycle event of brit milah. Jewish circumcisions are typically family events hosted in homes or synagogues, involving a celebratory meal, blessings and speeches. None of these can practically take place in a medical clinic or hospital.
"In correspondence with B'nai Brith, the CPSM has clarified that pursuant to Manitoba law, non-CPSM members can also perform ritual circumcisions and would not be bound by the proposed Standard of Practice. But the main mohel, or Jewish circumciser, in Manitoba is a CPSM member, and the mooted change would have the effect of preventing any future Manitoba mohel from performing traditional Jewish circumcisions while maintaining a medical practice, which is standard across Canada.
"There is no evidence that the CPSM specifically consulted the Jewish community about the proposed change, despite its obvious impact on Jewish life in Manitoba. It is also not clear what prompted the proposed restrictions, and B'nai Brith is not aware of equivalent strictures in any other province."
A perusal of laws as they apply in other countries did not turn up any other jurisdictions which require that circumcisions be performed only within a medical clinic.
We wondered what may have led to the College of Physicians and Surgeons, perhaps unintentionally but with drastic implications nonetheless, wanting to regulate the practice of circumcision in a way that had never been ordered previously?
As background to the College's apparent radical policy directive, Myron Love sent me a story that was originally reported by the CBC in December 2018. In that story a CBC journalist reported on two botched circumcisions that had been carried out by a Dr. Ejaz Ahmad. The CBC report noted that:
"Two boys almost bled to death from botched circumcisions performed by a now-suspended Winnipeg doctor.
"Dr. Ejaz Ahmad pleaded guilty to professional misconduct on Oct. 15 (2018) for performing circumcisions on
as many as 18 pediatric patients in 2016 and 2017, when he lacked the training and know-how to do the procedures.
"Several of his young patients ended up in the emergency room with complications.
" 'It is disturbing any time a physician practises and performs procedures that they are not competent to do,' said Dr. Anna Ziomek, CEO and registrar of the College of Physicians and Surgeons of Manitoba, in an interview Thursday.
"Among the complications, two boys were rushed to hospital with potentially life-threatening bleeds, one after a portion of his penis was amputated and the other with arterial bleeding.
"Other boys experienced complications like swelling, pain, embedded gauze from improper wound care, possible infections and disfigurement.
"At least one boy's penis was left so deformed he required a revision surgery.
"Ahmad admitted to using an inappropriate technique and lacking knowledge, skill and judgment. He acknowledged he provided anesthetic at a 'non-specific dose,' used only alcohol swabs to sterilize the surgical site and did not suture after circumcision."
But, here's a crucial part of the story: "The circumcisions were performed at Ahmad's private clinic."
One wonders, therefore, how the College's proposal to require that all circumcisions be performed within a medical clinic would have made any difference if a physician is not fully competent to perform those procedures, as was evidently the case with Dr. Ahmad?
Apparently the storm that resulted from the initial disclosure by Elaine Goldstine in her email to community members that the College was considering ordering that all circumcisions in future be performed within a medical clinic led to a quick reversal on the College's part.
By Friday, July 16, the College had posted a notice on its website indicating a complete abandonment of its proposal. Here is what that notice said, in part:
"We recognize that as currently written, the standard would implicate a practicing CPSM (College of Physicians and Surgeons of Manitoba) member performing a male circumcision outside of an appropriate medical facility. That was not the intention in drafting the standard…
"The standard will be amended. The standard will not infringe on any human or religious rights and freedoms whatsoever. The role of CPSM is to protect the safety of the public, and we will continue to strive to achieve this through appropriate regulation of the medical profession.
"At a minimum, the working group will add an exemption in the standard for male circumcision performed in a religious ceremony or tradition, particularly respecting low-risk neonatal circumcisions…
"CPSM established a working group in 2020, tasked with developing a new standard of practice for performing specific procedures in office-based practice settings, including male circumcisions.
"The working group did not consult with the Jewish community in its early development of the draft Standard; however, that is precisely the purpose of the current public consultation, and we are grateful for the feedback received."
Winnipeg Jewish Theatre to open season with world premiere of "Pals"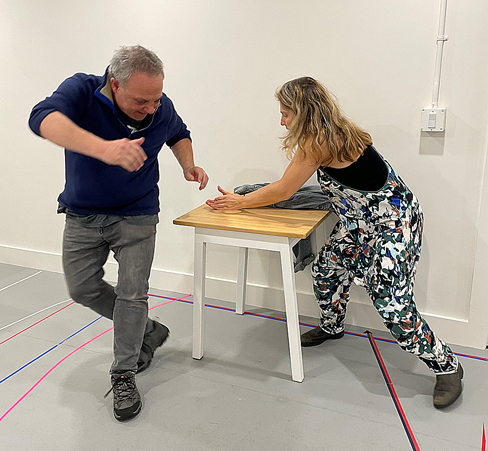 By BERNIE BELLAN The opening show of Winnipeg Jewish Theatre's 2023-24 season promises to be a clever and poignant take on relationships between men and women, when "Pals" makes its world premiere on November 9 in the Berney Theatre, running until November 19.
"Pals" is the third two-person show created by the team of Diane Flacks and Richard Greenblatt. Interestingly, when I spoke with Flacks and Greenblatt while they took a break from rehearsing the play in Toronto, they told me that their previous two two-person plays also had one word titles – with four letters in both: "Sibs" and "Care."
"Pals" is the story of two friends, told over a 25-year time period. Their friendship survives many tribulations, including both characters entering and exiting many other relationships. The play uncovers the underlying tensions that permeate all friendships.
"Pals" opens with the two characters meeting for the first time. I asked Diane and Richard whether the notion of their having sex ever enters into the plot, but Richard was quick to exclaim, "We don't have sex."
Diane also noted that, in the case of her character, she is married to another woman. (Diane is a lesbian in real life.)
The fact that the characters maintain a friendship though becomes a source of friction within their respective relationships. It raises the question: Can you have an intimate, albeit platonic, relationship, with a member of the opposite sex all the while you're in a physical relationship with someone else?
I asked whether the characters in "Pals" are Jewish (which both Diane and Richard are), and the answer was "yes."
Both Diane and Richard have had past associations with the Winnipeg Jewish Theatre. Richard's goes back a very long time – when he directed the critically acclaimed "League of Nathans" in 1995.
Diane Flacks appeared in a one-night performance of a show in 2021 called "25 Questions for a Jewish Mother," which was a part of that year's Tarbut festival. There were no in-person events that year, due to Covid, but "Jewish Mother" was available on Zoom and had a huge audience.
In addition to writing for the stage, Diane Flacks has written for TV, including Working the Engels, Baroness Von Sketch Show, Young Drunk Punk, PR, and The Broad Side.
Richard Greenblatt has performed in theatres across Canada and abroad, as well as in feature films, television and radio. He co-wrote 2 Pianos 4 Hands, which played on five continents and in over 150 cities since it opened in 1996.
Pals is directed by the internationally acclaimed director Jillian Keiley. More information, tickets and 5-show subscriptions can be found at: www.wjt.ca. You can also reach WJT by phone at (204) 477-7478.
To watch a preview video from Pals, click here: https://www.youtube.com/watch?v=z2W0VmHHFbA
Simkin Centre introduces Friday afternoon Shabbat services – open to all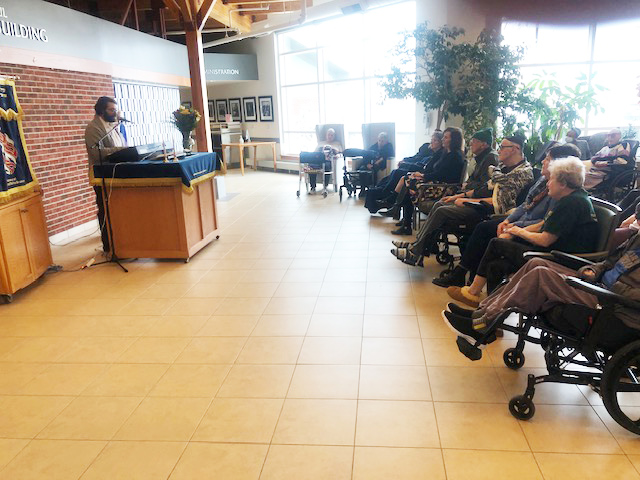 By BERNIE BELLAN (Posted Oct. 31) The Simkin Centre held its first ever Friday afternoon Erev Shabbat service this past Friday (Oct. 27), led by Rabbi Matthew Leibl.
There were more than 30 residents in attendance, along with various other outside guests. The service was approximately 45 minutes long and was filled with stories and songs associated with Friday evening Shabbats – some from Rabbi Leibl's own childhood and some from more recent years.
The Friday afternoon Erev Shabbat services are now to become a regular features at the Simkin Centre and are open to anyone to attend.
To watch a short clip of Rabbi Leibl introducing his first Friday afternoon service click https://youtu.be/hLSrV18K58o
The complete text of MP Marty Morantz's speech at the community vigil for Israel on October 10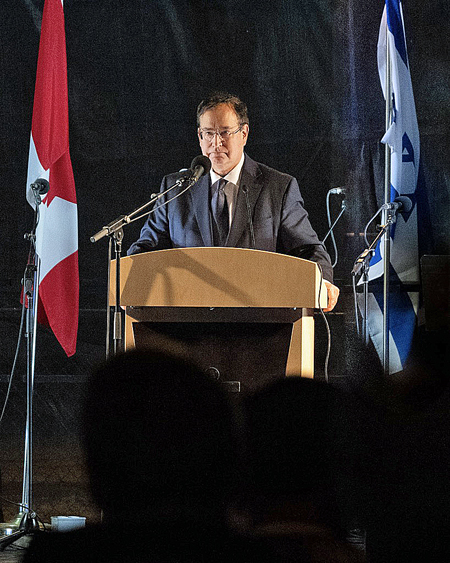 Tonight we are all Israelis!
Conservatives stand with Israel.
Pierre Poilievre stands with Israel.
On Saturday we woke up to unspeakable images.
We must stand shoulder to shoulder with Israel as it defends itself from these criminal and barbarous acts.
On Shabbat, Hamas brutally invaded Israel, invaded homes, killing hundreds, taking hostage hundreds.
More Jews were killed in Saturday's attack than in any single day since the Holocaust.
Some 1500 human beings killed in a single day would be like 6000 Canadians being murdered in a single attack.
They were children, babies, men, women.
They were young people just out listening to music at a dance party.
This was an unprecedented brutal attack.
As we speak Hamas is threatening to execute innocent hostages.
This outrage cannot, must not stand.
Don't let anyone tell you Hamas is the legitimate voice of the Palestinian people. It is not a government.
They are a genocidal murderous and evil death cult and they must be defeated.
But friends, we have seen evil before.
Jews have been persecuted for millennia, but we have survived.
Conservatives unequivocally condemn the invasion of Israel by Hamas terrorists and the sadistic violence that Hamas has carried out against innocent civilians.
Now is the time for moral clarity. There is no moral equivalency between democratic Israel and the butchers of Hamas.
There is no response, no matter how strong, that would be disproportionate to the crimes Hamas has committed.
Israel has the right to defend itself against these attacks and respond against the attackers – as any other country would.
Theodore Herzl, the father of modern Zionism, said, "If you will it, it is no dream."
In 1948 that dream became a reality – a homeland in Israel, the promised land.
Working together Israelis turned a desert into an oasis.
An island of democracy surrounded by a sea of autocracy.
A Jewish state where Jews could live in peace free from fear and persecution.
Let there be no doubt. Israel is the ancient and indigenous homeland of the Jewish people.
We will not let the butchers of Hamas take that dream, long realized, away from us.
Many politicians will stand with Israel when it is easy.
But listen to what they say when it is hard.
They will talk about "both sides."
I'm here to tell you that there is only one side.
The side of morality.
The side of democracy.
The side of Israel.
We see too often politicians at the United Nations unfairly singling out Israel for criticism.
I will always stand against the unfair singling out of the Middle East's only democracy.
Already there are calls for Israel to deescalate.
I ask you.
Would any country deescalate after having its people slaughtered in cold blood?
I wish the people of Israel and its brave soldiers Godspeed on their mission to defend the promised land from pure evil.
As Prime Minister Stephen Harper said:
Through fire and water Canada will stand with you.
Am Yisrael Chai!