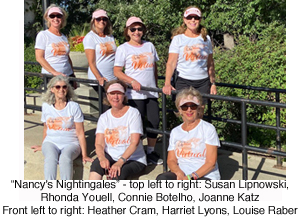 By MYRON LOVE The 14th annual Cancercare Manitoba Foundation Challenge for Life 20KM walk (or 200-minute workout) is back again at its new time – as a result of Covid 19 – with several members of our Jewish community once more playing an active role.
As with last year, participants this year are walking in small groups covering the same distance over two weeks from August 5-17.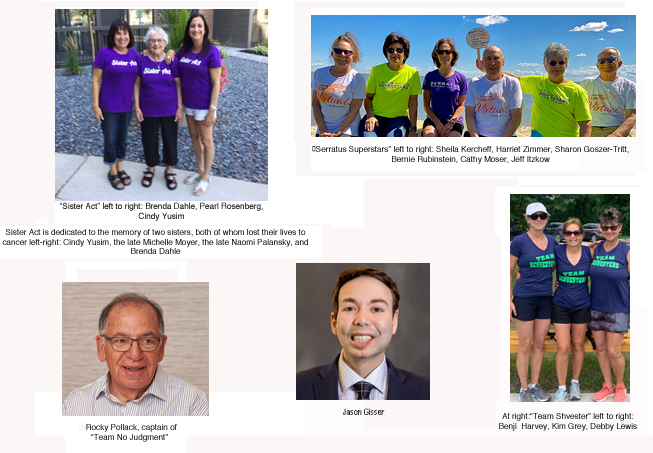 "Nineteen people are diagnosed with cancer every day,' says participant Jason Gisser. "Fifty percent of Manitobans will be touched by cancer at some point in their lives."
Gisser has experienced a more intimate and longer-lasting relationship with cancer than many of the other Challenge for Life participants. The son of David Gisser and Freda Steel was first diagnosed with cancer when he was 18. The still young lawyer has been fighting cancer for half his life now. Happily, an oral chemotherapy pill he has been taking for the past two years has controlled his cancer and allowed him to return to living a normal life.
He first took up the Challenge in 2019 as a way to give back for all the help that he has received over the years from CancerCare Manitoba staff. This year, thus far, he has personally brought in over $4,000 while his team – also consisting of Debbie Abraham, Nora Fien, Marcia Knight, Lois Tessier and Candace Weselowski – has raised about $5,600 – good for fifth place overall.
On Saturday, August 8, Gisser will be fulfilling his Challenge obligations with a 20 km walk encompassing Fort Whyte, Assiniboine Forest and Assiniboine Park. He says that he will be keeping supporters up to date as to his and his team's progress.
Several other members of our Jewish community are also making their presence felt.
"Once again this year's top-ranked "Jewish" team is Nancy's Nightingales with about $10,000 raised as of mid-July. "We were pleasantly surprised that many people donated more this year," says team captain Louise Raber. "We were a little concerned that some of our past contributors may have been inversely affected financially by the pandemic."
For 2021, long time team members Connie Botelho, Joanne Katz, Harriet Lyons and Louise Raber and third year member Rhonda Youell have been joined by original team members Heather Cram and Susan Lipnowski.
The"Nightingales" were named after a nurse – a cancer survivor – who is a friend of Louise Raber – and have been part of the Challenge for Life since the beginning 14 years ago.
Close behind Nancy's Nightingales – in third place in funds raised thus far is Team Schvesters. So far, the "Shvesters" have raised about $8,000 – as of mid-July – and team captain Benji Harvey herself has brought in $4,500 in donations –9th most among individual participants.
Since the beginning of the Challenge for Life, Team Schvesters has raised a total of $246,060 with Benjii Harvey accounting for just under $55,000 (including donations received as of mid-July this year.
The team was founded by the "Greenfeld girls", Harvey and her sisters, Lesly Katz and Debby Lewis. Two of the sisters had been diagnosed with breast cancer.
This year, Harvey notes, the team members are Benji, Lesly and Deb, Kim Gray and Jody van de Vijsel.
Team Shvesters members focus on the 200 plus minute workout as much as the 20km walk. As with last year, the team members will combine a 15 km walk with a 30 minute upper body core workout and 30 minute yoga stretch.
"We are a small but heartfelt team," Harvey says. "Even though COVID has changed the event there are still lots of teams participating in their own way – which is fantastic."
Perennial fundraising dynamo Serratus Superstars have also been walking the Challenge for Life since the Challenge inception in 2008. Team captain Cathy Moser reported in an interview with the JP&N last year that the group had raised over $450,000.00 in those years – through donations, garage sales, concerts, and bake sales.
This year's team makeup however is much reduced from previous years. Two years ago, there were 25 walkers under the Serratus Superstars banner. This year, the team numbers eight – Moser and her husband, Jeff Itzkow, Faren Bernstein, Sharon Goszer-Tritt, Steve Moscovitch, Monica Newman, Bernie Rubenstein and Harriet Zimmer.
Moser however remains undaunted. She has raised over $2,500 thus far and the team as a whole has brought in just under $5,400 – good for 7th place among teams.
"We have raised over $425,000.00 over the past 11 years – and hope to make it to at least $450,000.00 this year," she says.
She adds that "we are looking for team members – if you want to invest in your future, email Cathy Moser at cathy.g.moser@gmail.com..
Rocky Pollack's wife, Sharon, fought cancer for 14 years before her passing in 2012. During that time, both Sharon and Rocky came to appreciate the care that she received from Cancercare Manitoba and they both became actively involved in the organization and the foundation. Rocky has served in a number of positions with the organization over the years and has participated in the Challenge for Life for the last several years as well.
Last year, the retired Provincial Court Judge and his Team No Judgment (which included 12 of his colleagues) raised just under $6000. "We are going to be doing a number of mini competitions to provide our team members with additional motivation," he says. "Our goal is to raise more money than last year."
Sister Act's team once again this year is composed of Pearl Rosenberg and her daughters, Cindy Yusim and Brenda Dahle.
Pearl Rosenberg, 87 is most likely the Challenge for Life's oldest participant. She lost two daughters to cancer within about a year of each other. Naomi Palansky passed away in 2010 and Michelle Moyer in 2011. Brenda Dahle notes that Naomi walked with her family in the first Challenge For Life Walk.
(And, readers may recall that Naomi's children, Noah and Lexi, started their own team of walkers, "Kids Count", shortly after their mother received her cancer diagnosis.)
"I started taking part in the Challenge for Life on Team Chai in 2008," Dahle says. "I continue to take part in the 20 k walk with my mom and sister Cindy Yusim, in memory of our sisters whose love, strength, and courage continue to inspire us."With the Challenge due to Covid restrictions again being an individual rather than a group effort, Dahle reports that she and her mother will be walking a little bit every day between August 5 and 17th in Kildonan Park while her sister will be meeting her obligations through cycling.
"Our goal this year is to raise $3,000," Dahle says. "My mother has already raised more than $1,000 herself (as of mid July)."
Readers can make donations to their preferred team by going online to CancerCarefdn.mb.ca and clicking on Challengeforlife.ca.