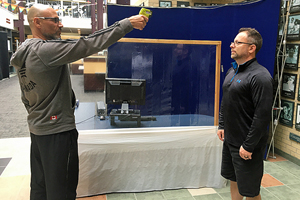 By BERNIE BELLAN
Anyone who is a member of the Rady JCC would have been receiving regular updates from Executive Director Rob Berkowits as to how the facility was planning to reopen in part under the province's Phase 2 guidelines.
On June 15, for the very first time since March 16, when the Rady JCC had closed its doors to members, the Rady JCC was able to welcome back members, albeit with restrictions, including:
• a maximum capacity of 70 people total at one time
• 50% maximum capacity on the fitness centre floor
• workouts limited to 90 minutes in consideration of others.
Among the new procedures to be in place are:
New entry procedures and policies:
• Members' temperatures will be taken with a non-contact temperature gun and members will be denied entry if above normal.
• The Rady JCC will only accept contactless forms of payment until further notice.
Limited access to certain areas/machines:
• Both the men's and the women's locker rooms are closed until further notice.
• The family change room is open specifically for individuals using the pool only and will be limited to a maximum of six people at a time.
• The Rady pool will only be available for lap swimming and must be pre-booked.
• Rady towel service will not be available at this time.
• Rady steam rooms will be closed until further notice.
• All Rady JCC water fountains will be shut off. Members are required to bring their own bottled water.
• In order to practice proper physical distancing, certain exercise equipment and machines will be blocked off from use.
• Hard to clean equipment such as foam rollers and yoga blocks will be unavailable.
• Drop-ins are no longer allowed for classes. The booking system must be used to reserve classes in advance.
• Members are required to wear masks while entering and exiting the facility and may choose at their own discretion to wear masks while on the fitness floor
• Gloves are not a requirement at this time
At the end of the first week of reopening I asked Zach Minuk, Rady JCC Director of Development, Partnerships, and Communications if he could give an overall assessment how members have accepted the new restrictions and what attendance has been like?
Zach wrote: "The reaction has been extremely positive. Members have been very happy with all our physical distancing measures as well as the overall cleanliness of the facility.
"In terms of numbers – we are seeing ebbs and flows this first week. Our fitness floor max count is 70 people due to mandated provincial physical distancing rules. We are seeing anywhere from 20% – close to 50% capacity throughout each day so far. To help members, we launched a live fitness centre capacity counter that we update every two hours during our normal hours of operation that can be found on our website homepage as well as shared through our social media. This allows members to know what our counts are before they come for their workouts. It's also been extremely well-received.
"Beginning next week (June 22) , we are going to be adding some amenities. When we opened our aquatics facility, we initially only allowed pre-bookings for lap swimming in three lanes only. Our lanes have been booked solid all week now. Next Monday, we are opening up two more lanes for a total of five lanes now available for pre-booking. Also, on Monday, June 29, we are going to be adding sports and recreation activities including pickleball, badminton, and basketball.
"Everything we have done and continue to do is done so with the health and well-being of our members, staff, and volunteers top-of-mind. We want to ensure that every decision we make as we push forward into the summer months is the proper decision.
"One final thing – as you know, for any member who isn't quite ready or comfortable enough to come back to the Rady yet, we've allowed them to extend their membership freeze at zero cost until September. When they are ready to come back, we will be ready to welcome them."
I talked to Harvey Cogan, who has long been a devoted Rady JCC member, and who likes to use the pool for lap swimming, as well as the track for walking. I asked Harvey how he's adjusted to the new restrictions at the Rady JCC?
Harvey said "It's good to be back in the pool – and seeing so many familiar faces again.
"Today I had an appointment to use the pool at 11 am, so I arrived at 10:15 and walked around the track 11 times" (which, Harvey noted, is one mile).
"When I went to use the pool I used the family change room. It has six little lockers. It's fine."
Harvey told me that in the first week since the Rady JCC had reopened, he'd been there three times (and used the pool each time – for a 45 minute session each time).
I asked whether the facility was busy?
"There aren't a lot of people coming at this time," Harvey answered.
To be fair, it's also summer, and there are usually a lot fewer people using the facility when the weather's nice. Still, Harvey did mention that he'd talked with quite a few others who are regular attendees at the Rady JCC, and "seven or eight" of them had said they're going to wait until September before they come back.
As noted, the Rady JCC has frozen all memberships until September.
In other Rady JCC news, it was announced on Thursday, June 18, that the summer camp program which, it had been feared earlier when the lockdown was first imposed by the provincial government would be canceled entirely, but which was subsequently allowed to go ahead – with allowances made for social distancing requirements, is now sold out for the entire summer.
Following are excerpts from a release issued by the Rady JCC:
Three weeks after opening registration, all available 2020 Rady JCC Summer Day Camps have sold out.
"We are incredibly excited about this news," said Tamar Barr, Rady JCC's Assistant Executive Director. "During these difficult times, to see such a positive response from our community and beyond is inspirational."
Individual 2020 Rady JCC Day Camps, starting July 6 and running weekly for eight weeks, will have smaller maximum capacities than previous years due to the ongoing COVID-19 pandemic and physical distancing restrictions mandated by the provincial government.
"While our camp sizes will be smaller this year, our dedicated staff have worked extremely hard in our preparations to ensure the overall campership experience will not be affected at all," said Barr. "Campers can still expect to have fun and engaging sessions while parents can rest assured knowing their children will be in a safe environment."
Rady anticipates close to 1000 children ranging in age from pre-school to Grade 8 to take part this year. If unable to register already, Rady is now accepting names for its 2020 Day Camp waiting list should any potential spots become available during the summer months. Parents should call 204.477.7510 if interested.