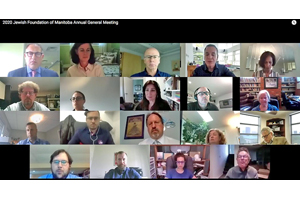 By BERNIE BELLAN
As is typical these days, the Annual General Meeting of the Jewish Foundation of Manitoba, which would normally have been held in front of at least a few people, was held online via Zoom instead.
(Let's not kid ourselves though: Annual General Meetings of Jewish organizations don't usually attract much in the way of a crowd unless they're handing out a lot of awards.) The Jewish Foundation held its AGM on Wednesday, June 17, emanating largely from the home of Richard Yaffe, Board Chair of the Foundation. Although it was possible to see who else was watching, the faces of only a very few individuals were made visible. (I always get a kick out of seeing people in their homes during these get-togethers. Everyone dresses casually and it's fun seeing into everyone's home and what they have in the background. I think it's the way all AGMs should be held in the future.)
When he began proceedings shortly after 5:00 pm, Yaffe welcomed everyone who was watching, but he also indicated that no questions would be allowed until the very end of the meeting. Further, questions were to be sent in via chat. Would anyone be surprised to learn there were no questions asked?
I don't know about anyone else who was watching (and from the names that were visible on the screen, they seemed to be mostly representatives of other Jewish organizations), but I sure would have liked to ask for details about how much assistance the Foundation has given to each local Jewish organization that has been allocated emergency funding during the pandemic and how much each of the organizations that will receive assistance in two more "phases" will receive. But, as I reported in the May 27 issue of this paper, the Foundation continues to maintain, as Richard Yaffe put it, that it "To be respectful of a variety of unique circumstances currently faced by individual organizations, at this time, we will leave the disclosure of the amount they received to their discretion."
Yaffe did add that information will be made public by the Foundation in its 2020 Annual Report – so we'll only have to wait one more year to find out how much each organization has received and will receive as a result of emergency funding during the pandemic – unless I can get each of the organizations to tell me how much they received back in April in Phase 1 of the Foundation's emergency funding. I should add that I already know how much some organizations received, but it would be unfair to disclose that information unless I can reveal how much each of the 28 organizations that received funding received.
Turning to the 2019 Annual Report, however, here are some of the highlights, as reported by Dan Blankstein, JFM Treasurer and John Diamond, JFM CEO:
• the Foundation distributed in excess of $5.2 million to the community, $700,000 greater than the previous year.
• During 2019, both individual donors and organizations continued to significantly support the Foundation with endowment contributions in excess of $5.6 million
• The Foundation's endowment fund's net assets increased by 14% year-over-year, to more than $137 million
• Gifts to organizational endowments comprised $1.9 million of the 2019 gifts representing an 8.0% increase over the previous year. This increment will result in an additional $80,000 distributed into Winnipeg's Jewish community annually.
• The performance of the investment portfolio for 2019 was 15.34% before fees. The 5-year and 10-year returns were 7.49% and 7.93%, respectively, before fees. 2019 was a "good year" in terms of investment performance.
The Annual Report went on to note other significant milestones reached by the Foundation in 2019:
• $1,228,930 was distributed in 2019 to Jewish organizations through their organizational endowments
• Since 1964 , the Foundation has distributed $72,676,844 in grants
• 17 planned gifts were realized, totaling $2,134,086
• $176,000 in scholarships were awarded to 76 students
• $33,680 in camperships were given
Of the over $5.2 million that were given in grants, $4,341,498 were designated grants (meaning the donors had specifically designated the recipients of the grants), while $875,745 were undesignated grants.
In discussing the overall performance of the Foundation in 2019, Richard Yaffe observed that "the work we did last year (2019) has put us in a strong position for the future.
"We know that 2020 is destined to be a very difficult year, but in no way will it be a step back" for the Foundation.
With specific reference to the emergency allocations that the Foundation has been able to give – not only to Jewish organizations, but to other community organizations as well, Yaffe explained that the Foundation's undesignated funds have been and will continue to be crucial: "It is through these funds that the Foundation was able to respond so quickly to the pandemic," he said.
"By the end of 2020 we will have distributed more than $750,000 in relief funding," Yaffe added.
Yaffe described the criteria that the Foundation's board applied when it came to allocating the $268,000 in emergency funding in Phase 1 of the emergency funding – both to Jewish and non-Jewish organizations: "Speed, efficiency, and inclusiveness".
"Each organization's financial report and operational expenses dictated how much each organization received," he said.
In addition to the $68,000 that was given to four community organizations (Agape Table, Winnipeg Harvest, The Main Street Project, and Siloam Mission), an anonymous donor came forward with a further $34,000 gift that was added to the $68,000; thus, the total given to those four organizations came to $102,000.
As well, Phase 1 also included the spring distribution of $30,000 in Women's Endowment Fund Grants to five organizations "that continue to support our most vulnerable women and children: North End Women's Resource Centre, Willow Place, Salvation Army, Alpha House, and the West Central Resource Centre".
There will be two further phases of emergency funding for Jewish organizations, Yaffe noted. In Phase 2, $200,000 will be distributed to 14 Jewish organizations. (Once we are told which organizations have received funding we will publish that information.)
There will be a third phase of emergency funding, Yaffe said, and information about that third and final phase of emergency funding "will be disclosed shortly".
A recording of the entire 2020 Jewish Foundation of Manitoba Annual General Meeting can be found on the Foundation's YouTube page.