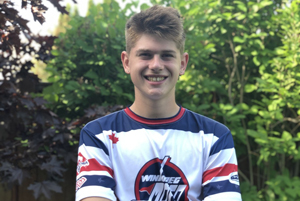 By BERNIE BELLAN
The McDonald's Leadership Award is awarded to 16 students (eight boys and eight girls) annually who "demonstrate exceptional leadership in high school sport, school, and community involvement while also maintaining a minimum of 75% average."
McDonald's awards each recipient a $1,000 scholarship.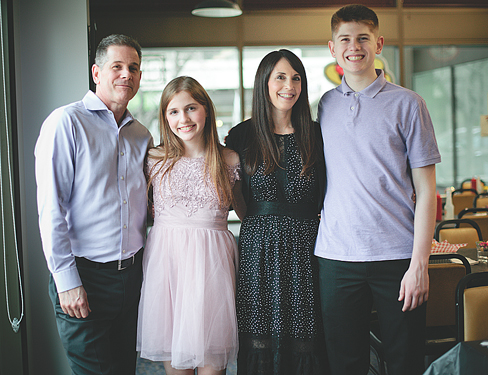 The Kagan family (l-r): JAMIE, TALIA, KORI, DYLAN
Not only did Dylan maintain a 93% grade point average in Grade 12, he excelled in two different sports throughout his high school years: basketball and Ultimate (a sport that has become especially popular among under-30s and which involves throwing and catching a frisbee on a team). As well, Dylan found time to create a program called Project 2020 when he was Bar Mitzvah'd whereby basketballs were donated to inner city youth. He has continued to preside over that program and, to date, over 600 basketballs have been donated.
The son of Kori (Brown) and Jamie Kagan, one might say that Dylan comes by his athletic prowess honestly, as his father Jamie has been the athletic director at Gray Academy for years.
But, in speaking first with Kori, then Jamie, and finally Dylan himself, I was surprised to learn that up until Grade 5 Dylan didn't have much interest in sports at all. According to his father Jamie, Dylan was primarily interested in video games – until Jamie decided he was going to get Dylan involved in sports – whether he wanted to or not.
"I was playing video games all the time," Dylan agrees.
It was in Grade 5 that Jamie put Dylan into a basketball program. At that point, Dylan says, "I found a passion for sports."
"I basically forced him," Jamie says. "Then," he continues, "in Grade 6 Dylan made the Junior Bisons." (The Junior Bisons are a club team that plays other clubs. Players are grouped according to age and play teams with players of the same age. Jamie explains that the Junior Bisons have traditionally had the strongest teams at any age level.)
"That (making the Junior Bisons) was kind of a turning point for me," Dylan explains. "It's when I began to take sports seriously."
Because the Junior Bisons have traditionally had such strong teams at every age level, starting from a young age Dylan was fortunate to be able to travel in both Canada and the U.S. to participate in tournaments. He says he's been "to Nebraska, Ohio, Minneapolis" and elsewhere in Canada as well over the years, playing basketball.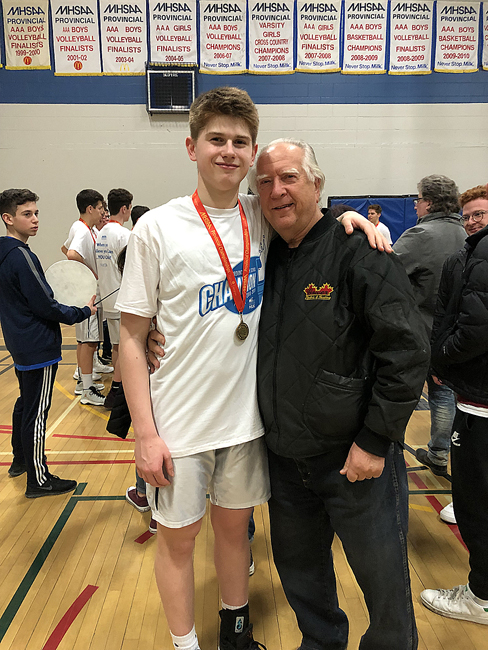 Dylan with his zaide, Larry Brown
Beginning in Grade 11 though, Dylan concentrated on playing basketball for Gray Academy alone.
According to Jamie, Gray Academy has long had a tradition of strong basketball teams. "Dylan was part of our three-time AAA champion provincial basketball team – which, without COVID, would have been four-time this year."
As well, Dylan was a second-team high school all-star basketball player in the entire province in Grade 11 last year. "Not a lot of Grade 11's get that honour," Jamie points out.
"He's a very smart player," Jamie notes. At 6' 2" Dylan might be considered tall, but among elite basketball players of his age, he would be considered average height. His position, Jamie said, was as a "small forward".
While he still continued to play basketball – for both the Junior Bisons and Gray Academy, when he was in Grade 11 Dylan decided to concentrate more on Ultimate.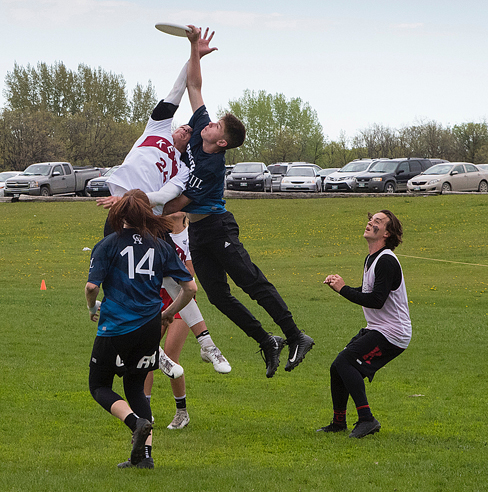 Dylan (in black) reaching for the frisbee in Ultimate
"Our Gray Academy Ultimate team is an extremely strong group," Jamie observes. "They've always been in the top two or three in the province every year. They finished third in the Canadian high school national championship last year – second in the province. Dylan was a huge part of that."
Starting in Grade 8, Dylan was playing on the provincial Ultimate team. "He was playing with kids in Grades 11 and 12," Jamie observes.
"This year he made the under-20 national team" that would have gone on to represent Canada in Sweden in the world championship – which, "unfortunately was canceled," Jamie adds.
I asked Dylan when he started to play Ultimate?
"It was in Grade 5," he answers – "the same year I started to play basketball."
I wondered whether he was tall as a kid – and whether maybe that gave him an edge that allowed him to excel at sports.
"I've always been decently average," he suggests, "up until about Grade 9 or 10, when I had a real growth spurt."
Outside of school, Dylan has been Athletic Council Chair at Gray Academy for the past couple of years, which is something that involved him in planning athletic activities and fundraisers.
When he was in Grades 7 and 8, Basketball Manitoba featured Dylan on its posters when it was raising money for inner city basketball programs. When he was Bar Mitzvah'd, Dylan had the idea to donate money from his Bar Mitzvah to purchase basketballs for inner city youth – and he's been raising money for that cause every year since.
"He's helped to raise money to donate over 600 basketballs," Jamie says.
As well, Dylan started a tournament hosted at Gray Academy for students in Grades 6, 7, and 8, called the "Raider Rumbles Tournament".
The fee for the tournament is one basketball from each player who participates. That's one of the ways he's been able to donate 600 basketballs.
"We host SJR (St. John's Ravenscourt) every year; we host a team from Kenora," Dylan says.
On top of all that Dylan volunteers at the West Broadway Youth Centre in a program called "Boys World" – which is a drop-in program for inner city youth.
One other interesting aspect to Dylan's years of volunteering is that last year he was co-winner of the Bert Knazan Award at the Rady JCC Sports Dinner. (His co-winner, by the way, was Lauren Cogan, whom we profiled in our June 10 issue.) The award is presented "to a male and female Jewish teen athlete who has demonstrated athletic excellence, good sportsmanship, fair play and displayed consideration for others."
Something else about Jamie Kagan that might help to explain Dylan's excellent scholastic achievement: As well as being athletic director at Gray Academy, Jamie Kagan teaches math and science at the school (something he's been doing for 25 years, he tells me, going back to his days at Joseph Wolinsky Collegiate on Matheson Avenue).
Jamie adds that for the past two years, in a national math competition for students in Grades 7 and 8, students from Gray Academy have not only finished first in Manitoba, "our Grade 8's, this year, placed first in all of Canada."
"When Dylan was growing up, he was number one in Manitoba in Grades 6, 7, and 8," Jamie notes – "and in the top 10 in Canada."
Consistent with his acumen in math, Dylan tells me that once he enters the Asper School he eventually hopes to become an actuary. (I tell him that's a very good choice, as the two careers that hold the highest guarantees of employment are actuary and mortician.)
As disappointing as it must have been for Dylan not to be able to go to Sweden this summer to play for Canada in the world under-20 Ultimate championship, he will still be playing Ultimate when he begins studies at the University of Manitoba Asper School of Business this coming fall (assuming there are classes) and will still be a part of the national under-20 team.
There's always a next year and, as Gerry Posner might say, Dylan Kagan has achieved the "ultimate" recognition for his all-round ability as a student, athlete, and volunteer.