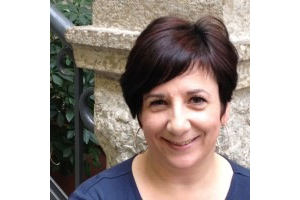 By BERNIE BELLAN In a message emailed to Rady JCC members on July 16, recipients of the email were informed that long time Rady JCC Program Director and, more recently, Assistant Executive Director Tamar Barr had left the Rady JCC.
Tamar's departure actually occurred in October 2020 when she was laid off from her position as a result of financial pressures imposed upon the centre by Covid and the drastic scaling back of programs.
While the message announcing Tamar's departure was fulsome in its praise of Tamar, it left unanswered questions about who might fill Tamar's very large shoes. The message seemed to be definitive in closing the door on any possible return by Tamar Barr to the Rady JCC. (Read the adjoining interview with Rady JCC Executive Director Rob Berkowits elsewhere on this page.)
Following are excerpts from the farewell message of July 16:
"After nearly two and a half decades, Rady JCC Assistant Executive Director Tamar Barr is leaving to explore new interests and opportunities outside of the Rady community. Her departure will no doubt be felt throughout the Rady and larger community as she leaves behind an incredibly strong and storied legacy.
"Tamar joined the Rady family 24 years ago, when then Executive Director Robert Yaffe and Rady President Barry Steinfeld (z''l) hired her as the new Cultural & Adult Director. At the time, the Asper Jewish Community Campus was just about to open and the Rady was on the cusp of something amazing. Rady membership was climbing fast, and program participation was on the rise. Yaffe and Steinfeld needed a visionary who could help lead the Rady into the new millennium, expanding its reach and breadth of programming.
"Shortly after assuming her role, Tamar's broad skill set shone, and her responsibilities grew. She was promoted to Rady's Program Director and began supervising and creating new programming in more areas, including children, families, inclusion, and older adults.
"One of Tamar's fondest memories was being inspired by Izzy Asper (z''l) and working with The Asper Foundation from the ground floor up to realize his vision for the Rady. Izzy used to tell Tamar his dream was for the Rady to be like the 92nd Street Y in New York City, well-known for its diverse speaker series and its rich arts and cultural programming. Tamar worked determinedly alongside The Asper Foundation and many others to realize Izzy's vision. And she was successful.
"Over the years, Tamar was instrumental in establishing, launching, and coordinating various programming that have touched the lives of tens of thousands of people. This included but is certainly not limited in any way to the Izzy Asper Jazz Performances, the Winnipeg International Jewish Film Festival, Music 'N' Mavens, Mameloshen, and Tarbut.
"In 2013, Tamar's work ethic and track record made her Rady Executive Director Gayle Waxman's obvious choice to become Rady's Assistant Executive Director. While Tamar knew that diverse and rich programming was stitched into the fabric of Rady, her new role allowed her to take on even more organizational projects, including sourcing and securing new sustainable funding streams through various grants of all kinds. The additional dollars allowed Rady to offer even more to our great community.
"As if she was not already doing enough by now, Tamar added even more to her growing portfolio. She began creating new outreach and engagement programming and opportunities to underserved groups, as well as cultivating and encouraging community partnerships. These newly formed relationships laid the foundation for what Rady continues to build on today."