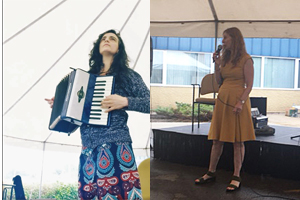 By BERNIE BELLAN After going a year and a half in Winnipeg without any live entertainment to speak of – beyond the occasional street concerts that seemed to spring up impromptu from time to time, it was welcome news to read that the Gwen Secter Centre was going to be playing host to a series of weekly concerts every Wednesday through August 25th.
While there have been plenty of Zoom concerts that have attempted to fill the void, there's nothing like having an audience on hand to watch and hear real live performers.
Thanks to the irrepressible Karla Berbrayer, our community's incomparable impresario, along with Gwen Secter's dynamic executive directory, Becky Chisick, a variety of performers – almost all of whom are Winnipeggers, were booked to perform two shows each Wednesday – at 11 and then again at 1.
When I scanned the names of the featured artists, however, one name caught my eye, as I had never heard of her: Orit Shimoni. In our July 21 issue she was described as an "Israeli Canadian" who was going to "accompany herself on guitar and accordion in a solo performance."
Was she one of the many Israeli newcomers who have arrived in Winnipeg in recent years, I wondered?
The answer was quite different, I soon learned. Orit is a singer and songwriter of considerable renown who has actually recorded 11 different albums – some in English, some in Hebrew.
Here's some information about Orit taken from her own website: "Raised in both Calgary and Jerusalem, the then Montrealer had released her debut album (Cinematic Way, 2006) with the help of local musicians and producer Mark Goodwin, and the response to it, including Mark Rheaume of CBC radio calling it one of the top 3 albums of its year, alongside Feist and Arcade Fire, led Shimoni to believe that her musical path was not just a pipedream.
"Knowing very little about the industry, she set off on an outside-of-the-box, self-managed DIY adventure that brought her to Berlin for a year, and after that, a decade of living out of a suitcase, performing across Canada and Europe entirely by public transit, in cafes, pubs, bars, reputable venues, house concerts, small festivals, and on Via Rail's on-board entertainment program. As she traveled, she received numerous recording offers and has released eleven albums in total, with more on the way."
So, how did Orit end up, not only coming to Winnipeg – which was in March, 2020, she told me, she ended up staying here for 16 months (and perhaps longer, depending on how quickly things open up in other provinces)?
It turns out she was on a Via Rail train (performing along the way, in a program that affords musical artists the chance to travel from one city to another while entertaining passengers along the way – sort of reminds me of Mexican buses where entertainers hop on and off, playing for tips from passengers). When the train, which had originated in Vancouver, and with a stop in Edmonton, hit Winnipeg that fateful day in March/20, it was Orit's lousy luck to find herself stranded just as this province was entering into shutdown mode.
"When I arrived in Winnipeg I got a text message saying my next train out of town has been canceled," Orit explained.
She was stuck here – and even though she managed to find accommodation with an acquaintance whom she had known previously, her live performing career came to a complete standstill – similar to every other live performer.
While she did manage to write and record new songs during her long hiatus from performing, Orit says she so dearly missed playing in front of live audiences.
Now, anyone who knows Karla Berbrayer would know that she's constantly on the hunt for new talent, especially Jewish performers who can sing in Hebrew. When word reached Karla that a very talented Israeli Canadian was living in our midst, Karla didn't hesitate to make contact with Orit. Thus – her July 21st appearance at Gwen Secter.
While the crowd that particular morning might have been small in size (even at its maximum, the nicely constructed canopy-covered Gwen Secter venue – on the centre's parking lot, can only hold 25 people for a performance).
I arrived a few minutes before 11 that day – and there wasn't anyone else in the audience at all – which afforded me the opportunity to go up to Orit and introduce myself.
Seeing Karla Berbrayer there as well, I asked Karla what would happen if no one showed up? "Don't worry," Karla assured me, "there are people who are arriving in special transport."
Sure enough, attendees started to arrive. I'm not sure anyone reading this can remember, but July 21 was also the last day we had any significant rain in Winnipeg, and no doubt the possibility of getting soaked was a deterrent for some who might have considered attending Orit's concert. (As it turned out, there was some rain prior to the concert, but the canopy was absolutely effective in keeping the seating area dry.)
Once Orit began to perform, I was astonished how beautiful her voice was. She opened her concert with a lovely rendition of "Hinei ma tov u ma na'im", accompanying herself on the accordion. She followed that with a number of famous American folk songs, including "Blowing in the Wind". Later in the concert she switched to playing guitar – and judging by the look of that particular guitar, with its noticeable chip in the wood, it has seen better days.
While I would have wished that Orit had told a little bit more about herself in between her songs, she preferred to talk only about how she ended up in Winnipeg. I had to learn, after reading biographical notes on her website, that Orit used to be a teacher and academic (with a master's degree in theological studies).
What a shame that Orit wasn't able to play in front of a much larger audience that July day. Perhaps we'll get the chance to see her again – assuming that she'll want to fulfill the original goal of playing at a number of venues when she arrived her that fateful day in March, 2020.
In the meantime if you want to hear samples of Orit's singing, she has a number of songs from her latest album available to hear on her website: https://www.oritshimoni.com/