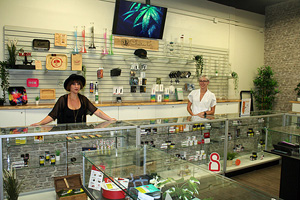 By BERNIE BELLAN In the 1920s some rich supporters of the Republican Party in the U.S. gained notoriety by running an ad claiming that under the Republican administration of Herbert Hoover there was "a chicken in every pot". Now that there's an election on in Canada – I wonder if there's any politician around who would have the courage to promise "a little pot in every chicken" – which was an expression once ascribed to Pierre Trudeau.
In keeping with the obviously tongue-in-cheek tone in which this article has begun, let me introduce you to Winnipeg's newest cannabis store: "CHARACTER CO.", located at #9-2090 Corydon Avenue in Tuxedo Edge.
This store is owned by two women – which is an interesting development in itself considering how male-dominated the cannabis industry is.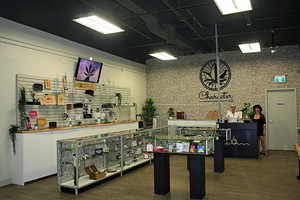 Taking a look inside one can't help but be impressed by the beautiful décor. With an impressive array of cannabis products and paraphernalia it is clear that the owners of CHARACTER CO. put a great deal of thought into how they wanted to stock their store and how they wanted it to look.
As the retail market has grown in Manitoba with new stores popping up frequently there is always a danger that the market will become saturated, but with no other retail outlet in the Tuxedo area the owners of CHARACTER CO. are confident their store will be a success.
Not only do they have a retail presence, the owners of CHARACTER CO. have a sophisticated website that caters to the online market. With the considerable product knowledge that they also bring to their business both the store owners and their sales staff are well equipped to answer any questions that customers might have both about cannabis products and the many related products that the store stocks.
One more thing: It's perfectly legal to order cannabis products online for delivery to your home, although proof of age will be required upon delivery. So, if you're still hesitant about actually stepping into CHARACTER CO. you can go either go online to www.characterco.ca or call the office at 204-221-5557 and speak to a sales representative.