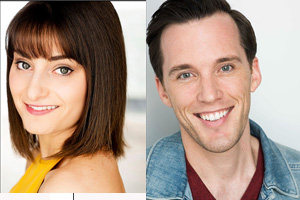 By BERNIE BELLAN Amidst all the plans that had either to be shelved or retooled as a result of Covid, perhaps no organization within our community has had to constantly rejig its plans more than the Winnipeg Jewish Theatre.
Beginning with the cancellation of a new play by Winnipeg's own Daniel Thau Eleff, "Narrow Bridge", which was scheduled to receive its world premiere on March 28, 2020, followed by a series of changes to the 2020-21 program, ultimately the WJT did find success going online with two separate productions this year: "Becoming Dr. Ruth" – in February, featuring a repeat of her award-winning role by Mariam Bernstein – and which was offered on demand to at-home audiences; and, more recently the free streaming online of "True Colours" in March.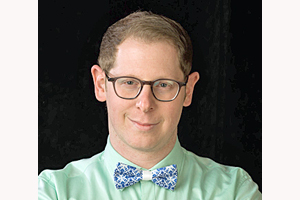 While WJT Artistic Director Ari Weinberg was quite pleased with the reception that both those productions received from at-home audiences, he's more than a little excited to once again being able to offer Winnipeg audiences live theatre, beginning August 26, with eight performances of a play that is particularly timely given the circumstances in which we've all found itself, titled "Dear Jack Dear Louise".
Recently I had the chance to talk to Ari about this impending production which, by the way, features the youngest member of the immensely talented Frohlinger siblings, Becky Frohlinger (sister to Alexandra and Joey), along with another talented Winnipegger, Justin Stadnyk.
Following are excerpts from my conversation with Ari Weinberg:
JP&N: "When was the decision made to do a live show?"
Ari: "The plan was always to do a live show. Our plan all along was to do two digital shows, and then a live show – and this is it. We had hoped to do it in May, and then it got bumped. Then we were hoping for late June or early July, and then it got bumped. So this is actually the third time we planned to do it."
JP&N: "What will the seating capacity be?"
Ari: "Eighty seats."
JP&N: "How many performances will there be?"
Ari: "Eight performances. We usually do eight, but if it continues to sell as well as it has been we can add one or two shows."
JP&N: "So tell me something about this show. I've never heard of it."
Ari: "Well, the reason that almost no one has heard of it is that it actually premiered in December 2019, just before the start of Covid. We're doing the Canadian premiere of it; it's actually the second production of it anywhere in the world.
"Ken Ludwig is the playwright. He's a master of comedy. He wrote 'Lend Me a Tenor' – a very funny farce. He wrote the book for 'Crazy for You', also a very funny musical.
"This is the story of his parents. All four of his grandparents met at a barbeque during the Second World War. One set had a single son, the other had a single daughter. The son was off being a doctor in the army and the daughter was off aspiring to be in musicals in New York City.
"So the grandparents thought: 'We should get them to start writing to each other. So Jack picked up a pen and wrote to Louise and she responded, and they kept in touch throughout the war. They were supposed to meet, but various obstacles kept popping up, so they wrote letters to each other for four years and met at the end of the war – and got married, and had Ken and his brother.
"When they both passed away, he inherited the letters that they had written to each other, and he thought: 'There's a play here', so it's sort of an homage to his parents."
JP&N: "You know, this reminds me of a play put on at the Fringe Festival a few years ago (2014, to be exact) by Susan Freedman, who was the daughter of the late Sam and Brownie Freedman. (The play was titled "Spilling Family Secrets".) It was a one-woman show based on letters they had written to one another."
Ari: "This one is quite hilarious, too, especially Louise. She's quite a vivacious character who's trying out for Broadway musicals. She's excitable and she has all kinds of hilarious adventures that she relates to Jack throughout the play."
JP&N: "It must involve more than reading letters."
Ari: "No – and that's why I planned it. It's a perfect 'social distancing' play. The characters don't even meet until the final moment of the play. They're in their two separate worlds.
"This is actually a perfect show to do in a tent. He has his army tent and a little foot locker and she's in a boarding house in New York City, but it's the two of them in their separate worlds conversing with one another."
JP&N: "Is there any singing, because I know that both Becky and Justin are very talented singers?"
Ari: "No – they're both incredible singers, but there's no singing in the play."
JP&N: "So maybe we can ask them to stay after the play is over, pass a cup around, and ask them to sing for us."
Ari: "Yah, we'll ask them to take requests." (Ed. note: This is all tongue in cheek, in case you think this is meant to be taken seriously.)
JP&N: "Let's talk a little about Becky (Frohlinger) and Justin (Stadnyk). I know Becky very well and I also know Justin from a show that he was in with my son at Rainbow Stage" (which also included Alexandra and Joey Frohlinger, but not Becky, who was too young to appear on Rainbow Stage at that time).
Ari: "This is actually their fifth show together. It feels like a homecoming in many ways. It's great to have Becky back in Winnipeg." (Ed. note: When we last mentioned Becky in a column it was in August 2016, when Becky was appearing in a production of 'Shrek the Musical' at Rainbow Stage. Becky was already a seasoned performer by then, also having just graduated with a Bachelor of Fine Arts in Musical Theatre from Elon College in North Carolina.)
JP&N: "We've been following the careers of all three talented Frohlinger siblings for years."
Ari: "I know, I've been hearing lots of anecdotes about the Frohlingers."
(A perusal of Justin Stadnyk's website reveals that he was born in 1985 and has been performing in the musical theatre world for years. Justin is also a dedicated yoga practitioner and teacher.)
"Something that might interest you is that Justin and I were in the same class together at Sheridan College.
"Justin became a dad during the pandemic and this is his first show back. This show is a labour of love for the both of them – as well as the Winnipeg Jewish Theatre."
JP&N: "Okay, so how long does the show run?"
Ari: "It's 90 minutes – without an intermission."
JP&N: "It's under a canopy, is it?"
Ari: "Yes, it's under a tent. Three of the sides are open. We've got good air flow."
JP&N: "Are you encouraging people to wear masks?"
Ari: "Masks are strongly recommended."
JP&N: "Do you have to present a proof of vaccination to enter?"
Ari: "No, we checked with the province, and because we're outdoors and because there's good air flow, and because we're under 100 people, and because people are socially distanced in the seats – seats are either in pairs or singles – vaccination is not mandatory. We're assuming that the majority of our audience is vaccinated, but that's why masks are strongly recommended."
JP&N: "Let's talk a little about the two shows you did online this year. I know the Dr. Ruth show did quite well."
Ari: "Yes, it was a great success for us. We had lots of people watch it – and it was watched all over the world.
"Then we did our production of 'True Colours' – and it's currently part of the Stratford Festival streaming platform."
JP&N: "I was going to ask you about Daniel Thau-Eleff and the lousy luck he's had. His play ('Narrow Bridge') has been canceled twice now, hasn't it?"
Ari: "We have a plan to do one digital production in the fall, then two live productions, both Canadian premieres. One is a production we're hoping to do live and in person in February, and the other in a tent again next summer. It's a musical that we're hoping to do live at the campus.
"Then, the following year, we're hoping we'll be fully back in the season, and that's when we're hoping 'Narrow Bridge' will make it to the stage."
JP&N: "So that'll be 2022-23 – right?"
Ari: "Yes."
JP&N: "It's becoming 'A Bridge Too Far' by now."
Ari: "Yes, a very long, narrow bridge."
JP&N: "Coincidentally, I'm going to be running a story this issue about the Jewish Foundation and how they came through for so many Jewish organizations during the pandemic, including Winnipeg Jewish Theatre. I don't know if you had been able to carry on without that funding."
Ari: "A hundred per cent. They and the Winnipeg Foundation have been great foundations of support for us."
JP&N: "Anything else you want to say, Ari?"
Ari: "Just that we've already sold 50% of the available tickets (as of August 12), so this is not a show where you should sit back and think about whether you want to buy tickets. This is definitely a case where you should pick up the phone and call or get to a computer and go online and book."