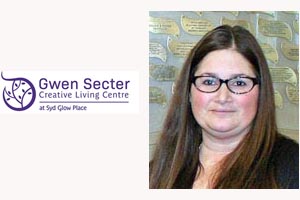 By BERNIE BELLAN Ever since the Covid pandemic took hold in Manitoba I've been chronicling the amazing efforts emanating from the Gwen Secter Centre to provide services not only to seniors but to many other individuals in need.
Following the first province wide lockdown – which began on March 14, 2020, Meals on Wheels stopped taking new applications for its program for two weeks. Into the breach, however, stepped Becky Chisick, Gwen Secter executive director, along with her two kitchen staff: Galina Melenevska and Cathy Koltowski.
In our April 15, 2020 issue I had reported that the kitchen staff at Gwen Secter had produced 60 meals for Jewish seniors from March 30-April 3, all delivered free of charge.
Then, in our May 13, 2020 issue, I wrote that the staff had increased production of meals to the point where they sent out 194 meals the week of May 4-8.
In our May 27, 2020 issue I wrote about the fantastic job that Galina and Cathy had been doing turning out those meals. Becky Chisick wrote to me back then: "The meal program is going very well. I have hired a part- time volunteer meal program coordinator, Lauren Cogan, to help with the organization of routes, volunteers and clients. She also calls all of the clients twice a week to help continue more personal connections. A HUGE help! We are now delivering over 270 meals weekly. I thought we'd be eventually up to (around) 120 meals!!"
In our July 13, 2020 issue, Becky provided a further update: "We have seen a surge in the need over these past couple of weeks. Last week we sent out over 400 meals and we are still receiving calls. I hope to continue the meal program until we can safely open up for programming. This will of course depend on sourcing additional funding. I am always looking!"
Since then the Gwen Secter meal program has increased its production – to the point where it is now producing 600 meals a week! Unfortunately, while there is a wait list of 60 different individuals who would also like to receive meals, Becky Chisick says the kitchen is simply incapable of producing any more meals.
In recent weeks, I myself have been volunteering to deliver meals for the Gwen Secter Centre, and I've been able to obtain a close-up look how efficient the program is – and how grateful recipients of those meals are.
Lauren Cogan is continuing as the meal program co-ordinator, and by now she is being paid for her work (as opposed to last year when she was a volunteer). She has been doing a fantastic job making sure meals are organized for pick-up by volunteers at staggered times on Tuesday and Friday mornings – and, more importantly, that there are enough volunteers available to deliver those meals. (It's become more of a problem this summer with some volunteers dropping out for various reasons, Lauren says. Altogether there are 30 volunteers needed each day to deliver those 300 meals to an average of 10 households per driver, although some routes have slightly more points of call while others have fewer.)
I e-mailed Becky Chisick to ask her some questions about the meal delivery program. Some of her answers were incorporated into what I've already written, but here are some more answers that I asked Becky:
JP&N: "Where is the funding for the program coming from?"
Becky: "The funding is coming from many funding organizations such as the Winnipeg Foundation, The Jewish Foundation of Manitoba, The Jewish Federation of Winnipeg, United Way, Help Age Canada, New Horizons for Seniors, WRHA and Second Harvest. "
JP&N: "Now, here's the sticky part: From what I understand you don't ask recipients whether they're Jewish. Thus, many of the recipients (I can see from where I've been going with meals) aren't Jewish. But, have you had to turn down Jewish applicants as a result (because it was on a first come – first served basis)?"
Becky: "Once we first hit our capacity everyone went onto our waiting list. I have adjusted the onboarding process so that any community member referred goes directly onto the program, no more wait lists for community referrals."
JP&N: "I know you told me the meals don't cost anything for recipients. But surely some of the recipients can afford to pay something. I think you told me that certain meals – that cater to special dietary needs, have a charge attached. Is that right?"
Becky: "No. We adjust to dietary needs as best we can for anyone who needs, at no cost. There are a select few that give the centre a monthly donation of what is affordable to them. Those that can afford to pay order meals or a la carte items from our catering menu."
JP&N: "But, if you're not charging for meals, don't you think that some people are taking advantage when they could well afford to pay something?"
Becky: "We like to think that those that are on the program need assistance in some way. Over 80% have been referred by case workers or managers/seniors resource finders of low income housing. The program is designed on the honour system. You never know what is going on behind closed doors and I'm here to help, not to judge."
Our Jewish community is not homogenous by any stretch. While some directors of Jewish organizations may think that most Winnipeg Jews are able to escape to their cottages in the summer, that's hardly the case for a great many members of our community. In the three weeks that I've now been delivering meals, I've seen firsthand how many members of our community are not able to get out – for various reasons, or they simply have difficulty affording groceries. Between the Gwen Secter's meal program and what Jewish Child and Family Service is able to do for many of those individuals (and we'll have more again about JCFS in our next issue), we are fortunate indeed that ours is such a caring community – and that we can count on dedicated individuals such as the staff and volunteers at Gwen Secter and JCFS to attend to the needs of so many individuals.