Some major changes in allocations to beneficiary agencies of the Jewish Federation as of Sept. 1 – Gray Academy to receive $26,000 less than last year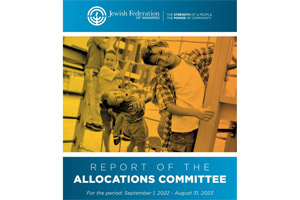 By BERNIE BELLAN The Jewish Federation will be allocating exactly the same total amount of money to its beneficiary agencies in the 2022/23 fiscal year (beginning September 1) as it did in 2021/22: $3,003,000. But – the distribution of those funds will be markedly different this coming year than it was in the fiscal year that will end August 31.
That is the major takeaway from this year's report of the Federation's Budget & Allocations Committee.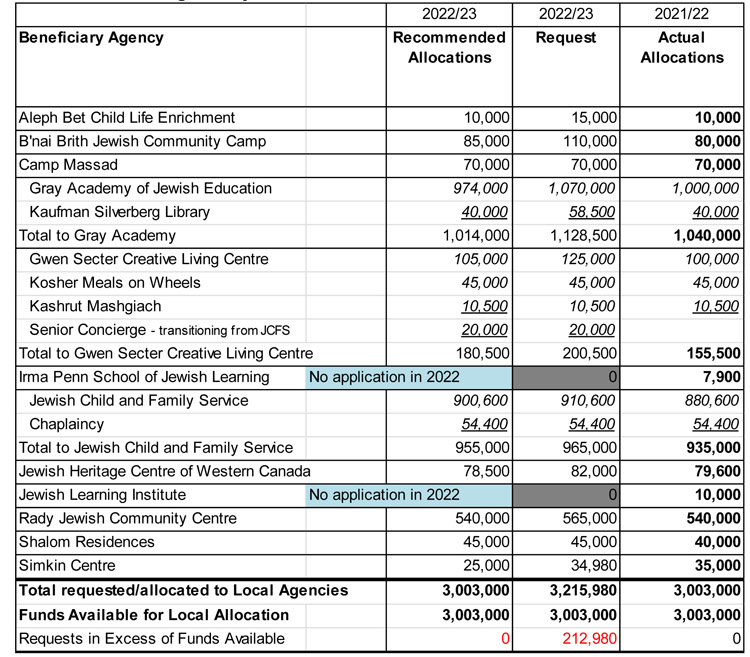 Of its 12 beneficiary agencies, moreover, two will not be operating at all this coming year and are, therefore, not being funded: The Irma Penn School of Jewish Learning ("which lost their newly recruited teacher just before the school year began and was not able to find a replacement mid-year") and the Jewish Learning Institute (which "is finishing the current season with remote programming but will have to resolve staffing before establishing what the program will look like going forward.")
Of the remaining ten agencies, the most notable changes will be occurring in: funding for the Gray Academy, which will see a drop of $26,000 in its allocation; a $10,000 drop in allocation for the Simkin Centre; a $5,000 increase for the Gwen Secter Centre (along with the transfer of the "senior concierge" position to Gwen Secter from Jewish Child & Family Service); and a $20,000 increase in allocation for JCFS.
The continued effects of the Covid pandemic have made planning much more difficult for many of the agencies.
In a section of the report titled "Beneficiary Agencies Highlights and Needs," the Allocations Committee enumerated the many challenges facing the agencies in general:
"Pandemic Recoveries and Overall Trends: The Winnipeg Jewish community benefits from strong Beneficiaries that found creative ways to serve their constituencies in the face of restrictions on service, safety and health concerns. They are all budgeting and planning for more 'normal' years of service in the next year. However, each agency has a Plan A and a Plan B and a variety of scenarios that are on their radar, having learned to expect uncertainty. Every agency expressed cautious optimism about the year to come as well as concerns:
• Concern about inflation and rising supply costs, specifically food, gas, and biodegradable packaging;
• Each agency is coming into the next year in a good financial position, some with significant surpluses because of government subsidies and foundation grants during the pandemic, fortunate but not likely to repeat;
• There continue to be some additional costs associated with fewer people allowed in the same spaces, hybrid/online service costs, heightened attention to cleaning, etc.;
• Several agencies mentioned wanting to use surpluses to build their reserves as they look forward to leaner years with expected reductions in membership and fee revenues, while they re-build programming and fundraising revenues;
• There is concern around the pace of resumption of in-person participation and attendance, and willingness to pay at pre-pandemic levels as in-person programming resumes, all affecting overall revenue;
• There is a general concern about bringing back families, students, campers, members that have not been vaccinated and who may feel alienated. And a similar concern about those who feel vulnerable and may choose to stay away from in-person activities once mask and vaccine mandates are lifted in community venues;
• They are opening back up for in-person programs and field trips etc. but with lots of alternative plans;
• Teen mental health is a (sic.) emergent concern everywhere;
• Providing competitive wages to recruit and retain staff is a concern in most agencies; and
• Those awaiting government funding from MB starting April 1, 2022 have not received confirmation from relevant government departments."
We sent an inquiry to Faye Rosenberg Cohen, Chief Planning and Allocations Officer for the Jewish Federation of Winnipeg, asking her about the relatively large cut in the allocations to Gray Academy and the Simkin Centre. It should be made clear though, that the allocation to the Simkin Centre is for two specific purposes that are separate and apart from the day to day operation of a personal care home: "The allocation funds High Holiday services and kashrut supervision to support the Jewish character of the home."
Rather than refer specifically to the cuts to Gray Academy and the Simkin Centre though, Faye Rosenberg Cohen responded that "The changes from last year are based on expressed needs, financial health of the beneficiary organizations and the need to balance. The decreases only reflect the need to rebalance for current needs. We try to approach each year with fresh eyes, not with a focus on last year. We are grateful to have strong agencies with good balance sheets and blessed with a strong campaign to support those agencies."
We should note, however, that this is the first time in seven years that Gray Academy's allocation from the Federation has been less than what it had received in the previous year.
I asked Gray Academy Head of School Lori Binder how the reduced allocation might affect Gray Academy this coming school year.
Lori responded: "We will certainly feel the impact from the reduction, especially given inflation and cost increases today. That said, we will mitigate any substantial impact by seeking cost savings across several expense lines. There will be no cuts to faculty or programming. We are grateful for the allocation we receive annually as it goes directly to supporting the school's bursary assistance program and ensuring that a Jewish day school education remains accessible."
Interestingly, the two agencies that received the largest increases in funding, JCFS and the Gwen Secter Centre, were both cited for the tremendous work they both have been doing in serving the needs of less fortunate members of our community, which have been even more acute as a result of the pandemic.
Here is what the report had to say about JCFS: "They currently serve about 5000 people each year. Federation funds work not supported by other sources include the rapidly growing caseload of seniors, addiction recovery supports, mental health services and a new and growing crisis in teen mental health. Having this robust agency that MB mandated for child welfare, and Federally supported for immigrant resettlement allows them to adapt to current needs."
As for the Gwen Secter Centre, isn't it ironic to consider that just a few years ago the very existence of the Gwen Secter Centre was seriously in question, as it appeared quite certain that it was about to be evicted from its home on Main Street and was desperately searching for a new location – until an "angel" came along and provided the funding for Gwen Secter to buy its building outright?
Here is what the Allocations Committee Report had to say about the Gwen Secter Centre: "The Winnipeg Jewish community has a large and growing proportion of seniors of 'Baby Boomers' age, individuals who may experience increasing isolation after they retire and as their families and friends diminish in number and scatter around the world. The agency addresses isolation of seniors with programming that include the key components of kosher food and Jewish culture that create connection with Jewish community. They now use online platforms as well as in-person offerings and run transportation programs to bring seniors to programs as a new medical transportation program in partnership with JCFS. The success of this program fills a pent up need predating the pandemic.
"Kosher Meals on Wheels: Now in house for the first time, KMOW reaches seniors in their homes with healthy, kosher food at an attainable price, social contact with the volunteers who deliver, and information that comes with the tray. By bringing it in house they are able to serve more people at lower cost and better match food choices to tastes.
"GSCLC pivoted to deliver 35,000 meals in one year during the pandemic. With a proven capacity for 600 meals per week they are now over 560 KMOW in December and growing.
"Senior Concierge: This pilot program moves to GSCLC to provide community wide outreach and referrals to reduce isolation of this growing number of seniors as well as coordinating transportation programs e.g. the Taxi Voucher Program for winter rides (previously housed at the Rady JCC) with Medical transportation rides."
With so much uncertainty about how individuals will respond to the continually variating pressures exerted by a pandemic that, much as many would like to completely dislodge from their minds, it is clear from the Budget & Allocations Committee report that those concerns are still dominating the planning of many of our agencies.
Congregation Etz Chayim says good bye to 123 Matheson Ave.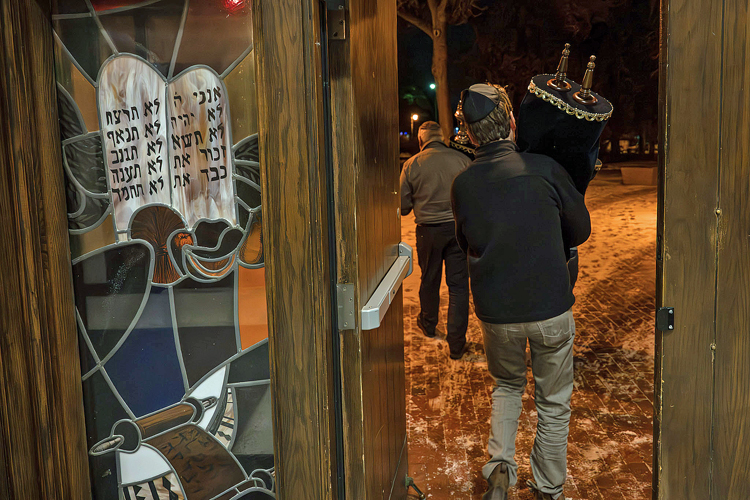 By BERNIE BELLAN After 71 years of serving as the home for first the Rosh Pina Synagogue, then for the past 21 years as the home for what was the merger of three different congregations – Rosh Pina's, along with the Bnay Abraham and Beth Israel, the Etz Chayim Congregation held its final service on Wednesday, November 29.
You can read the story by CJN writer John Longhurst elsewhere on this site (https://jewishpostandnews.ca/rss/congregation-etz-chayim-in-winnipeg-says-a-bittersweet-farewell-to-their-old-building-as-they-prepare-to-move/) along with our earlier story about the sale of the building to an Eritrean Church (https://jewishpostandnews.ca/faqs/rokmicronews-fp-1/former-congregation-etz-chayim-synagogue-building-to-become-eritrean-orthodox-church/), but here are some pictures from the final service.
(Photos courtesy of Keith Levit)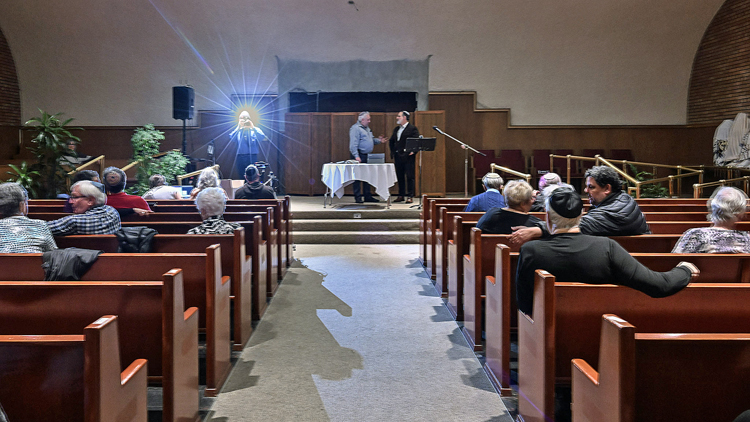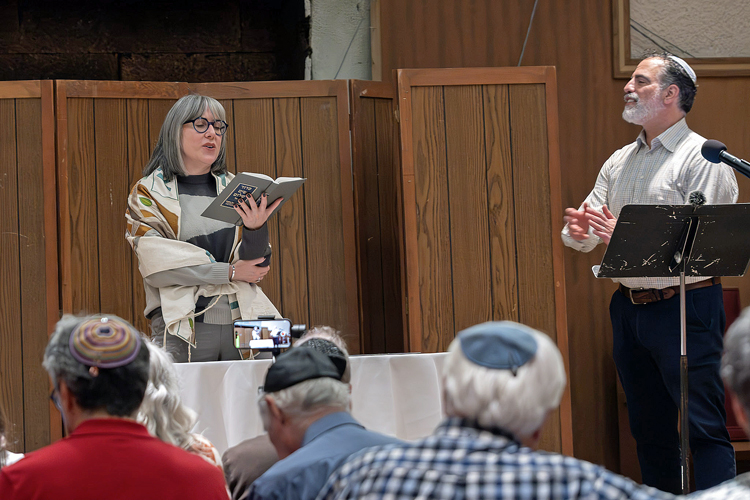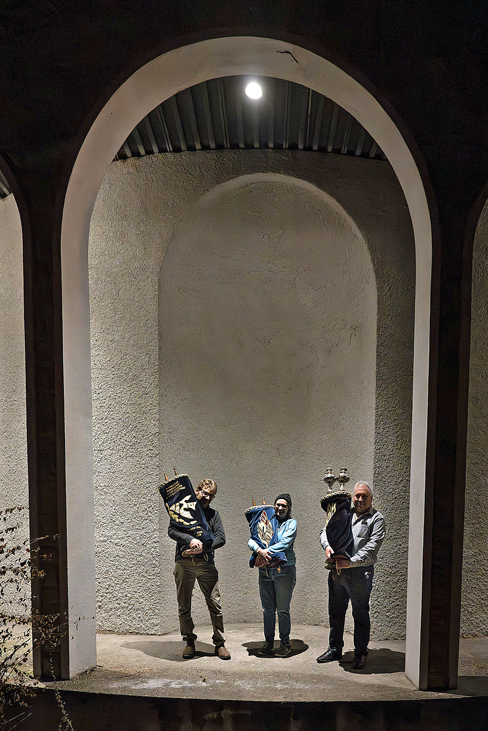 Israel report by former Winnipegger Bruce Brown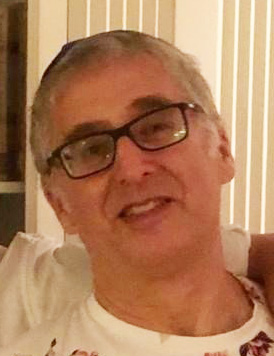 By BRUCE BROWN (posted Nov. 28/23) Was driving home from work the other day.  Pre-ceasefire.  Left the office early to reduce driving time in the evening hours.  Hamas likes their 6PM missile barrage and I'm honing my missile-avoidance routine.
 
Was listening to talk-radio… but kind of had enough of the news.  Too much war talk and its getting a bit overwhelming.  So switched to Spotify and up popped Supertramp – the Logical Song.  For sure how 'wonderful, beautiful, magical' life once felt.  Before Oct 7th.  Before Hamas. 
 
Then, as if on cue.  I gaze towards the sky.  And saw missiles flying overhead.  At first it didn't really click. And then.  Yikes!  I quickly switched back to the news.  Where, in a very calming voice, they were announcing areas under missile attack.  Which is another reason to listen to the radio while driving during war – real-time information.  Lesson learned.
 
Suddenly my smartphone's flashlight started flashing.  Which was pretty darn cool!  And there I was, on Star Trek.  Standing on the bridge.  Even recalled the vessel number – NCC-1701. There I was with Captain Kirk.  No!  I was Captain Kirk.  Dr. McCoy by my side.  Sulu and Chekov at the controls.  The Klingons were attacking.  And Mr. Spock -standing to the side- was calmy advising the attack coordinates.  No Wait!  That was the radio announcer.  Seriously.  This all took place within a split second in my over-active imagination.
 
The flashing continued.  Then I realized my cellphone was communicating with me.  Warning of danger.  I have the Home Front Command application which sounds an amazingly loud alarm during a missile attack in my area.  But changing between the radio and Spotify prevented the siren from going off.  So instead, the phone activated my flashlight.  Sending out an S.O.S.  Now how neat is that!  In a geeky sort of way.  Like for someone who imagines himself on Star Trek during a real-life missile attack.
 
Then.  Reality set in.  There were Home Front Command instructions to follow.  Momentary-panic set in.  Where was my wife.  To tell me what to do.  Like she always does…but that's another story.  This time I wanted her there, instructing me. 
 
All these thoughts racing through my mind in milliseconds.  As I calmly slowed the car and veered to the shoulder.  Like other cars around me.  I put on the blinkers.  More flashing lights but the bridge of the U.S.S. Enterprise now a distant thought.  Looking both ways I left the car and hopped over the road- barrier.  Moving away from the car.  Although probably not far enough.  Because there was a steep decline just below.  It was getting dark and, suffering from poor night vision, I didn't want to trip and hurt myself.  I heard my son laughing at me. "Nerd!" he called out.  But that was just my imagination.
 
I should have laid flat.  Prostrating myself for maximum protection.  But it rained earlier that day, the ground was wet and I didn't want to get muddy.  '"Nerd!"  This time it was my daughter in my mind's eye.  "Okay," I said to no one in particular.  "I'll squat."  Good enough…but not really.
 
The family in the car ahead were huddling together but too close to their vehicle.  I shouted for them to move further away.  But they didn't react.  Probably didn't understand me, especially given my still heavily accented Canadian Hebrew.  This time I heard both my kids.  Teasing me – thirty years and still talk like an immigrant!  "Hey, they just don't hear me."  I said to the darkness.  Otherwise it was very moving seeing the father crouching down on top of his brood, in a protective sort of way.  "Isn't that touching." I said to my wife.  "For sure." She said somewhat sarcastically in the back of my mind, "I know you'd do the same."  
 
Then it was over.  The sky went quiet.  People returned to their cars.  The nestled family broke apart and entered theirs.  We should have stayed in place several more minutes.  Ten minutes is the recommended time.  But it was dark.  Getting late.  Also a bit cold.  I just wanted to get home.  Back to the real chiding of my kids and to my wife… somehow longing for her ordering me about.
 
A few minutes later my wife called.  Making sure I was safe.  And then routine set in.  "Don't forget to pick up some milk and bread from the corner store."  She instructed me.
 
Um Israel Chai
 
Bruce Brown.  A Canadian. And an Israeli.  Bruce made Aliyah…a long time ago.  He works in Israel's hi-tech sector by day and, in spurts, is a somewhat inspired writer by night.  Bruce is the winner of the 2019 American Jewish Press Association Simon Rockower Award for excellence in writing.  And wrote the 1998 satire, An Israeli is….  Bruce's reflects on life in Israel – political, social, economic and personal.  With lots of biting, contrarian, sardonic and irreverent insight.
 
Jewish community holds solidarity rally November 25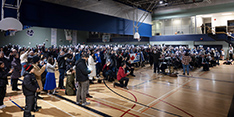 The Jewish Federation of Winnipeg held a rally in support of Israel on Saturday evening, November 25.
A number of speakers addressed the crowd of 800, including Rabbi Yosef Benarroch of Adas Yeshurun-Herzlia Congregation; Members of Parliament Ben Carr & Marty Morantz; Yolanda Papini-Pollock of Winnipeg Friends of Israel; Paula McPherson, former Brock Corydon teacher; and Gustavo Zentner, President of the Jewish Federation.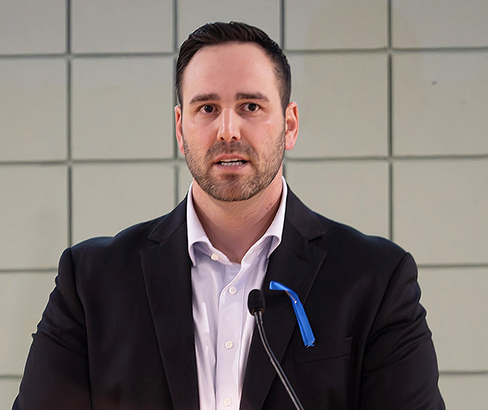 Click here to watch Ben Carr's remarks: https://www.youtube.com/watch?v=crfREGNRKfg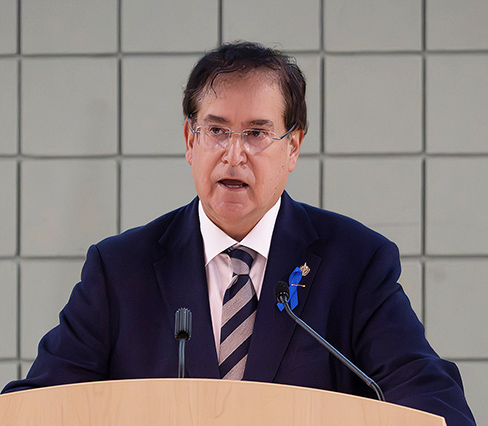 Click here to watch a video of Marty Morantz's remarks: https://studio.youtube.com/video/zHzC-iaqivg/ed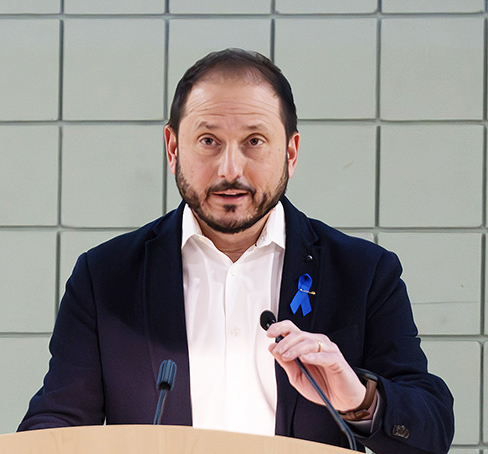 Click here to watch a video of Gustavo Zentner's remarks: https://www.youtube.com/watch?v=L3M_cCYuLgs