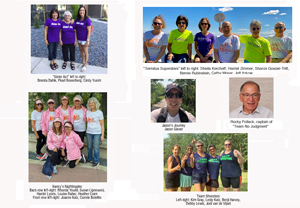 By MYRON LOVE The 15th annual Cancercare Manitoba Foundation Challenge for Life 20KM walk (or 200-minute workout) is back again, but much later this year than had traditionally been the case: August 4-14.  Once again, teams dominated or led by members of our Jewish community are among the top fundraisers.
Over the years, Benji Harvey, one of the "Greenfeld girls", has consistently proven herself to be one of the event's star fundraisers. This year, for the first time, the prolific Harvey sits in first place (as of the middle of July) having personally raised just over $11,000 – almost $2,000 more than the next closest participant (whose last name also coincidentally happens to be Harvey, although the two fundraisers are not related) – with more than double the total value of donations that she brought in last year.
Benji Harvey's Team Shvesters has raised just under $18,000 for this year's Challenge – also more than double last year's total – and good for third place among fundraising teams. So far,
Since the beginning of the Challenge for Life, Team Shvesters has raised a total of more than $260,060, with Benjii Harvey accounting for just under $64,000 (including donations received as of mid-July this year).
The team was founded by Harvey and her sisters, Lesly Katz and Debby Lewis. Two of the sisters had been diagnosed with breast cancer.
This year, Harvey notes, the team members are Benji, Lesly, Deb and Kim Gray (who ranks ninth among individual fundraisers with close to $4,000 raised).
As was the case the last two years, participants this year are walking in small groups covering the same 20km distance that used to be the goal on the day of the walk pre-Covid, but over two weeks from August 4 to 14.
Team Shvesters members will be doing the walk on Saturday, August 6, following a route that takes them through Assiniboine Park, Charleswood, Academy Road and Wellington Crescent and back to the park and finishing with a 30 minute yoga stretch.
In fourth place among team fundraisers this year is another "Jewish" team that has consistently been among the top ten over the years. As of mid-July, Nancy's Nightingales – consisting of longtime friends Louise Raber (team captain), Harriet Lyons, Joanne Katz and Connie Botelho and relative newcomer Rhonda Youell (this is her fourth year as part of the team) – have raised over $11,250.
Lyons' $4,300 raised puts her in seventh place amongst individual fundraisers.
The"Nightingales" were named after a nurse – a cancer survivor – who is a friend of Louise Raber – and have been part of the Challenge for Life since its inception 16 years ago..
Raber notes that the team will be doing the virtual 20km walk over two days beginning at the Shaarey Zedek parking lot, following a route down Wellington Crescent to Assiniboine Park and back again.
Jason's Journey, a team led by Jason Gisser, will be doing their walk on August 7 following a route that encompasses Tuxedo, River Heights and Crescentwood. Gisser reports that the team will also he holding an event on August 6 with family members of the participants encouraged to join.
The son of David Gisser and Freda Steel has experienced a more intimate and longer-lasting relationship with cancer than many of the other Challenge for Life participants. He was first diagnosed with cancer when he was 18. The still young lawyer has been fighting cancer for more than half his life now. Happily, an oral chemotherapy pill he has been taking for the past few years has controlled his cancer and allowed him to return to living a normal life.
He first took up the Challenge in 2019 as a way to give back for all the help that he has received over the years from CancerCare Manitoba staff. This year, thus far, he has personally brought in over $5,000 – the fifth most among individual entrants – while his team – also consisting of Matthew Maruca, Wendy Martin White and Nora Fien – has raised over $8,000 – good for fifth place overall among teams.
The oldest participant in the Challenge once again is 88-year-old Pearl Rosenberg who, with her daughters, Cindy Yusim and Brenda Dahle, comprise Sister Act.
Rosenberg lost two daughters to cancer within about a year of each other. Naomi Palansky passed away in 2010 and Michelle Moyer in 2011. Brenda Dahle notes that Naomi walked with her family in the first Challenge For Life Walk.
(And readers may recall that Naomi's children, Noah and Lexi, started their own team of walkers, "Kids Count," shortly after their mother received her cancer diagnosis.)
"I started taking part in the Challenge for Life on Team Chai in 2008," Dahle says. "My mom, my sister Cindy, and I walk in memory of our sisters whose love, strength, and courage continue to inspire us." Dahle reports that her mother's walk will be incorporated into her daily walks in Kildonan Park – doing the 20km in increments of 3-5 km a day over six or seven days.
"We hope to raise at least $2,500 each," Dahle says.
Perennial fundraising dynamo Serratus Superstars have also been walking the Challenge for Life since the Challenge inception in 2008. Team captain Cathy Moser reported in an interview with the JP&N last year that the group had raised over $450,000.00 in those years – through donations, garage sales, concerts, and bake sales.
For this year, Moser is still looking to recruit more team members. Interested readers can email Cathy Moser at cathy.g.moser@gmail.com.
Senior Provincial Court Judge Rocky Pollack is another perennial participant in the Challenge for Life. Pollack's wife, Sharon, fought cancer for 14 years before her passing in 2012. During the time that she was ill, both Sharon and Rocky came to appreciate the care that she received from Cancercare Manitoba and they both became actively involved in the organization and the foundation. Rocky has served in a number of positions with the organization over the years and has participated in the Challenge for Life for the last several years as well.
Two years ago, Pollack and his Team No Judgment (which included twelve of his colleagues) raised just under $6000. "Our goal is to raise more money than last year," he says. "Community outreach is important to all of the judges of my court. They get involved in several ways and I am proud to say that the CancerCare Foundation is again one of them."
Readers can make donations to their preferred team by going online to CancerCarefdn.mb.ca and clicking on Challengeforlife.ca.