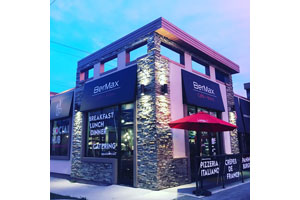 By BERNIE BELLAN
As reported in various media on October 6, the three members of the Berent family: father Alexander, mother Oxana, and son Maxim, are all now living in Los Angeles, having gone there in January of this year.
Readers may recall the notoriety surrounding the Berent family in relation to the charges of "public mischief" that were laid against them in April 2019 following the sensational report of what appeared to be the worst case of antisemitic vandalism ever having been seen in Winnipeg to that point, when what appeared to be the targeting of the Bermax Caffé on Corydon Avenue for vandalism drew widespread public attention. (It was also alleged that Oxana Berent had been attacked and rendered unconscious by whoever perpetrated the vandalism.)
In an email issued to various media by lawyer Michael Lazar of the Broadway Law Group on October 7, Lazar notes that he is now acting for Oxana Berent – having taken over from Martin Glazer. (Phillip Cramer is acting for Maxim Berent; Cramer is the only one of the three original lawyers retained by members of the Berent family who is still on the case. Brett Gladstone is acting for Alexander Berent, who was originally represented by James Lowry.)
In Lazar's email he writes: "In the aftermath of the events (which took place in April 2019) there was a great deal of publicity which exposed the Berent family to ostracism in the community. Compounded by financial difficulties, the Berents lost both their business and their family home."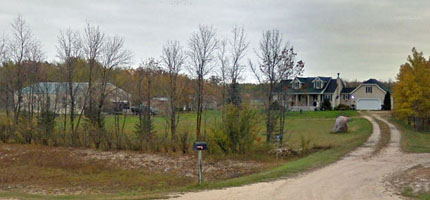 We searched the title to the Berent home, which is off Highway 8 in the municipality of St. Andrews. The property was listed for sale in July 2019 for $669,000, but remained unsold until the listing expired in July of this year.
There are three different mortgages on the property: one held by the Royal Bank for $249,318; one by the Cambrian Credit Union for $1,000,000; and one by something called Community Futures North Red Inc. for $150,000. In addition, there are various judgments against various Berent-owned companies, including Bermax Design and Bermax Capital, amounting to over $120,000.
There are other claims pending against both Berent-owned companies and Alexander and Oxana Berent personally.
There is also a personal judgment against Maxim Berent from the Royal Bank for $44,000.)
On September 24 of this year the Royal Bank began foreclosing proceedings on the property off Highway 8.
Lazar's email continues: "They had no community support in Winnipeg, but were offered support by the Chabad movement in Los Angeles. They advised the court of their intention to relocate to California, and were told that they were free to go so long as they maintained contact with their defence lawyers and returned for their trial. They relocated to California in January 2020.
"The subsequent arrival of the COVID pandemic raised difficult procedural issues in the case. Manitoba currently requires people arriving from the United States and elsewhere outside of Western Canada to quarantine for two weeks upon their arrival in Manitoba. This means that the Berents would have to return to Manitoba at least two weeks before the scheduled trial dates and quarantine here for two weeks. They had nowhere to do that, and do not have the means to quarantine in a hotel for two weeks."
Presumably the Berents entered the United States on what is known as a B2 Visitor Visa, which is normally good only for six months. The Berents entered the United States in January, which means their visa would normally have expired either in June or July. Under certain circumstances visitors can request a further six-month extension of that visa.
Toward the end of his email Lazar also says the following: "The intent here (and this was expressed on the record by the crown attorney and confirmed by the defence lawyers) was that the Berents could return to Winnipeg and report to the police once COVID has receded and the quarantine requirements were removed. They would be released on a new bail and new trial dates would be scheduled. This was a creative and cooperative effort between crown and defence to deal with one of the unique challenges raised by the pandemic situation."
While we have no way of knowing what is in the minds of the Berents, the option of returning to Israel (where they lived before moving to Canada in 2006) is open to them. While Israel does not necessarily extend the "right of return" to a Jew with a criminal record, (Article 2(b) of the Law of Return asserts that an entry visa will not be granted to a Jewish person if they have a criminal record that suggests they may pose a risk to public safety), none of the Berents have been convicted of a criminal offence.
The following information is taken from an article I wrote about the Berent family in 2013: "Originally from Ukraine, where Maxim's father, Alex, worked in the design and production of custom-made furniture and cabinets with Maxim's grandfather and his mother, Oxana, worked first as an engineer – later joining the Berent family business, the family moved to Israel 22 years ago. Of all places to live the Berents ended up in Metulah, Israel's northern-most location, where they began selling furniture produced for them at nearby Kibbutz Hagoshrim. The family opened a furniture store in Kiryat Shmonah…"
"When the Berent family moved to Manitoba eight years ago (in 2006), settling in the St. Andrews area, it wasn't long before word of their 'old world' craftsmanship spread, and the orders began pouring in. As a matter of fact, Oxana Berent has been nominated for the 2013 'Woman Entrepeneur of the Year' award for her work in developing Bermax into a design and manufacture company of great repute."
Thus, it would not be difficult to conceive of the Berents re-establishing themselves in Israel – if they should so choose. (Presumably, they could also return to Ukraine if they still hold Ukrainian citizenship.) While Israel does have an extradition treaty with Canada, it hardly seems likely that the Crown in Manitoba would go to the trouble of initiating extradition proceedings with Israel over a charge of public mischief any more than the Crown is likely to do that with American authorities.
Also, given the fact that they have been given help by the Chabad movement in Los Angeles, it is not difficult to conceive of the Chabad movement (or perhaps some other Jewish movement) helping the Berents to move back to Israel – once the COVID epidemic subsides.
Of course, this is all mere speculation on our part. As Michael Lazar makes clear in his email, the Berents say they are quite willing to return to Winnipeg to face trial "once COVID has receded".