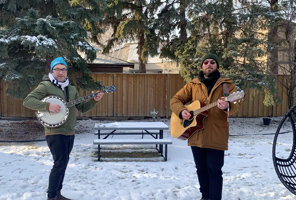 Have your own Chanukah concert right outside your door featuring the talented Borzykowski Brothers: Bryan & David.
Curbside Concerts is a company that was started in Calgary this year by founder Matt Masters. Due to COVID, musicians lost their gigs and music lovers lost their live music shows. So Matt put two and two together and created a safe and COVID -friendly live music delivery business. It was going so well in Calgary Matt decided to expand.
This is when well-known musician Romi Mayes came in. In June, she was asked by Matt to start Curbside Concerts in Manitoba. Since that time, Romi says, "We have made a name for ourselves in Winnipeg and I have booked over 100 Curbside Concerts following all Covid restrictions and safety protocol. Safety is our mandate and policy.
"We have an artist roster of 15 local solo or duo performers here in Manitoba representing our multicultural province." 
Due to the inevitable season change and colder climates (matched with tougher restrictions) Romi explains that she has had to dig deeper and think how Curbside Concerts could still bring the simcha of live music safely to our communities. 
"While our customers stay in the comfort of their home/in their doorway/at a window, our artists will come to their curbside/boulevard with a battery powered speaker to amplify vocals and any instruments, and perform a 30 minute festive set for you and your household."
You simply go to their website http://www.curbsideconcerts.ca, fill out an easy booking form, choose date/time and artist, and Romi will get back to you to facilitate the booking and payment. Other than that, you just sit back and relax safely in your home and the artist (or artists) will show up and play at the date and time requested. It's a Skip The Dishes for live, safe music! Watch a video of the Boryzykowski Brothers performing a Chanukah song here: Borzykowski Brothers