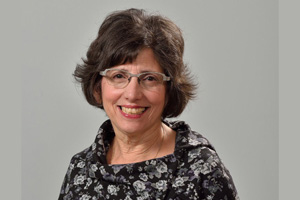 By MYRON LOVE The Federal Government, in the person of The Honourable François-Philippe Champagne, Minister of Innovation, Science and Industry, recently announced funding for the creation of a Canadian Prairie Metabolic Network (CPMN), linking genetic researchers in Winnipeg, Saskatoon, Edmonton and Calgary. One of the individuals chosen to lead the project is internationally-known pediatric geneticist Dr. Cheryl Rockman-Greenberg.
"I am honoured to have been given this new responsibility," notes Rockman-Greenberg, a longstanding academic clinician and member of our Jewish community for more than 40 years. "I am very excited to be part of this project," she says. "We believe that through this clinical network we will demonstrate that a "genomics first" diagnostic approach when considering a hereditary metabolic disorder will greatly enhance the timely care and outcomes for our patients in Manitoba, Saskatchewan and Alberta."
She reports that she and her colleagues – including those at partner organizations Shared Health Manitoba, Genome Prairie – a non-profit organization that supports stakeholders across Manitoba and Saskatchewan -, Discovery DNA, a genetics company based in Calgary which will provide diagnostic services, and Genome Alberta – first learned that they had received the grant in February although the formal announcement was delivered in early March.
Rockman-Greenberg is originally from Montreal. She received her medical degree at McGill. In Winnipeg, she wears several hats – as a research scientist at the Children's Hospital Research Institute of Manitoba, Distinguished Professor in both the Department of Pediatrics and Child Health and the Department of Biochemistry and Medical Genetics at the University of Manitoba's Max Rady College of Medicine. In her research she has identified the molecular source of some of Manitoba's most devastating inherited diseases. As noted in her University of Manitoba biography, much of her research has involved newborn screening, which allows for pre-symptomatic detection of metabolic genetic disorders that are amenable to effective treatment, if detected before symptoms appear.
She points out that the CPMN is the fifth regional All-for-One precision health partnership – making the program pan-Canadian, spanning coast-to-coast. The goal of the health partnerships is to improve the health and wellness of Canadians with serious genetic conditions by enabling access to a timely and accurate genomic-based diagnosis.
"There is a lot of work to be done," says Rockman-Greenberg of the establishment of the new initiative. The paperwork still has to be completed. Then, we will set up in Winnipeg first before linking up with our colleagues in Saskatoon, Edmonton and Calgary."
The government statement concerning the creation of CPMN points out that more than 6,000 patients in the Prairies, primarily children, are affected by inborn errors of metabolism (IEM), rare genetic diseases caused by mutations in either the nuclear or mitochondrial genome. "Throughout the Prairie provinces," the statement observes, "there is a limited local capacity for next-generation sequencing, causing delays which limit the benefits of early diagnosis, early treatment and improved outcomes. These delays result in adverse outcomes in patients. The CPMN aims to ensure the timely and more cost-effective delivery of innovative and relevant genomic testing in the Prairies, including rapid, inexpensive mitochondrial DNA testing not available elsewhere."
"We hope by combining our resources that we will be able to offer faster and more accurate diagnoses and better access to new treatments," Rockman-Greenberg says.