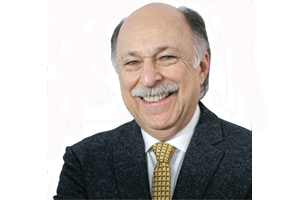 Dr. Jack Lipkin, DMD, is the 2020 recipient of the George H. Moulton Lifetime Achievement Award for the American Academy of Fixed Prosthodontics.
"I'm quite humbled by having won this," says Dr. Lipkin. "I was blown away."
Dr. Lipkin is only the second Canadian to win this award which recognizes members who have made a significant impact and contribution to the art and science of fixed prosthodontics and who have demonstrated lifetime service to the field.
Dr. Lipkin received his Bachelor of Science degree in 1970 and his Doctor of Dental Medicine in 1974, both from the University of Manitoba. He remembers the moment he wanted to specialize in prosthodontics. He was attending a lecture by a local specialist in his second year of dentistry school. "I was smitten by the complexity of what he was doing, by the results they were getting, by the tremendous change in the quality of people's lives," says Dr. Lipkin. "That was it. Boom! That's what I wanted to do."
After 3 years of general practice, Dr. Lipkin returned to graduate studies at the State University of New York at Buffalo, where he received his specialty in Prosthodontics in 1979. Dr. Lipkin returned to Winnipeg and began practicing as a certified specialist in Prosthodontics.
Today, Dr. Lipkin runs his own practice, Dr. Jack Lipkin Prosthodontics & Dental Implants, and is an Assistant Professor at the University of Manitoba's Faculty of Dentistry. Dr. Lipkin is a member of the Pierre Fauchard Academy; a fellow of the International College of Dentists and President Elect of the American Academy of Fixed Prosthodontists. Dr. Lipkin's work has been published in the Journal of the Canadian Dental Association, Family Health and he continues to lecture internationally.
"I have treated a lot of patients and a lot of the cases were very memorable in terms of what we did for people," says Dr. Lipkin, "but the singular most incredible event was getting this award."
The George H. Moulton Lifetime Achievement Award is the highest honor bestowed by the Academy and recipients are nominated by members and then chosen by a standing committee of the Academy. Dr. Lipkin wishes to thank "everybody who's shoulders I have stood on," he says, "the people who were responsible for my education, for my career."