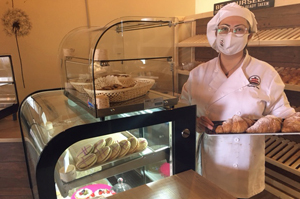 By BERNIE BELLAN In our Dec. 9, 2020 issue Rebeca Kuropatwa reported on the success that a recent Israeli émigré to Winnipeg, Luba Yurchenko, had found selling her own baking in Winnipeg.
In that story Rebeca explained how Luba had taken a rather circuitous route to becoming a baker:
"When I was in my mid-20s, Luba recalled, 'I was living with my dad, because my mom stayed in Russia and I grew up with him. He is a minimalist person. We didn't have an oven in the house. We didn't bake. I never baked.
"I got married in 2006, and, in 2009, Doriel was born. And, after three years, my husband (Vladimir) got me an actual oven and I started baking just for fun…just to see if I loved it or if I could do it.
" I started to be very good at it. So, a year later, I decided to go to study it in Israel and I graduated in 2013.'
Even after graduating, Luba continued her education. She took two more courses in cake decorating and started working in a bakery in Ashkelon.
" 'A lot of Jewish families enjoyed our baking stuff, because it was kosher with a rabbi's blessing," said Luba."
Luba and her husband Vladimir moved to Winnipeg in 2016. As Rebeca noted in her article, "Luba opted to go to culinary school, though she had already worked as a pastry chef in Ashkelon, after having earned her diploma from The Chef College in Israel.
In 2019, Luba felt she was ready to share her passion for baking with new clients. She began renting space at Adas Yeshurun Herzlia synagogue's kitchen, selling her baked goods at farmers' markets and to people she knew.
But, as Rebeca then explained, "Covid-19 hit. 'We had big plans for this past summer of 2020,' Luba said. 'We were supposed to be at farmers' markets and lots of places…even at the zoo market before Christmas, but all of it was cancelled.'
"Luba decided to realign her plans and spent time working on her website, making it possible for people to order goods. But then, Herzlia had to close its doors in line with the Covid-19 restrictions and shut downs, so Luba had to find another commercial kitchen to work out of – which she managed to do."
Rebeca's article went on to describe the many different foods that Luba has been producing, in addition to a variety of baked goods: "I'm also making food, like soups, and breads, and spreads, like baba ganoush and hummus and all kinds of stuff. I see that Indian people love me, because I use the spices, similar spices to them."
Toward the end of her article, Rebeca added a line about what Luba's plans were back in December: "Next up, Luba plans to open a bricks-and-mortar location in River Heights, once she has all the permits and equipment put together."
We're now happy to report that Luba, along with husband Vladimir, have realized that plan to open a bakery, and "Fantasy Cakes" opened at 530 Waterloo (corner of Corydon) on Tuesday, April 6.
But, here's something else that will be of interest – and probably delight as well, to a great many of our readers: Fantasy Cakes will be fully kosher. Rabbi Yosi Benarroch of the Adas Yeshurun Herzlia Congregation informed me of the opening of Fantasy Cakes in an email received on April 7, adding that the facility is under the complete supervision of Winnipeg's Vaad Hakashrut.
This marks the first opening of a new kosher facility in Winnipeg in years and the first new one that falls under Rabbi Benarroch's supervision.
"All the breads and pitas are pareve," Rabbi Benarroch noted, "while all the other baked goods are dairy."
"All the equipment in the bakery is brand new, " Rabbi Benarroch added. Before opening the bakery, Rabbi Benarroch and Vladimir Yurchenko actually took all the dishes and utensils that will be used in the bakery to the mikvah in the Rady JCC and kashered them there.
Fantasy Cakes will not be open on Saturdays, Rabbi Benarroch also said.
As for what Fantasy Cakes will have to offer, Luba Yurchenko will be turning out all the same goodies that she has already been producing, first at the Herzlia, then more recently at a downtown kitchen, but she is also planning more as time moves on.
As well, while customers, as yet, are not able to sit down and eat some of Luba's pastries in Fantasy Cakes itself, you can order a coffee while you're there. Plans eventually will include adding some tables and chairs, once the Covid-19 regulations allow for that indoors.
One final note: Rabbi Benarroch told me for sure to try Luba's challahs. Luba says that she will be selling challahs only on Fridays for the time being.
The phone number for Fantasy Cakes is 204-306-4050.