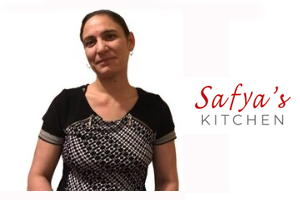 April 30, 2021 We first posted an article about Safya's Kitchen on April 20. Since then the opening of Safya's Kitchen has been delayed. Following is an email received from an indvidual who has been helping Safya Maroo to open her business: "Due to the new COVID restrictions we are not able to use the commercial kitchen to fulfill our usual Sunday orders from Safya's Kitchen.
"We are grateful for the support we have received and truly hope to be able to reopen soon."
Click on "Read more" to read the article originally posted April 19:
With the help of Operation Ezra, Yazidi newcomer Safya Maroo has launched her own new business! In an email received from Michel Aziza, who has been a driving force behind Operation Ezra, Michel writes: Safya has set up a small catering business which has been a dream of hers since she was privately sponsored by the Operation Ezra project and came to Winnipeg as a refugee in 2016 with her husband and three young children.
Safya has been working at Cafe Carlo for the last two years and throughout the pandemic.  She received her formal food handling certificate last October and has booked a supervised commercial kitchen on Donald street where she will cook and deliver traditional Yazidi dishes we have come to enjoy over the past few years every Sunday evening.
On her website, Safya writes: Sharing the traditional foods of Yazidi culture has been a dream of mine since I came to Winnipeg as a refugee with my husband and children in December, 2016.
I developed a passion for cooking living in Northern Iraq. I found a sense of joy and peacefulness in the kitchen even when life around me was not so calm.
I hope you will try many of the items from the menu I have created and that you will gain a sense of Yazidi culture by enjoying the healthy and flavorful foods from Safya's Kitchen.
We have now successfully completed a four week pilot program and are ready to help Safya launch  Safya's Kitchen . We hope that you will participate by ordering and enjoying her delicious food . 
Orders can be placed directly online at www.safyaskitchen.com . 
E-mail: safyaskitchen@gmail.com
Please place your order before the end of the day on Thursdays for delivery on Sundays between 5-6 p.m.