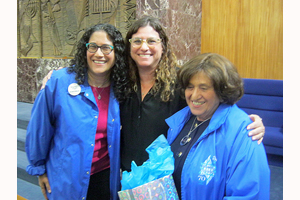 By MYRON LOVE
Angela Orosz-Richt is greatly concerned about the rising tide of Anti-Semitism in the world.
"It seems that the world hasn't learned anything from the Holocaust," she said. "There are still a lot of people who believe that all Jews are rich and influential, that we control Hollywood and the media. The internet is full of garbage and we are seeing rising levels and Anti-Semitic attacks in Germany and France and even Brooklyn.
"And it's not just the old Anti-Semitism. The lies about Israel are outrageous."
She further noted that half of Canadians can't name one concentration camp and many don't know what Auschwitz was.
"There is still so much more (in terms of education) that needs to be done," she said.
Orosz-Richt has in recent years taken a leading role in Holocaust education. On Thursday, February 27, the youngest survivor of Auschwitz was in Winnipeg for the first time speaking on behalf of the March of the Living to a full house at the Shaarey Zedek Synagogue.
Her appearance in Winnipeg came at the behest of Carrie Shenkarow, chair of the Jewish Federation of Winnipeg's March of the Living Committee.
Her father was an architect, her mother a well-educated young lady who was raised by French nannies. They met and fell in love and were married in 1943.
"Life was good at first," she said. "My parents had an active social life. They didn't see the clouds on the horizon."
The Germans invaded Hungary in April, 1944, and, shortly after, Orosz-Richt's parents were removed from their apartment to the ghetto and, on May 22, loaded with hundreds of other Hungarian Jews onto boxcars en route to Auschwitz. Orosz-Richt recounted the standard scenes of yelling, beatings, snarling German shepherds and the presence of Joseph Mengele on the platform designating the new arrivals for life or death.
Prisoners whose lives were spared had their heads shaven, were given uniforms and wooden shoes and were given numbers. "All their dignity was removed," Orosz-Richt said. "They were no longer counted as human beings."
While her father was worked to death, her pregnant mother somehow survived. She was first assigned to go through the belongings of victims for anything of value. Then, the five-months pregnant woman was put to work at hard labour building roads. What saved her was a reassignment to kitchen duties where she was able to scrounge potato peels.
When, at seven months pregnant, her condition was brought to the attention of Mengele whose staff subjected her to medical experiments consisting of injecting caustic substances into her cervix.
She was being encouraged by others in her barracks to abort her baby. "MY mother had a dream of her mother telling her to trust in God and not abort her child," Orosz-Richt said.
She gave birth in the barracks with the help of another inmate who had had some medical experience. Orosz-Richt weighed one kilo at birth and her chances of survival were slim. Further upping the odds against her, almost immediately after birth, her mother had to go outside with the other prisoners for the daily roll call.
"She had to stand for three hours in freezing temperatures in flimsy clothing," Orosz-Richt said. "It was the thought of her baby waiting inside that kept her going. She was afraid that I might have died before she got back."
After liberation, mother and sickly child returned to Hungary where they lived with Vera's mother. Vera found a doctor who looked after her baby. Mother and daughter escaped from Communist Hungary in 1948 and, shortly after, Vera married an older man who had lost his wife and daughter in the Holocaust.
"I grew up with loving and protective parents," she said.
Orosz-Richt – who has four children of her own – noted that for the first twenty years, survivors didn't want to talk about what happened to them. For the next twenty years, no one wanted to listen. It has only been in the last 30 years that Holocaust victims are talking and people are listening.
"Holocaust education is so very important," she said. "Government needs to be involved and we need to start teaching the Holocaust at a younger age."
Speaking on behalf of the Federation, Jessica Cogan, Israel and Overseas Chair, spoke about the importance of the March of the Living. "I consider the March of the Living a sacred duty," she said. "My own participation I consider one of the most meaningful moments in my life. It shaped who I am today."
She noted that the March of the Living began in 1988. Every year, thousands of young people from all over the world gather once a year at Auschwitz, walk the three kilometers from Auschwitz to Birkenau following in the footsteps of the death march near war's end and show that the world that the Nazi's failed in their "final solution". Then they follow up with a trip to Israel where they celebrate Yom Hatzmaut and celebrate the miracle which is the rebirth of Jewish life in our ancestral homeland.
"Our goal this year was to send 20 students from Winnipeg on the March of the Living – 20 in '20," Cogan said. "I am happy to announce that we have exceeded that number. We will have 24 students going this spring."
While the students contribute to the cost of the trip, Cogan noted, the March of the Living Committee raises funds to subsidize those costs.
"We want to thank our donors and encourage others to give," she said.