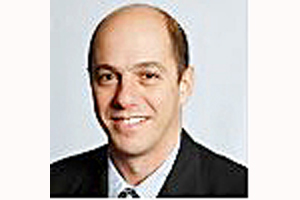 By MYRON LOVE
In Winnipeg, you could say that, when it comes to connecting people, Javier Nudler is the master of connectivity.
The Argentinian-born Nudler is the man in our community who is at the centre of Business Network International (BNI), the world's largest business networking and business referral organization.
Nudler and his family came to Winnipeg 16 years ago. "We were looking for a safer and more stable environment in which to raise our children," he says.
Up until two years ago, Nudler was working in sales for a local company. He was introduced to BNI by friend and fellow Argentinian immigrant Hernan Popper.
"I was looking for a new business opportunity," Nudler says. "Hernan told me that the BNI franchise-holder for Winnipeg wanted to sell his franchise rights and retire."
Popper had learned about BNI through the company that he worked for. "I am an expenses reduction consultant for Schooley Mitchell," Popper says. "We help our clients get the right service from the right vendor at the lowest price. My company requires new staff to join a local BNI chapter to help kickstart our sales. Being a BNI member has resulted in multiple business opportunities for me and has provided me with a network of trusted, like-minded business owners looking to grow their businesses."
In looking at BNI, Nudler liked what he saw and bought into the organization. "I liked the Givers Gain philosophy where we help others and benefit in return," he says.
BNI, he reports, was founded in the United States 35 years ago and has grown to more than 265,000 members worldwide. There are currently eight chapters under Nudler's aegis in Winnipeg with a total membership of about 150.
"Each chapter has its own flavor and mix of businesses," Nudler explains. "Anyone interested in joining has to apply and be accepted by the members of an individual chapter. Our rule is that we allow only one representative of each business or profession in each chapter.
Members pay an annual fee, he notes. Each club meets weekly during which members get an opportunity to talk about their businesses. There are also educational programs.
Nudler says that four of the clubs meet regularly at the Winnipeg Winter Club on Donald and River while the other four meet at the Viscount Gort.
Once a year, all of the chapters come together for a charity golf tournament and gala dinner – with funds raised going to Lighthouse Mission, Darcy's Arc, Agape Table and Marymound. There are also annual national and international conventions which are being held in 2020 in Vancouver and Miami respectively
"We are looking for people who want to form relationships, form new chapters and grow their businesses," Nudler says. "Our members help each other."
Readers who would like more information about BNI membership can contact Javier at 204 955-3548 or try Javier@bnimanitoba.com.