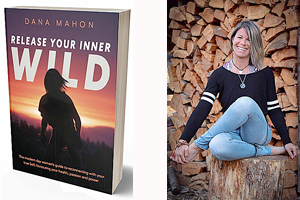 By REBECA KUROPATWA
Now living in Campbell River on Vancouver Island, Dana Mahon was born and raised in Winnipeg, where she lived until the age of 28. In Winnipeg, she was an active member of the Jewish community – through her schooling, camp, and involvement with the Chai Dancers.
Mahon moved to Vancouver in her late 20s. She says she fell in love with the West Coast and has stayed every since.
Mahon has always been interested in health and wellness. Connecting her mind and body became a daily routine, as she began the practice of yoga. After years of practice, she decided to study yoga more fully, and become a teacher.
"The very first class I ever taught was, just after I finished the training," recalled Mahon. "My girlfriend said, 'I'm having a birthday party for my daughter who's turning nine, and she wants a yoga party. Can you teach it?'
"I thought to myself, I don't really know what I'm doing yet, but she was a good friend and it seemed like a great opportunity, so I said 'sure!' The response was really amazing". That was the start. For ten years following, Dana taught at several schools in Vancouver and on Vancouver Island.
While working full time at UBC, Dana started her own yoga camp for kids on Quadra Island, to where she would travel on her time off work. After moving to Vancouver Island, Dana operated her own yoga studio, Wild Pose Yoga, for two years.
In the summer of 2018, Mahon was mulling over what to do with some time off when someone close to her suggested that she write a book. As Mahon thought about what a book might look like, she felt inspired to share ideas and practices that had helped her along the way to becoming a strong, healthy, grounded woman.
"I think when you start something like that, you don't even know if it's possible…if you'll finish it, if it will be published, if anyone will buy it," said Mahon. The more I wrote, the more I realized I had a message to share that could really help people. As it evolved, the more I believed in its greater purpose.
Mahon's book is called, "Release Your Inner Wild: The modern day women's guide to reconnecting with your true Self; honouring your health, passion, and power."
According to the author, "It's a compilation of health and wellness practices that, over the years, have helped keep me strong and steady, healthy and well, and grounded. It is also a heartfelt sharing of my life's experience – both good times and hard times, and how I became a stronger version of me. I wanted to share that in the hopes of inspiring other people, and reminding them they can do the same!
"What people can expect, and I've heard it from almost everyone who has read it, is that it sounds like me, the way I speak is the same way I write, and the way I write is how I speak, so people can expect a very personable, approachable read, and a very practical guide to health, along with some humour in my voice. There is also a practical guide to practising yoga, a guide for nourishing the body; and the essence of the book which is around speaking one's truth, taking risks and trusting one's gut."
Mahon's book is practical, funny, sassy, and cheeky. It is also very rooted in her practices of self-awareness, wellness, and in being a good, kind, compassionate person.
People can also expect to land outside their comfort zones. "That's what I want – for people to take an intentional look at what they may need to change in order to live their best life, in the healthiest way possible".
It is a nice, easy read with a whole section on very practical rituals that take between one-and-15 minutes a day. Start incorporating health and wellness practices into your life.
"I wrote this book because through teaching yoga I saw this need women had to feel healthier and more grounded, to step out – to be a bit wild, to live their truth, and to connect with themselves, but they were a bit stuck on how to do that. That's where the book comes in.
"This book is for anybody who wants to take a look at their life, anybody who wants to add something positive to their world – whether that's in a physical sense or an emotional sense, or in any other way. I want people to feel this is an accessible book for them, regardless of where they are on their journey. I've been amazed from what I've heard from people who have had major life shifts from reading it. I want people to see the possibility that they too can benefit, that it can be of service to them. It truly is a life changing book."
For more about the author or the book, or to get a copy, visit
releaseyourinnerwild.com