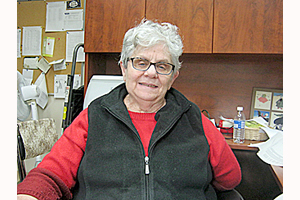 By MYRON LOVE
In her eight years as Temple Shalom's administrator, Ruthie Maman – who is retiring at the end of the year – says that the highlight of her tenure at Winnipeg's Reform congregation was bringing the synagogue into the Jewish mainstream in Winnipeg. mainstream in Winnipeg.
"When I came to Temple Shalom," she recalls, "I knew very little about the congregation or Reform Judaism. Everyone I talked to outside of the congregation put us down. As the administrator, I intended to make sure that Temple Shalom was accepted as an integral part of the Jewish community. I made sure that our events and programs became widely known within the larger Jewish community."
She says that the turning point came when Temple Shalom was included in community-wide programs with the other synagogues – in particular the by-now annual joint Shavuot study and seudah
"We went to the first Shavuot event at the Shaarey Zedek in 2014," she recalls. "The next year, the program was hosted by the Adas Yeshurun Herzlia. I felt that if the Herzlia could host the event, so could Temple Shalom. In 2016, we made sure that it was our turn. It went very well. We had 120 people participating from all the synagogues. We made sure that all the food was kosher so that Herzlia members would be comfortable participating. We also arranged for a separate service downstairs with a mehitza for the Herzlia members.
"We will be hosting again next Shavuot."
For Ruthie Maman, Temple Shalom was the most recent on a long and winding career path that took her at a young age to Israel and, later in life, back to Winnipeg. The daughter of the late George and Molly Soudack was introduced to the Jewish homeland at the age of 15 when she went on a North America-wide United Synagogue Youth-sponsored visit to Israel. (She was a member of the former Rosh Pina Synagogue's USY chapter.) At the age of 17, she made aliyah – her older sister, Pneena Sageev – had made aliyah earlier – as part of a Nahal group.
"I was part of the Nahal group," she says. "Nahal was my IDF service on the Syrian border north of Lake Kinneret. Our settlement was called Korazim.
(Nahal brings together groups of young people to start new agricultural communities near Israel's borders – creating "facts on the ground" in the words of Israel's founding father and first Prime Minister David Ben Gurion – who aimed to create Jewish communities in all parts of the land of Israel.)
"I served my time in the IDF," she says. "I got married. We lived first in an agricultural community near the Syrian border. We later moved to Ramat Yishai in the Jezreel Valley."
After her four children had reached school age, Ruthie Maman went back to school herself. She enrolled in a teacher's college in her area which was affiliated with Haifa University. She taught for several years at the school in Ramat Yishai. "I taught ESL, drama, civics and even sex education," she recalls.
In 1996, after 36 years in Israel, she returned to Winnipeg. It was a low point in her life. Newly single, she was having difficulty making ends meet in Israel.
"I had kept in touch with friends in Winnipeg over the years," she says. "They told me about an opening for a Hebrew teacher at Ramah School.
"My kids were all out of the army by then," she adds. "They understood my situation."
(One of her daughters, Shirit Pais, and her family, now also live in Winnipeg, while her other daughter lives in Toronto.)
Maman subsequently taught he middle grades at Gray Academy until 2011.
"On my return to Winnipeg, I found the community to be warm and accepting," she observes.
Maman was introduced to Temple Shalom in 2005 by her sister teacher, Sherry Wolfe Elazar. "I hadn't been affiliated with a synagogue for many years," she recalls. "Sherri invited me to Temple Shalom for her daughter's bat mitzvah. Then, she invited me to the Temple for the High Holidays. I was very impressed."
She subsequently became a member and, as she always had a love of singing, she soon joined the choir. She also became a Torah reader and a teacher of conversational Hebrew.
"When I learned that the congregation was looking for an administrator – having just retired from teaching, I applied," Maman says. "It was a perfect fit for me."
She feels confident about Temple Shalom's future – and is especially enthusiastic about newly-appointed Rabbi Allan Finkel.
As to her own immediate future, she intends to remain actively involved in the life of the congregation – going back to teaching conversational Hebrew and the proper way to chant the Torah and singing in the choir.
"I may start going to the Gwen Secter, too," she says.