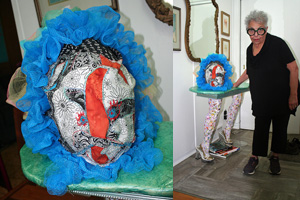 By BERNIE BELLAN In July 2019 Barb Winestock was diagnosed with a form of cancer known as Glioblastoma.
Here is a description of Glioblastoma: "Glioblastoma is an aggressive type of cancer that can occur in the brain or spinal cord. Glioblastoma forms from cells called astrocytes that support nerve cells.
"Glioblastoma can occur at any age, but tends to occur more often in older adults. It can cause worsening headaches, nausea, vomiting and seizures.
"Glioblastoma, also known as glioblastoma multiforme, can be very difficult to treat and a cure is often not possible. Treatments may slow progression of the cancer and reduce signs and symptoms."
At the time that Barb was diagnosed, the prognosis she was given was bleak: She likely had 18 months left to live at best, she was told.
She began radiation treatments almost immediately. "Every day for four weeks, I received radiation treatments," Barb explains.
But the radiation treatments are so dangerous that the slightest movement in the patient's head could cause the treatment to go awry. So, patients are fitted with special masks whose purpose is to hold the patient's head perfectly in place.
Here is an explanation of the mask's purpose: "If your doctor has recommended radiation treatment (or radiotherapy) for cancer of the head, neck or brain, you will likely need a custom-made radiation mask to wear during your treatments."
" 'The purpose of the mask is to hold your head and neck still and in exactly the right position during treatment,' says Patti Chapin, a radiation therapy technologist in Roswell Park's Radiation Medicine department (located in Buffalo, New York). 'It helps us to deliver the radiation beam precisely to the tumor and limit damage to healthy tissues nearby. The mask is your friend.'"
It's been two and a half years since Barb Winestock was first diagnosed and, while she experiences fatigue and headaches, she says she has defied the odds and is still alive.
Barb is also a longtime artist. The home she shares with husband Larry is replete with paintings and other samples of her artwork.
But, if there is one piece of art of which she is most proud, it is the mask whose purpose was to protect her during her radiation treatments and which Barb has cheerfully decorated. The mask now sits on an equally whimsical demonstration of her talent: a cleverly designed table that greets anyone entering the Winestock home on McAdam Avenue, which she designed years ago (along with Ethel Amihude) when Barb was an occasional substitute teacher at Gray Academy.
Anyone who has experienced cancer carries with them that experience every day of their live, but in Barb Winestock's case, while nothing is for certain, the cheerfully irreverent mask that she proudly displays (and which reminded this writer of the kind of mask that a Mexican wrestler might wear) is a demonstration of the upbeat attitude that she carried with her into her fight with cancer two and a half years ago, and which she continues to wage.