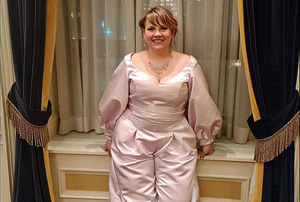 By BERNIE BELLAN Ten years ago Heather Perlov (who was Heather Oliphant at the time) was asked by a friend who knew how much Heather loved to wear costumes whether she could come to a children's party dressed as a princess and entertain the children there.
Heather had always had a love for dressing up in costumes ever since she herself was a little girl, so the idea of attending a children's party dressed as a princess was something she took to quite naturally.
"My mom had always designed different costumes for me growing up, so I had lots of costumes," Heather explains.
That initial party proved so successful that it wasn't long before Heather found herself being asked to attend more and more parties.
"I had so many different costumes – clown, princess, fairy, and so on…One weekend I played nine different characters," Heather says.
And, while Heather did consider going full time into theatre – having spent some time in Kayla Gordon's Winnipeg Studio Theatre, it wasn't long before she realized that the idea of turning what was at first just a fun idea into a full time career took fruition.
"As much as I loved theatre, I didn't think it would turn into a career," Heather notes
"I started hiring others who had backgrounds in theatre to start going to parties in costume. They would do face painting, put on glitter tattoos, sing songs, read stories…" and soon, "Heather's Pretty Parties" took off – with at one time over 40 different performers ready to attend children's parties all over the city.
"Before Covid we would do as many as 25-30 parties a weekend," she adds.
In time her business grew into a $200,000 a year business, Heather says, although that volume of business decreased somewhat as a result of Covid.
When asked what age groups she caters to primarily, Heather answers that "it's generally kids age three-eight", although she does say that at times they do parties for older kids as well.
As a result of the success of her business, Heather was one of 150 different women nominated for the title of "Woman Entrepreneur of the Year" in 2021. The idea of celebrating female entrepreneurs is something that has been promoted by the Women Business Owners of Manitoba for over 20 years.
Heather ended up being one of 14 finalists for the award and, although she didn't win, she is proud of making the final group.
Aside from her career providing entertainment for children's parties, Heather herself is now a mother. Married to Daniel Perlov, whom she met when she was a server at the Olive Garden, Heather and Daniel are parents to two children: six-year-old Oliver (who attends Gray Academy), and two and a half year old Eden.
Heather also says that she was very involved in Scottish culture as a youngster, performing as a dancer for years at the Scottish Pavilion in Folklorama. While she certainly values Scottish culture, Heather says she is also very much involved in Jewish culture through such activities as PJ Library.
"We've got a great balance of cultures going on," she notes.
As far as how word of Heather's Pretty Parties spread throughout Winnipeg goes, it's been both word of mouth and social media that have contributed to the success of her business, Heather says.
Unfortunately, as much as Heather herself would have liked to be actively involved in entertaining at children's parties this year, she says she tore her Achilles Tendon this past summer, so her role has been limited to attending to the business side of things.
With a vibrant website and an active presence on both Facebook and Instagram, despite the dampening effect that Covid has had on so many activities, Heather says she has been gradually building back her business to the point where she is quite busy again. And the fact that she is able to provide employment for anywhere from 20-25 young performers, almost all of whom have a theatre background, means that Heather's Pretty Parties is able to combine providing some good part-time income for many young people with a vocation that they love.