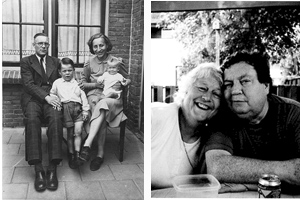 By BERNIE BELLAN Berdina Shorten has lived in Winnipeg since coming here with her family from the Netherlands in 1953. Although Berdina was Jewish by ancestry (going back to her great-grandmother), she hadn't been raised Jewish. It was only several years after having come to Canada – and having got married, that Berdina – and her late husband, Ken Shorten, both converted to Judaism.
Typically, the stories we publish in this paper about people's wartime experiences have to do with the Holocaust. Those stories are all certainly horrendous – and almost always riveting, but when I happened to be talking to Berdina about a totally unrelated subject (the renewal of her subscription) and the conversation got around to her wartime experiences, I said to her that I wanted to write about her story.
I should also mention that I had heard Berdina speak at the Shaarey Zedek several years ago, but at that time I didn't take any notes. (I can't recall exactly why I was there or how I happened to be in the room when Berdina told her story, but I remember thinking that this would make a great story for the paper some day.)
In any event, here's a recounting of the first part of Berdina's story, based on a phone interview that I conducted with her on February .
First, a little history is needed, in order to understand the context for what happened to Berdina and her family.
The German army had invaded Poland in September 1939. After consolidating its gains there, Germany turned its attention to Western Europe in April 1940, first by invading Norway and Denmark, then launching an attack through Belgium into that country, also the Netherlands and Luxembourg (despite those three countries having adopted positions of neutrality).
The German invasion of The Netherlands began on May 10, 1943.
That is where Berdina's story picks up. But first, a little background on her family history.
Berdina's father, Theodore (or Theo, as he was known) was a master leather cutter. His "family was Protestant, but his mother was Catholic, so he was raised Catholic," she said.
As Berdina explained, "his family had come from France in 1610. He used to say the reason his family didn't go to the New World was 'no pretty cruise directors, no first class cabins, no air conditioning.' The real reason was they were Huguenots and they weren't allowed to go to the New World – unless they went to England and went with the Protestants," e.g., the Pilgrims on the Mayflower.)
Berdina's mother (Anna), however, "was born Jewish" but, as Berdina noted, "the family never practiced Judaism. What happened was her mother was born Jewish to a Dutch girl and a German Rhine skipper. Her father died when she was four years old, so her mother went back to Holland, but her family wouldn't accept her back because she had married someone who was not Jewish. She raised her child (Berdina's grandmother) with the help of local charities and working in a grocery store.
"When she met my great-grandfather, he was more Catholic than the Pope, so she never practiced her religion and she raised her children as Catholic – but they were actually Jewish – by Jewish law.
"It wasn't until I was 12 – and I had been sent to Catholic school. I was always challenging the nuns. I wanted to check out Judaism, but I wasn't allowed.
I asked Berdina whether "she had an awareness that she was Jewish?"
She said she did. "I always knew. My mother knew also, but they hid it."
I asked then how she knew about her Jewish heritage?
She answered: "My relatives. I heard conversations when I was a child."
While, Her mother "didn't practice any religion, her "father did. He'd go to Mass once in a while," Berdina noted.
When the Germans invaded the Netherlands, Berdina's father was in the Dutch army, fighting on the "Grebenberg (or the Grebbe line, the main line of Dutch defence)– where they held the Germans back for many days." (Actually, it wasn't many days at all – only three. The Dutch were badly equipped and totally outmaneuvered by the Germans.)
Berdina continued her story: "My father was a fantastic shot…But the Queen (Wilhelmina) capitulated. They were bombing the hell out of Rotterdam (May 14, 1940)." The Netherlands surrendered the next day.
Berdina's father was taken prisoner and sent to work as a forced labourer (in Germany): "So my father was taken and put into a factory. He was a master leather cutter – making shoes."
Berdina's family lived very close to the German border with the Netherlands. Thus, even though Theo was forced to work in Germany, it was only a three-hour walk for him to return to his hometown – and his family. It seems somewhat strange to think of someone who's kept as a forced labourer – which Berdina described as "slave labour", yet who was allowed to return home on weekends, as she explained:
He was allowed to go home (where mother lived) once a week, Berdina said. "He was given one egg a week, so he would take that egg with him, so my brother (Corey, who was born four years before Berdina) would be able to have at least a little bit of protein in his diet."
All the while Theodore though, was part of the Dutch underground– meeting with other members of the underground surreptitiously while he was in forced labour for the Germans.
Berdina told this story about one harrowing brush with danger her father had while he was in the resistance: "A story he told was that he was going to a meeting (of the underground) with a friend. They were caught by a young German soldier and the soldier" pointed his rifle at them and "told them to put their hands up. Somehow my father was able to overtake this young soldier.
"His friend said 'We have to run.' My father said, 'No, we can't. If we run and they find him (the soldier), they'll kill ten people on this street." (That was the retribution the Germans typically exacted, Berdina explained.)
"So my father was able to get a hold of some liquor, put it over the kid's mouth, then took his guns and papers to the nearest police station, which was controlled by the Germans, and said: 'One of your soldiers was drunk and we took his guns and papers before he hurt someone.'
"My father was given a pass to go anywhere he wanted that night."
I asked Berdina if she knew when it was that her father fled the factory for good and ended up going totally "underground" with the Dutch Resistance, but she said she didn't know exactly when that happened.
When the Canadian army reached Holland in September 1944, anyone who had been in the Dutch army was able to join the Canadian army, Berdina explained, so her father ended up joining the Canadian army.
"When the Dutch army reorganized, he went back to the Dutch army."
Her father was uncomfortable talking about what he did during the war, Berdina noted, but according to her brother, Theo had once told him that he "had killed at least one German that he knew of (a sniper) and probably more, but he wasn't sure."
I asked Berdina whether there were any other memories from the war that she wanted to talk about.
She said there was a young girl – only 14, in her town, "who was the first girl (in Berdina's home town) to get pregnant by a German soldier."(That soldier died in a plane crash coming back from North Africa, Berdina added.) "She was also the first girl to get pregnant by a Canadian soldier.
"After the war the people in that community were going to get her and shave her head and send her packing.
"My mother said to my father: 'That little girl is still only 15 years old. She's still walking around in Bobby socks and skipping with a skipping rope. Theo (Berdina's father), could you please do something to stop those people from hurting her?'
"My father went out on to the street and he saw about 50 people coming for the girl. He stopped them."
In 1953, Berdina, along with her parents and three brothers (two of whom were born after the end of the Second World War), came to Canada.
"My father started to work as leather cutter in the Canada West shoe factory," Berdina explained.
"Maitland Steinkopf hired him. Eventually my father started to work in St. Boniface Hospital; he'd had a year's medical training in Edinborough after the war – so he started to work in the hospital, in the x-ray department.
"He worked four hours a night doing piece work for Maitland. He made more money doing that than he did in the hospital."
I was curious to know more about Maitland Steinkopf and his connection to the shoe business. I knew that Steinkopf was a very successful businessman who also played a leading role in the development of the Centennial Concert Hall, as well as being a prominent Conservative politician and cabinet minister, but other than that I didn't know much about him.
Berdina said to me that Steinkopf's success in the shoe manufacturing business was a result of his decision to go to Minneapolis at one point and come back with the Canadian rights to a line of shoes called "Hush Puppies". That reminded me of another famous decision made by a local Jewish businessman – Samuel Cohen, who decided to begin importing transistor radios made by a company called Sony.
Turning to Berdina's decision to become Jewish, here is how she explained how that came about:
"My late husband, Ken Shorten (whom I incorrectly referred to as Frank in my previous article), came from an Irish family – that originally came to Canada in 1690, and they farmed in the McCreary area.
"He worked in Eatons – and I worked in Eatons as well. That's where I met him and we got married.
"Well, he was Protestant and I had been raised in a Catholic environment. We decided that we weren't going to let the difference in our faiths have a negative effect on us, so we just stuck to ourselves when it came to the religious part.
"But that didn't work for me and it didn't work for him and I always knew about my Jewish heritage, so I said to him one day: 'You know, I'd like to learn more about Judaism; it's part of my heritage.' And he said: 'Me, too.'
"He had some very good Jewish friends at the time (who were all in the NDP). One of them was Cy Gonick, another was Harry Shafransky. He got to know quite a few Jewish politicians. He liked their ethics, liked their values, and so we started to look into Judaism.
"We went to see Rabbi Nesis and (the late) Rabbi Berkal, and we studied with them for two years, and then made the conversion."
Interestingly, Berdina said that she also spoke with (the late) Rabbi Weizman, who told her that "You can't convert – you're already Jewish".
"But, I said to him, 'It's my decision. It's my journey. I want to do the process.'
"We had two children that we had adopted before we decided to convert – and we brought them in with us."
I asked when this all happened?
Berdina said the conversion process went from 1973-75.
"We were officially converted in May of '75," she said, "and then we were married in the rabbi's office again."
"I sang in the Shaarey Zedek choir for 36 years," Berdina added, "and my son, Theodore, sang in the choir for 20 years…and both kids had their bar and bat mitzvah together."
"It was the best decision I ever made in my life," Berdina observed. "It completed me as a human being. I finally fit – because I used to question those nuns. I must have been a real pain in the tuch."
I asked, "Do you have relatives remaining in Holland?"
Berdina answered: "Yes, I have many."
I asked, "Are any of them Jewish?"
She answered, "I have one cousin who recognizes himself as Jewish – and that's it."
I said to Berdina that what she had told me about her Jewish ancestry and her family's subsequent conversion to Christianity, it jives with what I had read about how commonplace it was for Jews to have become Christians. I said that I recalled hearing from the late Rabbi Rappaport that only about one-quarter of all Jews in Europe remained Jewish through the years. The rest either converted willingly or by force.
During the course of our conversation, Berdina told me many more stories about her wartime experiences in the Netherlands, all of which were fascinating. Since she was only two years old by war's end, naturally the stories she tells are one that have been recounted to her by others, but they are all worth retelling.
One that stood out for me in particular was about a Jewish doctor who was kept hidden by his Dutch housekeeper, unbeknownst to anyone else in the town. According to Berdina, when German soldiers came to the house looking for the doctor in 1940, the housekeeper said to them: "I kicked him out long ago when I knew you would be coming. He was miserable to work for and he never paid me enough."
All through the war that housekeeper was ostracized by her fellow townspeople, as the doctor was universally loved. As Berdina told it, when the town was liberated by Canadian soldiers in 1944, the doctor emerged from the basement – where he had been kept hidden the entire period of occupation by the housekeeper.
Berdina is a great storyteller and when I asked her whether she'd be willing to tell her story to other audiences – as I had heard her do several years ago at the Shaarey Zedek, she readily agreed. If a day comes when Berdina will be able to tell her story to a new audience, I'll be sure to post something in this paper.