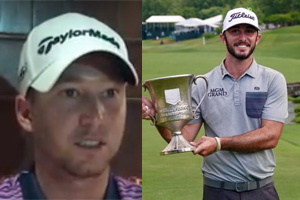 By BERNIE BELLAN A story that was was recently brought to our  attention came from reader Peter Mendelson (who told me he reads the paper after he gets it from his mother, who gets it from a neighbour – which leads me to wonder just how often our paper is handed from reader to reader?), has to do with two Jewish golfers: David Berger and Max Homa.
According to Peter, when Berger and Homa won PGA tournaments on successive weekends, it marked the first time two Jewish golfers had accomplished that feat. Berger won something called the AT&T Pebble Beach Pro-Am on February 14, while Homa won something called the Genesis Invitational on February 21. (Can you tell I'm not a golfer when I admit that I've never heard of either tournament?) Both golfers identify as Jewish, as opposed to another well-known athlete, Mikaela Shiffrin. I hate to disappoint another reader (who will remain anonymous) who called me recently to ask: "Why don't we have more sports stories? I don't want to read about the Rady JCC, Gray Academy, or the Simkin Centre (all of which were featured prominently on the front page of our last issue). Why don't you do a story about Mikaela Shiffrin – and put her picture in, too?"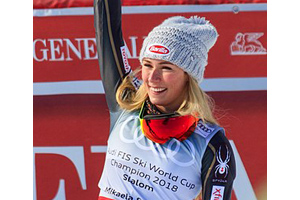 I decided to check out Ms. Shiffrin (who, after looking at her picture, it's easy to see why this particular reader suggested we ought to feature her in our paper). Sadly though – she's not Jewish! Here's what a story from the JTA had to say about Mikelea in a 2018 story: "The New York Jewish Week reported in 2014 that the U.S. Ski and Snowboard Association said Shiffrin has 'some very distant heritage [but] is not connected to the Jewish community.' "
As for why we don't do more sports stories – hey, find me a sportswriter nearly as good as Harvey Rosen and we'll run more sports stories. Harvey would scour the world looking for Jewish athletes. He was legendary for going up to hockey players in their dressing rooms and asking anyone who had a Jewish-sounding name whether they were Jewish. (I remember in particular Harvey telling me about having asked Jaden Schwartz of the St. Louis Blues that very question. Harvey told me the players were invariably polite in answering his questions, but the answer was always "no".)
But "Shiffrin"? Come on, with a name like that, she really ought to be Jewish, shouldn't she? Even without Harvey around, we'll continue the pursuit of Jewish athletes. I should add that following Peter Mendelson's phone call about David Berger and Max Homa, I contacted Ami Eden, who is the executive editor of the Jewish Telegraphic Agency to ask him whether JTA would be interested in doing a story about Berger and Homa's both being Jewish and having won back to back PGA titles.
Ami thanked me for reaching out and referred the matter to Gabe Friedman, who's deputy managing editor of JTA, also their sports guy. Gabe said it's definitely a story they'd like to do, but he was curious as to what the source was for Peter's information.
I asked Peter and he said: "Wikipedia". Peter added that, while Berger had a Jewish-sounding name, Homa didn't, but he decided to check his ancestry out on Wikipedia.
There you go: Another not terribly important story, but perhaps something interesting to ponder, and a welcome break from the more serious news of the day.