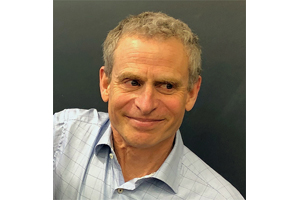 By GERRY POSNER Let me be clear. The Ripstein family has been a force in many ways in Winnipeg, in Manitoba and indeed in the entire country of Canada now for almost140 years.
In fact, in 1873, Jacob Ripstein began a series of many firsts in the family.
He was one of the very first Jewish settlers in Manitoba and one of his sons, Simon – a brother to Arthur Ripstein's great-grandfather, Isaac, was among the very first Jewish children born in Winnipeg.
Isaac's son, Reg Ripstein was, in his own way, the leader in another way. He made the first ever trade in canola in 1963 as a futures broker in a career that lasted 72 years. His wife, Ellen Ripstein later became the first ever female stockbroker in Canada, also the oldest stockbroker in Canada – working until she was 90, seven weeks before she died. Even a Ripstein cousin, Ellen became the world crossword puzzle champion. Thus, the foundations were laid for Reg and Ellen's two sons, Ira and Arthur.
Readers in Winnipeg will likely be familiar with the name Ira Ripstein. Ira is a well known doctor in Winnipeg, also an Associate Dean at the Faculty of Medicine at the University of Manitoba. Brother Arthur Ripstein has also ascended to some very lofty heights in his career as a philosopher and educator. You would need a book to recite the starred story of Arthur Ripstein, but here is the Reader's Digest version:
Just recently, Arthur Ripstein was awarded the 2021 Killam Prize in humanities, awarded by the Canada Council for the Arts. Aside from the significant distinction that goes with receiving this prestigious honour, there is a little stipend that goes along with it, as in $100,000.00. So for all you parents worried about your kid's desire to go into the Faculty of Arts – there is hope.
Consider this: Ripstein is a leading scholar of the legal and political works of the 18th Century philosopher, Immanuel Kant. Succinctly put, "about Kant, with Ripstein you can".
Ripstein's scholarship covers many areas, including justice, tort law and even the law of war. To have achieved this lofty status Ripstein points to his early years spent at the University of Manitoba, specifically his time in the Department of Philosophy. There he was introduced to and, as Ripstein acknowledges, was significantly influenced by Professor Arthur Schafer, the then head of the department.
Moreover, Ripstein benefited from being a member of a small department, where he received attention and encouragement. After Ripstein obtained his BA from the University of Manitoba, he was off to the University of Pittsburgh, which had a strong graduate school philosophy department.
His dissertation there landed him a teaching job at a small college, Franklin and Marshal. That stint enabled him to get connected to the University of Toronto, where he came under the tutelage of a law professor by the name of Ernest Weinrib. That relationship helped propel Ripstein to Yale Law School for a special PhD program, in which he took a year of law.
Next up for Ripstein was a period spent at Princeton as a Rockefeller Fellow at the Centre for Human Values. His last stop (so far) was – and has so far been at the University of Toronto law school, where now Dr. Ripstein started teaching torts to first year law students.
As Ripstein states, "it is the most fun course to teach because it is about such fundamental questions – how people are allowed to treat each other, whose problem is it when something goes wrong."
It's been a challenging and satisfying path that's led to his present position, but Arthur Ripstein's career has, I suggest, really taken off since he joined the University of Toronto. He is both a professor of law and of philosophy there. By now, he is the author of four monographs, over 75 essays in academic journals and has edited, either alone or with a partner, four books.
Twice he has been awarded the Canadian Philosophical Association (did you know there was such an animal?) Book Prize. He was also the recipient of a Killam Research Fellowship between 2018-18. And. by the way, if you've ever listened to the CBC radio show "Ideas", guess who's been a very frequent contributor: Arthur Ripstein.
In addition, Ripstein delivered the keynote lecture at the World Kant Congress and the 2019 Tanner Lectures on Human Values at the University of California, Berkeley.
Ripstein has reflected on topics that affect all of us at some point, relating to matters of authority, rules of war, the legitimacy of coercion and the complexity of obligation. I particularly liked his response to the question which children often ask their parents, as in "Why do you get to make the rules?"
Ripstein suggests "Because I said so" is not the appropriate answer. When you address the possible answers, you embark on a philosophical journey.
Even more pertinent these days is his response to the question "What is the place of authority during the present pandemic?"
Ripstein looks at it this way: "The hard question is figuring out why authority is legitimate. Some critics of public health measures seem to think that they must be illegitimate because they stop people from doing things that they want to do. That cannot be the right way to think about it; human beings can only live together if they are subject to common rules and those rules sometimes require depending on experts. The philosophical challenge is to articulate its proper limits. This is one example of how philosophy can take on such vital relevance to contemporary questions."
Who could have predicted the career of Arthur Ripstein? Maybe it can be traced back to the original Ripstein settler in Winnipeg. Surely Jacob Ripstein in 1873 could never have envisioned his great-grandson, Arthur reaching such a high level in Canada and indeed around the world. In his own way, winning the Killam Prize and being recognized for an academic career in two disciplines, Ripstein has followed his Ripstein predecessors with a first, as in the first Jewish Manitoban to receive the Killam Prize. However you slice it, Arthur Ripstein has already made Jacob Ripstein's decision to come to Canada a very wise one. Why do I say that?
Someone who knows far better than I – as in The Chair of the Department of Philosophy in the Faculty of Arts and Science, at the University of Toronto, Martin Pickavé, has said of Arthur Ripstein: "Arthur Ripstein is one of the most important legal and political philosophers in the world. The Killam Prize could not have gone to someone more deserving….He is an inspiration not only to his students, but also to his colleagues."