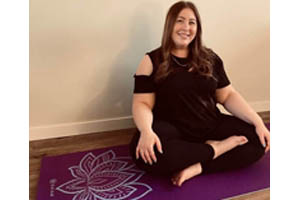 By BERNIE BELLAN Brooke Zelcer is a 28-year-old woman who had a typical Winnipeg Jewish upbringing growing up. The daughter of Hartley and Polly Zelcer, Brooke grew up in Garden City, she says and went to Gray Academy until the end of Grade 9. After that she went to the University of Winnipeg Collegiate, followed by her acquiring two bachelor's degrees at the U of W – one in environmental sciences, and one in international development.
While she was in university, Brooke says, she "did a practicum with an organization called 'Food Matters Manitoba'. "I ended up working up north on Shamattawa First Nations Reserve," she explains. "We did horticultural therapy and agricultural sustainability as well. It was there where I started to find my passion working with individuals rather than on a community basis."
After that, Brooke began working at the North End Women's Centre on Selkirk Avenue for several years. "While I was there I started on my masters in psychology," she says (which she subsequently completed).
Brooke says she worked her way up at that centre and started working in a new government funded program, providing counselling to women who had been in the sex trade – "a lot of hands on, trauma based work."
"It was quite intense, but incredibly rewarding," she observes.
After her time at the women's centre, Brooke began working at another organization that also provided counselling services. In time though, she realized that what she really wanted to do was go off on her own.
First though, she wanted to acquire the type of training that she was planning on putting into effect when she would be working with clients on her own.
She explains that her goal was to train in breathwork therapy and also as a holistic health and nutrition coach. In order to be certified as a practitioner in both fields, Brooke says she took a year of training in both areas.
Ultimately, she says, what she wanted to do is connect with people in a "mind, body, and soul" approach.
Beginning in August 2021, Brooke says, she began working on her own. Her clients, she says, were former clients of hers from her previous place of employment. Her supervisor allowed her to take on clients that she already had so that they would have continuity in their relationship with Brooke as their counsellor.
"But," she observes, "the pandemic had hit and I had to shift the way I was doing things – going online, forming new connections."
"It was tough for sure," she says, "but it opened my eyes to doing other things."
In time, Brooke found herself doing therapy and breathwork sessions with her clients – but through Zoom, rather than in person.
Zoom, she explains, "has the technology where I can share my audio, where I can also talk. I can also see my clients, watch their breath, make sure everything is okay. A lot of times people may become emotional so it is important for me to be able to see where they are at and hold the proper space for them."
In addition to breathwork, Brooke says, she offers a range of services, including mental health therapy, and holistic health and nutrition coaching
"I'm offering them together through different programs that I have created" she notes, "but also separately if that's what people are more interested in."
I ask her what her website is called?
Brooke answers that it's called"www.merkaba-healing.com." 
I say to her that I know that "merkaba" means "carriage" in Hebrew. I ask her how she arrived at that particular name?
She says that it does indeed come from Hebrew, but the "merkaba" symbol is also a universal geometric symbol, representing the duality of everything in life. "Merkaba symbolizes the unity of opposites. It marries light and dark, feminine and masculine energy, the material world and the spiritual realm… the power of merkaba has the ability to elevate our consciousness, heal, and bring balance, harmony, and light into our lives".
(After our phone interview, I took a look at Brooke's website. Here's what the introduction says:
"Hi! I'm Brooke Zelcer, a certified Mental Health Counsellor, Breathwork Therapist, and Holistic Health and Nutrition Coach based in Winnipeg, Canada. I dedicate my time and energy in holding sacred space for those who are seeking to heal by embracing their whole, unique, and divine self. I am passionate about bringing Mind, Body, and Soul into the healing journey as I believe that in order to sustain balanced wellness, we must gently lean into the darker parts of ourselves so that we can embody our light. I am here to support and guide you as you align on your path.")
"Breathwork is typically an hour-long session," she says, "where the client lies down in a comfortable position – maybe with a pillow under their head and a blanket for comfort. An eye mask is also really helpful because it's very important to keep your eyes closed during a session."
She continues: "I use a methodologically sequenced breath in order to elicit a certain experience unique to a client's needs. Combining purposeful inhalation, exhalation, and breath retention is really all it is. I use positive verbal cueing and personally curated playlists to add to the journey. The whole experience takes you to a transcendental state at the very end and that is where your conscious and your subconscious meet, and that is where so much healing can happen.
"That is often where people can experience spiritual awakening, where they have beautiful messages of healing from their higher selves. Some people have met loved ones on the other side, and some people just find it incredibly relaxing."
I ask Brooke what kind of results she's had since she's started doing what she does on her own? I say to her that I imagine this is an ongoing process for her clients – meaning it's not something where they can say they've reached the end of a process.
"People come back for different things," Brooke says. "Many people just want to work through their specific issues – particularly healing trauma."
"My goal is to meet my clients where they are at. No judgment. No expectations. Just show up as you are and I will do my best to meet you there. This type of personal work is not meant to be easy, so I do my best to help my clients find a bit of flow and ease throughout their healing journey".
She rattles off a list of areas where the kind of therapy in which she engages provides real benefit: "PTSD, anxiety, depression, bi polar disorder, borderline personality disorder."
"The kind of results I've gotten," Brooke adds, "vary from person to person, but I've had some really amazing results, especially through breathwork. Talk therapy is amazing and we all kind of know what that is and what a therapy session would be like, but when it comes to breathwork – I've worked with men in their sixties, women in their seventies, I've worked with teenagers – and they've come out with a new found love for life, finding peace within themselves, and not having to look for it externally."
As far as how much Brooke's services cost, her website does provide full details about the types of services she offers and the rates for the various services. If you would like to know more about Brooke Zelcer visit www.merkaba-healing.com or find her on Instagram @_merkaba.healing_