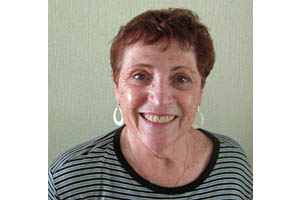 By MYRON LOVE Over the course of nearly 60 years, lifelong Winnipegger Rochelle Zimberg has played a wide variety of different roles. She has been by turn educator and administrator, consultant, marriage counselor, community volunteer, and political candidate. Her careers have taken her across Canada and around the world and she has accumulated a plethora of good friends seemingly everywhere.
Most recently, one of her friend connections led to her house sitting in New York for five weeks in April and May for Alex Skolnick, lead guitar player for the seminal heavy metal band, "Testament," while the band was on tour. She describes the apartment as measuring about 500 square feet – about the size of her living room and diningroom – filled with musical instruments and home to three cats.
"I loved being in New York again," says Zimberg. "I took in as many Broadway productions as I could."
(She herself has been a long time Manitoba Theatre centre volunteer and, in 1991, co-produced – with Gail Asper – a Fringe show in which she also performed.)
As with many readers of this paper, Rochelle Zimberg's life journey began in the old North End. The daughter of the late Joe and Rose Zimberg lived north until she was 13. She attended River Heights Junior High, Grant Park High School, and United College (now the University of Winnipeg), after where she earned her teaching certificate at the old teacher's college.
As a teen, she was heavily involved in USY (United Synagogue Youth), where she first showed leadership potential serving as Vice President of her chapter..
In her biography for the Jewish Foundation of Manitoba's Endowment Book of Life, Zimberg recalls one memorable experience as a USY member, involving a train trip to Kansas City to celebrate the organization's 13th anniversary and hearing Cantor Herschel Fox do the Haftorah.
After university, the young Winnipegger followed the path of many of her generation – a backpack adventure through Europe, followed by six months on a kibbutz. In 1969, shortly after relocating to Vancouver, she recalls, she received a scholarship to study in Israel at the Hebrew University of Jerusalem.
This time though, her time in Israel was cut short by her father's unexpected passing.
After a few months back home, Zimberg saw a job opening for teachers in Australia. Thus began a four-year teaching career in both Sydney and Melbourne, where she taught at the modern Orthodox Mount Scopus College, which had an enrollment of over 2,000 students.
In Sydney, she taught at Ryder University and a school in the western suburbs,
While in Australia, she also took courses at the University of Sydney towards a masters degree in political science and foreign policy theory.
I loved Australia," Zimberg says. "I became an Australian citizen. I am still in contact with colleagues and former students and have been back several times, most recently for a wedding."
Upon returning to Winnipeg in the mid-1970s, Zimberg embarked on a new career in administration and management at the University of Manitoba, where she also completed her M.A. in Political Science. At the university she served as Associate Director of Residences and Conference Coordinator. When she applied to become Director of Residences at the university, she recalls, she was told – by a university vice-president – in no uncertain terms, that only a man would be considered for the position.
While working on her M.A. at the U of M, Zimberg shared an office with Al Ducharme, a former Winnipeg city councilor who was later president of the Manitoba Association of Urban Municipalities (MAUM). In 1980 MAUM was looking for a new executive director. Ducharme encouraged his former office mate to apply. Zimberg demurred.
"A few months later, MAUM was once again seeking an executive director and Al (Ducharme) again encouraged me to apply. This time I didn't hesitate."
MAUM (now the Association of Manitoba Municpalities) is comprised of the mayors, reeves and councillors representing the province's 137 municipalities and works toward strengthening municipal government. Zimberg served as the organization's executive director for 18 years.
"It was a great job," she says. "It allowed me to travel throughout Manitoba and Canada.".
One of the highlights of her time with MAUM was her development of the Manitoba Investment Pool Authority, an investment pool for public institutions and municipalities. During her tenure, she was also elected president of the Canadian Society of Association Executives (CSAE) in 1994.
She left MAUM in 1999 when the decision was made to move the office to Portage la Prairie.
"In 1999," she notes, "in recognition of my outstanding contributions to municipal government, I became the first female executive director admitted into the Federation of Canadian Municipalities Roll of Honour."
Since she left MAUM in 1999, she has rarely been short of work to do. She served for a brief time as executive director of the Rosh Pina Synagogue. She was principal of a school in China for three years and spent some time as a teacher/administrator in a school in Egypt. She worked for a spell as a consultant for a transmission project for Edmonton. For a time, she tried her hand at being a direct market distributor.
Zimberg was also twice a candidate for political office. "In 1999, I ran in Tuxedo against Gary Filmon," the lifelong Liberal supporter recalls. "The Liberal party needed someone to represent the brand. I volunteered. But I didn't get my name on the ballet until three weeks before the election."
While she finished third – she fell just 1400 votes short of Filmon In the next election in 2003, she ran again in Tuxedo, finishing second to current Premier Heather Stefanson.
In addition to her varied working career, Zimberg has also given much of her time over the years as a volunteer. She notes that she has contributed her time to such organizations in the Jewish community as the Women's Endowment Fund at the Jewish Foundation and the Shaarey Zedek.
In the broader community she has volunteered with the Manitoba Theatre Centre, Folklorama, the CNIB, Cancer Care Manitoba, Chemo Savvy Dragon Boat Team and the Guardian Angel Breast Cancer Benefit Ball. Zimberg has also in the past acted as a volunteer consultant for Canadian Executive Services Overseas (CESO) – which pairs retired seniors with communities in developing countries that require CESO volunteers' expertise. She has also volunteered for the Canadian Bureau of International Education Ukrainian projects.
In addition, Zimbrg has recently served on the board of directors of Manitobans for Human Rights.
For the pilates and sports enthusiast, there is never a dull moment and she continues to look forward to the next travel opportunity or adventure.