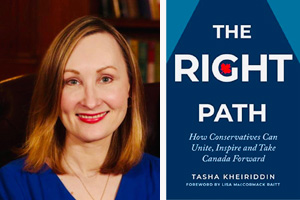 Special to The Jewish Post & News by TASHA KHEIRIDDIN Well known political commentator and author Tasha Kheiriddin published her most recent book, "The Right Path: How Conservatives Can Unite, Inspire and Take Canada Forward" last month. A long-time conservative, Tasha is currently the co-chair of the leadership campaign of Jean Charest.
She is also a principal with the Toronto office of Navigator and a lecturer at the Max Bell School of Public Policy at McGill University. Tasha agreed to share some of her ideas that she outlines in her book with The Jewish Post & News as to how the federal Conservative party could best move forward in the future.      
In "The Right Path: How Conservatives Can Unite, Inspire and Take Canada Forward", I offer a roadmap to the Conservative Party of Canada to win the next election and elections well into the future. The book traces the twin arcs of populism and conservatism in Canadian politics, analyzes their current appeal and proposes the best approach for the party to succeed with three crucial voter groups, including New Canadians, urban and suburban dwellers, and Millennials / Generation Z.  All these groups are part of a strategy to build a larger and more well distributed base of support for the party.
If Conservatives intend to remain a vital force and potential governing party, they need to put aside their differences and build a winning coalition. To attain this objective will require soul-searching and self-examination. Canadian Conservatives need to ask themselves some fundamental questions, including: How did we get here? What is Canadian conservatism? And how can we unite, inspire, and take Canada forward—and win a majority government?
As many have noted, in 2021 the Conservative party won the popular vote but lost the federal election because most of their support was concentrated in Western and rural Canada. Similarly, in the 2019 federal election Conservatives won 34% of the popular vote compared to 33% for the Liberals. Yet the Liberals remain dominant in crucial battlegrounds, including the GTA. To ensure a well distributed base of support and to win, it is imperative that Conservatives reach out to various groups across the country and build a bigger tent of support.
Successful Canadian Conservative leaders have always understood the importance of coalition-building. I discuss three leaders who successfully did this: John A. Macdonald, Brian Mulroney, and Stephen Harper. They were able to build big tents and win large majorities by tempering extremes and not playing to them. All three understood that governing is a balancing act. Each had their own challenge: Macdonald's was nation building, Mulroney's was nation keeping, and Harper's was nation changing. While they did not accomplish everything they set out to do, they each came to power by forming extremely effective alliances and coalitions and made history as a result.
Politics is as much a social exercise as it is an ideological one. Forming personal connections with various communities throughout the country is essential and opens the door to potential support and civic engagement. The current Conservative party has been building alliances with various communities but much remains to be done.
Since the days of Mulroney and Harper, the party has developed a strong relationship with Canada's Jewish community. While in office, Stephen Harper was a strong friend of Israel, and remains so today. He recognized the importance of Israel as a beacon of democracy in the Middle East. He understood the need to combat anti-Semitism at home and abroad. He also championed the values that conservatives and the Jewish community share. At its core, conservatism stands on three pillars: faith, family and free enterprise. All of these are also pillars of Judaism and of the Jewish experience in Canada.
This respect and support for Israel and Jewish Canadians continues to resonate within the current Conservative Party. In May of this year, designed Jewish Heritage month, leader Candice Bergen stated that "Throughout the month of May, I encourage all Canadians to celebrate the inspirational role Jewish Canadians have played in communities across Canada." She noted that Canada is home to nearly 400,000 people of the Jewish faith – who have made invaluable contributions to various fields, including medicine, sports, technology and the arts, thereby improving the quality of life for Canadians and the entire world. Bergen committed to continue to carry on the fight against anti-Semitism and expressed the hope that all Canadians will take time to learn about Jewish history and culture in Canada and celebrate the incredible achievements of Canada's Jewish community.
Just as we, as parents, strive to have our children carry on our heritage and traditions, one of the most important challenges for Conservatives is also engaging the next generation. Millennials now outnumber baby boomers, comprising 33.2 % of the working age population. As for Gen Z, they are projected to outnumber baby boomers by 2032 and millennials by 2045. Unlike what is commonly assumed, these groups are not monolithic in their political views, or overwhelmingly left-leaning. Almost 48% of Gen-Z voters, aged 18-24, define themselves as right of center. Among Millennials, about 30% lean right, and another 20% could be accessible Conservative voters if the party takes a centre-right approach and offers solutions on issues such as climate change. Young people are looking for a party that listens, and "that cares"; they seek sincerity and authenticity in their politicians.
When I started writing this book after the 2021 election, no one could have foreseen the events of 2022, including the freedom convoy in Ottawa, Russian's attack on Ukraine, galloping inflation, and economic anxiety. Recent events have created an even more uncertain world, making it crucial that Canada has a government that provides greater stability and growth. Conservatives – and all Canadians, must also guard against the spectre of intolerance and hate that can accompany upheavals and economic anxiety. Populism has led nations to some terrible places in the past, and we need to ensure that this never happens again in the future.
Canada today needs a choice of governing parties and I believe that conservatism offers a better path out of our present malaise. The Conservatives can be that choice, but only if they can find some common ground. I hope "The Right Path" offers the next leader, whoever he or she is, some guidance and insight into how to achieve this objective.
"The Right Path: How Conservatives Can Unite, Inspire and Take Canada Forward" is available in bookstores, on Amazon and at www.opibooks.com For more information, please visit http://therightpathbook.com