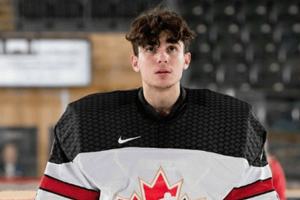 By BERNIE BELLAN
If Harvey Rosen were still writing for us, I'm sure here is how he would have introduced the following story:
"Readers of this newspaper might be surprised to learn that the stellar goalkeeper for Canada's National Junior hockey team is a member of the Hebraic persuasion!"
Now, while I might have wondered until now whether that was true or not, it wasn't until I received an email from reader Debbie Maslowsky that I was able to confirm that Devon Levi is, in fact, a "Member of the Tribe".
Here's what Debbie wrote in an email on Dec. 29:
"Just wanted to forward this to you. Devon Levi is the goalie for Team Canada juniors and his talents are creating quite a stir.
"His mother is my first cousin (my mother and her father are brother and sister; her father is 90 or 91 and they live in Montreal).
"I laughed when I talked to a friend in Toronto whose husband said 'hey, the goalie for Team Canada is Jewish!'…. and I said 'and MY cousin'! "
Debbie was good enough to attach an article written by someone named David Lisbona for a website titled "The Sports Rabbi", which is run by someone named Joshua Halickman. According to his website, Halickman "has been covering Israeli sports since 2004. The Sports Rabbi has gone to over 4,000 live sporting events in 25+ countries".
Now, it's not clear how Devon Levi's story fits on to a website covering Israeli sports, but hey, who am I to quibble with what constitutes an Israeli sports story?
Anyway, in his story about Devon Levi, David Lisbona wrote the following:
Devon Levi's "rise has been nothing short of astonishing. He was not invited to Canada's junior camp yet his play as MVP at the World Junior A Challenge last year prompted Team Canada's brass to take another look. Prior to that, Levi toiled in Midget AAA for the Lac St-Louis Lions, the team that represents much of English Montreal.
Devon Levi attended Hebrew Foundation School followed by West Island College where he graduated as valedictorian in 2019. He is now studying and would like to eventually tend goal at Northeastern if Covid-19 will ever oblige. He was drafted by the Florida Panthers with the 212th selection in 7th round.
Now, I am not suggesting that Devon Levi sat defiantly at the front of a bus or that he helped end racial segregation in a movie theatre in New Glasgow, Nova Scotia, but the significance of his achievement cannot be diminished as this was a major glass ceiling that has now been shattered, akin to that of Canadian Prime Minister, we continue to wait on that one. His rise to the top of Canadian Junior hockey will make it easier for others like him.
I hope Devon is eligible to play in the postponed 2022 Maccabiah Games, however, the irony is that he may be too good, his contractual obligations and an unwillingness for anyone to insure him may prevent him from guarding the Canadian net at next year's Jewish Olympics.
In a year that has been fraught with unexpected surprises, it is refreshing to see Quebec's most notable contribution to the Canadian National Junior Team as a Jewish kid from the West Island. The fact that it is a position that requires a head covering makes the irony that much more scrumptious. So as Canada gets back to what it does best around the birth of that most famous of Jews this Christmas, the Canadian Jewish community will sit up taller and bask in the glory that their goal is being tended by a native son. Diehard fans forever, hockey is etched in the lore of a Canadian Jewish life, heck even Montreal Passover seders are synonymous with playoff hockey. The only cup more coveted than that of Elijah belongs to Stanley. Devon Levi is proof that we can play the game too.
Levi may have a storied Hall of Fame NHL career or he may never play one game, but he has already achieved greatness and a place in this community's story or at the very least a notation in the next edition of famous Canadian Jews.
As of the time of writing, Devon Levi has appeared in six games for Canada – all wins, with a Goals Against Average of .53, a save percentage of 97.46 and three shutouts.