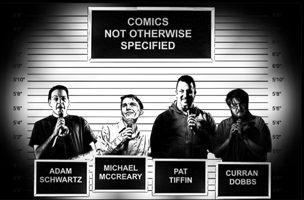 By ADAM SCHWARTZ
I have some very exciting news for this upcoming year. Starting in January I am joining the World's Most Awkward Boy Band. No it has absolutely nothing to do with music, even though I tried my hand at that as well. Ariel Posen, named one of Music Radar's top ten greatest guitar players in 2019, alongside the likes of Slash and the Black Key's Dan Auerbach, even graced the stage with me in 2001, when we were both in grade 9.
No, the World's Most Awkward Boy Band is a comedy group with four autistic comedians coming together from all over Canada, Toronto, London, Vancouver and Winnipeg. Pat Tiffin came up with the name, "I think we fit our own niches, Mike (Mcreary) is the Corporate Pro, Curran (Dobbs) is the alternative sweetheart, Adam is the fringe darling and (Pat) the lovable Comedy Club Underdog."
It was Michael Mcreary's dad, Doug who came up with the idea for the group. His initial idea was to put the group together for a Toronto based organization's conference where we were going to do a comedy panel. Then build on the success, make a documentary of the lead-up, the show, and the reaction to the show and take it from there. When the organization wasn't interested in the panel, however, Doug wasn't deterred at all. Instead he got together with Dean Svoboda, the founder and Executive Director at Autism Aspergers friendship Society of Calgary, and came up with a plan. Michael had performed for the group multiple times and Dean knew that Michael was legit. Dean had licensed a communication platform called Remo which operates a lot like Zoom, but, better, which he thought would be a perfect medium for shows. Doug was going to use his contacts and act as a manager for the group connecting with various autism groups to see whether they would be interested in having the group perform at their conferences and Dean and his partner at the Friendship Society, Anton Gasper would host the shows on their platform.
Michael and I performed together when he was coming through Winnipeg on his cross-country tour "Does this Make my Aspergers look Big?" I also reconnected with them when I did the Toronto Fringe festival. Doug then met Pat when another comedian recommended him to Michael and they performed together at a conference in London in 2019. Michael has never performed with Curran but was recommended by a family member and when Doug saw Curran's material online he knew he had found his fourth member of the group.
The group will do a promotional show January 15th at 7pm and see what interest comes out of it and go on from there.
Tickets can be bought through dean@aafscalgary.com.
Watch video clips of the guys here: https://www.youtube.com/watch?v=XtmHBldaw70&feature=emb_logo
https://www.youtube.com/watch?v=AjgIVQFCNbQ