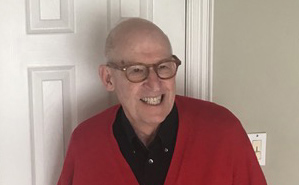 By GERRY POSNER
And then there is Danny Finkleman. For many of us that grew up in the 50s and 60s – when we think of the 1970s and 80s the name Dan Finkleman comes to mind as someone who carved out a career stemming from his curiosity and interest in music. I know – as I was with him for a chunk of his journey.
Dan Finkleman was a product of the South End – 359 Niagara Street to be precise, the son of Sid (of Finkleman Optometrists, if you can go back that far) and Dorothy Finkleman, and brother to another well known ex-Winnipegger: Ken Finkleman.
Dan exuded colour even as a kid and that same personality still reigns today. After Kelvin High School, he graduated from the University of Manitoba law school – more out of an obligation to his parents than anything, since the legal world was never in the deck of cards for Dan.
It was one of those chance moments at a party when a Winnipeg CBC radio producer with whom Dan was acquainted, Heather Robertson, suggested he find interesting people to interview for local radio. He began with the well-known Winnipeg artist Esther Warkov and from that emerged a series of free lance interviews.
Before you could say Danny Finkleman, he had a one-hour show on a different topic every week. A popular national CBC radio show by the name of "Matinee" picked it up and ran segments. That was in late 1968, and soon Finkleman was asked to move to Toronto. It was not long before Finkleman was doing interviews for a show recognized as one of the premier radio shows in the country: " This Country In The Morning " hosted by the late Peter Gzowski. Dan was no longer thinking about torts and contracts.
In the early 1970s Dan had his own time Saturday morning time slot from 10:0 AM to 11:30 with what was called "The Danny Finkleman Show", which contained interviews and other characters whom Dan invited as regular participants. This show had a wide following, although if you were at synagogue that morning, you missed it.
In 1982 Dan joined "Sunday Morning" on CBC, doing short five to seven minute features. Still, with all of that behind him, Dan was only warming up, as he was soon asked to host a regular two-hour Saturday evening radio show on CBC.
Iin 1985 he aired the very first show of what would eventually became a 20-year run. Many readers will no doubt recall that show:" Finkleman's 45's." Dan had a huge listening audience waiting to hear songs from yesteyear, his introductions to those songs, and Dan's signature rants on subjects of every kind, including his profound distaste for email!
In radioland, 20 years is an eternity. It is hard to fathom just how successful this show was, but one clue was the huge fan base it acquired, eventually culminating in a Dan Finkleman Fan Club – which still has members to this day.
Still, when Dan gave it up, he was ready to move on. He reinvented himself in a new career that lasted as long as his radio career, becoming a stockbroker at Canaccord Capital in Toronto.
Now, not many people could make that kind of a switch. But what Dan had going for him was his innate curiosity and an interest in the stock market.
He never looked back. Dan retired a few years ago, but not before he introduced one of his three children, Sam Finkleman, into the business. Dan and his wife Kristen have three children and three grandchildren.
The thing about Dan Finkleman is what you see is what you get. He is the same guy he was in Grade 6 hanging around Queenston School – just with a little less hair. He is also the same guy who used to sing in a quartette with Danny Klass, Irving Tessler and me, known as the "Lo- Notes".
He likes to return to his Winnipeg days and roots so that my lunches in Toronto with Dan tend to focus on our glorious past. When Dan read the article on Toppers in the JP&N, he reflected on his own AZA days with Winnipeg 38s and his buddies from the time: Sid Robinovitch, Morley Hollenberg, Charles Smithen, Earl Goodman, Richard Rosenblat, Brian Rosner, Lenny Steingarten, Danny Klass, Fred Wintrobe, Ken Arenson and Gerry Schwartz.
And. when he's not reflecting on his early times in Winnipeg, he is happy to be at home stretched out on his La-Z-Boy – dog at his side. But of course, if you listened to "Finkleman's 45's" you already knew that fact about Dan Finkleman. He was – and remains a true Winnipeg personality.