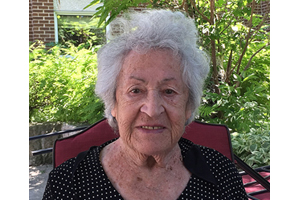 By MYRON LOVE
On June 20, Rita Chabelski celebrated her 100th birthday. To commemorate the momentous occasion, the members of Faith Temple, a Christian Zionist congregation in Winnipeg led by Pastor Rudy Fidel, raised more than $1,000 from church members to help support Emunah Women Israel's Maayan Rivka Goldene Age Restaurant in Petach Tikva.
The restaurant provides social engagement opportunities for elderly individuals – many of whom came to Israel as refugees and Holocaust survivors – who are often widowed and isolated, with no family or loved ones to care for them. The program was set-up as a "Restaurant"- instead of a "Soup Kitchen," specifically to assure a level of independence and dignity for the participants. If they are able to, diners pay a token cost for their meals and any social activity in which they participate– a policy which allows for a sense of independence and pride among the seniors.
Some readers may remember Rita Chabelski by another name. For most of her more than 35 years as the balabus at the Chesed Shel Emes, our community's non-profit Jewish funeral chapel, she was known as Rita Eryk. Her successor and current executive director, Rena Boroditsky, remembers her as very well-organized and a meticulous office manager.
As with so many Holocaust survivors who came to Winnipeg after the war, Rita Chabelski's life story began in Warsaw. Her daughter, Lucy Manusovich Lipari, relates that her mother walked out of the Warsaw Ghetto with a friend in 1940 – at the urging of her mother and sister, heading east. Rita walked over 1,000 miles, eventually coming to Siberia, where she spent the last couple of years of the war in a labour camp.
"She never talked much about the war," says Lipari. "She probably wanted to forget."
After the war, an organization helping refugees sent her back to Poland, where she met her first husband (and Lucy Lipari's father), Jacob Manusovich. Finding no other family members still alive in Poland, the couple moved on to Germany and Duppel Centre, the largest displaced persons camp in the American Zone in Berlin. That was where their daughter was born.
The family came to Winnipeg in 1948. Both Jacob and Rita had family already here. Rita's cousins were the Perlovs – also Holocaust survivors – while Jacob's relatives were the Warkov and Tauber Families.
The family arrived here in December. Lucy Lipari recalls her mother commenting that the temperature in Halifax when they got off the boat felt colder than Siberia.
Rita and Jacob struggled for the first few years in Winnipeg until they were hired to work at the Chesed Shel Emes some time in the 1950s. "We lived upstairs while I was growing up," Lipari recounts. "When I was old enough to start dating, we moved to Garden City."
Jacob died in 1968 at the age of 61. "He suffered from rheumatoid arthritis, a result of what he went through in the war," Lucy says.
Rita became Mrs. Eryk (the name by which I first knew her) after marrying a fellow by the name of Boris Eryk. That marriage was short-lived – ending in divorce.
In 1983, she married for the third time. Michael Chabelski was also from Poland. For many years, he operated a small coin and stamp store on Donald next to the Metropolitan theatre. From what Lucy Lipari describes, they had a happy marriage. She travelled quite a bit after she retired from the Chesed in the mid-1990s.
After Michael's passing in 2003, Rita remained in their home on Rupertsland Blvd. Lipari and family moved Rita to the Middlechurch Home ten years ago.
"We tried to move her to the Simkin Centre," Lipari says, "but she wanted to stay where she was. She is comfortable at Middle-church. A number of the staff speak Polish and her Polish now is better than her English."
Rudy and Gina Fidel got to know Rita and Michael Chabelski through mutual friends and have stayed in touch with Rita. The Fidels have led numerous trips to Israel over the years. In 2003, Rita went with them to Israel.
"That was the first time that she had been to Israel," Rudy says. "Rita was the most active person in our group. She wanted to see everything."
Lucy notes that her own search of the Yad Vashem website about 15 years ago found one of her mother's cousins living in California. "She last saw this cousin in 1939," Lucy notes.
"My mother loved to walk. She walked everywhere.
"She also liked trying new recipes."
Lipari herself left Winnipeg after high school for Harvard and New York University. About 25 years ago, she and her husband Rick, moved to Florida.
Until recently, Rita would spend every winter with her daughter and family, and Lucy and Rick would visit Rita in Winnipeg in the summers. Because of Covid restrictions, the family is unable to be with Rita to celebrate her 100th birthday but, Lipari notes, Middlechurch staff arranged for mother and daughter to spend some face time on line on mother's day.
And Rudy and Gina Fidel were scheduled to pay Rita a visit the day before her birthday.