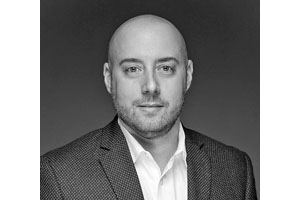 By MYRON LOVE With over 20 years experience working in real estate, Jordan Farber has gained a wealth of experience in all aspects of real estate development – expertise that he is now in a position to share widely.
Through his newly formed Farber Real Estate Group, Farber works collaboratively with large-scale and boutique developers as well as real estate investors to evaluate project feasibility through competitor and market condition analysis combined with financial modeling based on years of working in real estate finance.
"We provide expertise and guidance based on my many years of experience in the business," he explains. "In essence, not only do we provide a second set of eyes in determining a project's viability, but we also assist in getting projects off the ground."
The son of John and Terri Lee Farber and grandson of the late Gene and Fritzi Telpner, Jordan is a graduate of the Asper School of Business. After completing his MBA, he joined Qualico, one of the largest fully-integrated real estate developers in North America.
"I spent my first few months with Qualico on job sites picking up garbage and sweeping out basements and garages," he recalls. "It certainly was not the most glamourous work, but it did allow me to learn the business from the ground up."
Over the course of 11 years at Qualico, he gained experience in sales, purchasing and customer service, culminating in a leadership role in Qualico's Finance Department, where he helped raise over $500-million in capital.
"I am very fortunate to have had the opportunity to learn from some of the best and the brightest people in the industry," he says.
He left Qualico to become the head of Palliser Furniture's real estate division. Palliser, one of Canada's largest furniture manufacturers, is led by Art DeFehr, whom Farber describes as "a great visionary".
Farber's most recent position was as Vice-President Global Real Estate with 24-7 Intouch – a global customer care and technology company. In that role, he was responsible for global expansion and negotiating leases worldwide. "My travels took me around the world. Negotiating a lease in India or Honduras is quite different from negotiating a traditional lease in North America. It was a great learning experience." he notes.
"I had always planned to start my own company, but wanted to make sure that I had all of the skills and experience in place to do it right," he says. "I envisioned leveraging the tools that I have acquired over the years to help others who may not have the experience themselves. I believe I can add value by providing candid yet constructive feedback in assessing the feasibility of new projects but also able to assist in the acquisition of existing ones."
In Winnipeg, Farber is certainly well known both in the real estate and in the wider community through his many years of volunteer leadership. He was one of the co-founders of the Future Leaders of Manitoba program in 2007 – and has remained active in the organization. He has recently completed terms on both the boards of the Main Street Project and B'nai Brith Canada. Farber also continues to mentor a number of MBA students from the Asper School of Business.
"I am open to new volunteer opportunities," he notes. "Although Heather and I are expecting our second child in July, so finding free time may be a bit of a challenge. Our daughter Annie is turning 3 next month."
"I have always had a strong belief in the importance of volunteering," he says. "My parents and my grandparents taught me that at a very young age."
He points out that philanthropy is its own reward – it's the right thing to do – but it has also helped Farber build many connections in the business community.
"As I often convey to the students I am mentoring, the connections you make through volunteering can lead to lifelong friends as well as important business contacts," he observes.
While Farber Real Estate Group is still in its early stages, Farber is pleased to report that the response has been quite positive. "I am very encouraged by the initial response," he comments. "In addition to Winnipeg, I have already received inquiries from real estate developers in Toronto, Vancouver and elsewhere asking for assistance and guidance." Readers who may want to get in touch with Farber Real Estate Group can contact Jordan Farber at jfarber@farberrealestategroup.com.