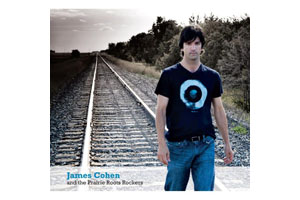 By MYRON LOVE (This story first appeared in the Oct. 31, 2018 issue of The Jewish Post & News. It's been updated to include a link to a new video for the critically acclaimed single, "Dreaming My Life Away", by Winnipeg's James Cohen and the Prairie Roots Rockers. You can watch that video here: "Dreaming My Life Away" – YouTube)
James Cohen was 11 years old when his parents first signed him up for guitar lessons.
"After a few years, I really started to enjoy the guitar," the President and CEO of Gendis Inc. recalls. "I played in garage bands in high school and then, after finishing university, I was accepted into the Guitar Institute of Technology in Hollywood.
"Over the more than two years that I was at the school, I learned a lot about music and song-writing. I really wanted to pursue it."
Cohen however had a higher call to answer. Although he was not pressured to do so, he moved back to Winnipeg to follow in the footsteps of his late father, Albert Cohen, who, with his father, Alexander, and his five brothers, founded General Distributors (later to become Gendis Inc), the company that brought Sony products to Canada and at one time operated SAAN Stores and other retail chains across the country.
Thus, in 1990, the younger Cohen returned to Winnipeg to take up the family heritage. He started at the bottom – in retail sales in one of the Winnipeg SAAN stores – and, over 20 years, worked his way up to the top of the Gendis corporate ladder.
While the corporation was forced to sell its retail stores nearly 15 years ago due to the changing nature of retail, Gendis is still active, Cohen reports, in the real estate, energy and agri-business fields.
And, although his "day job" is as a corporate leader, Cohen has at the same time, been able to pursue a second career as a rock musician and song writer these last many years.
"I never stopped performing and writing music," he says.
Cohen is the lead guitar player and singer in the eponymous band James Cohen and the Prairie Roots Rockers (which also includes Lloyd Peterson – also on guitar, bass player Bruce Jacobs, drummer Steve Martens and Gerry Atwell on keyboard).
"They are among the best musicians in this region," Cohen says of his bandmates.
"We don't play hard rock," he points out, noting that among his musical influences are the late Tom Petty and John Mellencamp. "We play straight ahead classic rock."
Now the measure of success in the music business is not what it used to be, Cohen observes. It used to be that aspiring musicians and bands would try to get a record deal with a major label and get air play on radio.
But no one's buying records anymore.
These days, it's about live performances, downloading and placement in movies and television.
"We have had some successes," he says. "We put out an album in 2011 on a Warner Music Canada affiliate called Soccermom Records. One of our songs, So Long Sweet Deception spent a total of 16 weeks in the Top 50 nationally on the Mediabase Canadian Active Rock Top 100 Chart, peaking at #32 in 2012. We also have had four singles chart including our newest single 10,000 Lifetimes which was released in the fall of 2015."
The Rockers also had These Long Nights, from the 2011 debut album, picked up for use in the movie soundtrack of Gone Tomorrow, a film that went almost straight to DVD.
James Cohen recently signed a contract with Americana Music Publishing Inc. whereby he extended rights for 34 of his original songs for commercial use.
"We are looking forward to getting back into the studio soon to do some more recording," he reports.
James Cohen's love of music extends beyond just rock and roll. He notes that he and his wife, Linda, are involved in many community organizations. James is the current Chair of the Manitoba Museum Board of Governors, a past board chair of the RWB and is also on the board of the WSO among other community endeavours.
"We support many worthy causes," he says.
And, in addition to carrying on the family business and his passion for music, Cohen is an avid hockey player.
"I played hockey for many years in the Maccabia League winning a few championships along the way," he says.
At 52, he continues to play hockey weekly at the Highlander.
"I like to think that I have a well-rounded life," he says.
Added October 6, 2020: With reference to the song, "Dreaming my Life Away", Cohen says the song is part of a group of songs on a 2011 album titled  "James Cohen and the Prairie Roots Rockers".


"The origins of these songs go back several years,"  Cohen says. "The general themes are one of loneliness and isolation which, unfortunately, are sentiments many of us can relate to during these difficult times currently."
 

An alumnus of Hollywood, California's prestigious Guitar Institute of Technology, Cohen and co have performed at Canadian Music Week, the Grey Cup Festival, and more. A forthcoming album in the works, James Cohen and the Prairie Roots Rockers are also set to perform with the Winnipeg Symphony Orchestra in 2021.