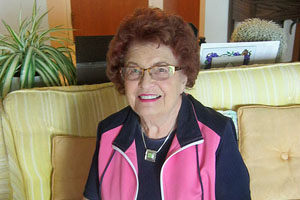 By MYRON LOVE
Freda Glow is proof positive that one is never too old to try something new (health permitting). A few weeks back, the long-time writer and journalist – who is turning 88 in December – embarked on a new venture with "A Blast From The past" – a podcast which can be heard on nostalgia radio station CJNU 93.7 (www.cjnu.ca) on Fridays between 12:30 and 1:00 P.M. as part of Adam Glynn's "Community Café" series.
Freda reports that she has recorded seven episodes so far with 30 more stories ready to go.
In her stories for the podcast, she recalls her memories of significant events throughout her life – including such historic times as the Depression and World War II, the polio epidemic in the 1950s, the space race culminating in the first moon landing, the divisions brought about by the Vietnam War, and the technological revolution.
"It has been a marvel for me to see how the technology in science fiction has now become reality," she comments.
While Glow did some writing of poetry in school, it wasn't until her sons started school and she had some free time that she began to pursue writing as an avocation. She started her writing career with a local publication called the West Kildonan Citizen.
"I initially approached the editor about printing some of my poetry," she recalls. "She suggested that I try writing prose."
For five decades, she reports. She worked as a staff writer for various West Kildonan weekly publications. She also was a contributor to The Jewish Post & News for many years.
"I love writing," she says. "When I become engrossed in writing a story, hours can go buy and I don't notice."
In addition to her writing, Glow has volunteered her time with a plethora of community organizations. "I have belonged to almost every Jewish women's group in the city," she recalls.
She has also been a member of the Gwen Secter Creative Living Centre at Syd Glow Place ( so named in honour of her late husband) for more than 10 years. Her participation has included writing some plays that have been performed by Gwen Secter members (including herself).
She notes that she was scheduled to receive a Jewish Federation of Winnipeg Shem Tov Award for her volunteer activities at the spring Koved Evening, which was cancelled due to Covid.
"A Blast From the Past" is based on stories that she wrote five years ago for her own enjoyment. She began working on the podcasts a couple of months ago with the assistance of producer Grant Simpson.
"Grant came here from the Yukon," she notes. "He has been putting on vaudeville shows for 40 years. He helped me with the technical side. He came over a couple of times and we recorded several hours worth of stories."
This writer listened to her first podcast – a well written collection of memories from her childhood in the Depression – about the anticipation and excitement of getting a new dress once a year and having her mother invite a hobo in for a meal.
"I tend to act at times while reading the stories," she says. "Because I am seeing things during the Depression through the eyes of the child I was, for example, I read those stories using a little girl's voice.
"I also try to give each of my stories a little twist at the end,
"People whom I know have been telling me that they have really enjoyed my podcasts."
(The podcasts can also be heard online at www.fredaglow.com.)
"I never thought that I would be one of those old people," she observes. "Being in your 80s makes a really big difference. But I am gratified that I am still here and that I am still curious about things of interest. Curiosity really keeps you going. I still like interviewing people and making new friends."
And Glow's podcasts are not her last hurrah either. She is also organizing her stories with the aim of eventually putting together a book.