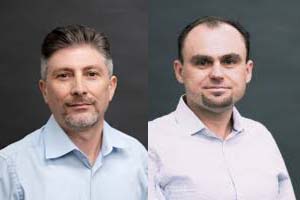 Ed. note: A while back I was put in touch with a university student by the name of Jon Van Deer Veen who told me that he would like to gain some experience working for The Jewish Post & News over the summer before returning to school.
Jon explained that he had spent last summer in Israel on a program known as MASA which, according to the MASA Israel Journey website, "is the leader in immersive international experiences in Israel for young adults (18-30)."
I asked Jon whether he'd consider writing about local businesspeople who belong to the Jewish Business Network (an organization I helped to start, along with Tamar Barr of the Rady JCC, five years ago). Jon said he'd be glad to take on the project and will be writing a continuing series for us over the coming months.
Here is the first of his submissions:
By JON VAN DEER VEEN
To get an insight into the economic impact of the Covid-19 shutdown, we have reached out to many businesses to get their stories. One of the first interviews on the subject was with Alex Rubanny, the Vice-President of Planning and Engineering at Iris Construction Management. 
Iris Construction Management was founded by two Israelis, Dmitry Kruglik and Alex Rubanny, who emigrated to Canada to begin a new life. Both of them had been successful structural and mechanical engineers in Israel. They have over 30 years of combined experience in the industry, which means they bring a level of in-depth professional knowledge to their company, not always found among executives. Having "cut their teeth" in the extremely competitive environment of the Israeli construction industry, they dedicate themselves to cost savings and franchise optimization. Naturally, I was very excited when Alex agreed to an interview with me because his focus on economic efficiency is a valuable lesson for struggling businesses to hear during the current quarantine in which thousands of companies have been forcibly closed, many never to reopen. 
Our conversation began by us discussing how Covid-19 has affected his business and his clients. Alex was very upfront with me and said companies that are his usual clients are struggling. According to Alex, besides the industries which have been entirely shut down, those businesses which remain partially open are experiencing severe cash flow problems and do not have the cash reserves to sustain themselves.
A JP Morgan study backs his claims, noting that less than one-half of all small businesses maintain a cash reserve equal to one month's expenses. So, in an attempt to stay open many companies such as restaurants have shifted their business models, and now focus on delivery services. However, Alex doesn't think that will be enough for many restaurants to survive.
He emphatically stated: "Every month they are losing income, every month the restaurants stay shut down will take one year of recovery, EVERY MONTH, so if they are shut down for three months that means they will probably need three years of recovery from Covid." This was a shocking statement to hear, but it made sense once he explained it. 
Restaurants and many other service sector businesses struggle to get by in the most normal of times and operate on extremely tight margins. Moreover, many companies have high overhead operating costs which don't go away even if their customers do; electricity, heat, and rent are ever-present expenses, as well as the salaries and material costs that are necessary to continue operating.
I then pressed him further on operating expenses and asked how the global pandemic and quarantine surrounding Covid-19 has disrupted the supply chains across the planet that many people and businesses rely upon. His response again was not great news to hear for local store owners: "Oh yeah, definitely. Some of the equipment suppliers have shut down their businesses, and some have reduced volume, and we are facing serious delays with equipment these days, so we are searching for new suppliers."
However, what he said next might give some hope for small business owners as he talked about overhead costs. "Different times bring opportunities for small businesses and small suppliers who have maybe fewer people; they could be more cost-effective because they have fewer employees and less volume so these days their prices are becoming more cost-effective for us."
Alex continued to explain that before, he and Dmitry used to work with big suppliers to ensure equipment deliveries were on time, and that they had a large variety of products to choose from, but these days they are moving into smaller business models and letting small businesses provide them with services, regardless of the lower quality warranties and customer service. Essentially, businesses that don't require thousands of overseas offices and large warehouses full of products, but instead supply you directly from the manufacturer, can survive because they lack the large expenses of other companies and, as a result, aren't nearly as leveraged through the purchase of what are now useless assets waiting in storage. 
Not knowing too much about the construction management industry, I asked Alex how his company can save money for his clients, and he laid it out plainly: "We are an outsourcing company, so we get paid by the project – not as if we had a construction manager for our company where we would pay his salary if we had a project or not; you're still paying a salary to an accountant, money for the researchers, and stuff like that."
He continued: "In-house construction managers hire general contractors who would add a cost on top of every item they supply, like fryers, grills, exhaust hoses and every material.
"We are working differently; we are sourcing from specific contractors, not general contractors, and then we are able to save on the general contractor profit, and we are able to save on the profit they put on the equipment because we are the sole supplier for the entire operation. So, when you come to us, and you need architects, engineers, having to apply for permits, or supervisors, you get everything in one company – everything through one office and therefore you can save on cost because you don't need so many people around."
Alex explained how he has avoided accepting common inefficiencies in the industry in order to reduce costs for his clients. What particularly struck me was how much time wastage there is in so many construction projects and how a general contractor's supply costs could be inflated by 20-30 percent to cover expenses that can be incurred while not actively working on a project, such as in winter. 
To finish off our discussion, I asked Alex his thoughts on reopening, and he gave me a mixed response. Iris Construction Management looks forward to reopening because they see it as an opportunity to display their cost-saving techniques, but Alex realizes that for many businesses, it will take a long time to recoup the losses incurred from the Covid-19 quarantines and many more will never reopen.