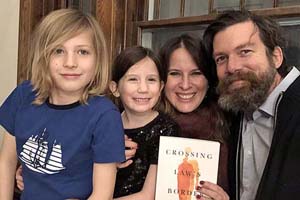 By MYRON LOVE
In launching her first book, "Crossing Law's Border: Canada's Refugee Resettlement Program", at McNally Robinson earlier this year, Shauna Labman took a somewhat different approach to this particular book launch. Rather than just reading an excerpt from the book, she invited one of her former students and one current student as well as the executive director of the Immigrant and Refugee Community Organization of Manitoba Inc. (IRCOM) – all of whom came to Canada as refugees – to share their stories.
"We had a huge crowd for the launch," Labman recalls. "I wanted to provide some personal perspectives."
She adds that the book, which examines the intersection of international rights, responsibility and obligation in the absence of a legal scheme for refugee resettlement, was ranked by The Hill Times as among the best 100 Canadian non-fiction books for 2019 and reached second place on McNally's best-seller list under paperback non-fiction for the week of January 12-22 following the book launch.
"The book has received a great response," she says. "Crossing Law's Border" is raising awareness of who refugees are, why it's important to protect them, and the different ways that refugees seek protection through resettlement and asylum.
"The book has been of particular interest to those working with and sponsoring refugees in Canada as well as Canadian officials overseas working on resettlement."
The author has devoted most of her working life to the twin causes of human rights and refugees. This writer previously profiled her in the pages of this newspaper about ten years ago. At that time, she had recently returned to Winnipeg after 15 eventful years away.
The Ramah School and Balmoral Hall graduate and eldest daughter of Cyril and Jean Labman left Winnipeg right after high school for UBC and, later, the University of Victoria. While studying law at the University of Victoria, Labman was exposed through a co-operative law program to the work of the now defunct Law Commission of Canada which dealt with issues such as the Residential Schools cases, same sex marriage, workers' rights and human rights and discrimination.
After graduation, she began her legal career at the Federal Court of Appeal, working on issues ranging from immigration to tax and patent law. "I soon realized," she said in that earlier interview, "that I wasn't interested in working in a traditional law practice. I had done some work in Ottawa with refugees. So I applied to the United Nations and I was posted to India for a six-month consultancy with the United Nations High Commissioner for Refugees (UNHCR)."
Her work with UNHCR involved conducting refugee status determinations of Burmese asylum seekers and preparing resettlement referrals for Afghan refugees. Labman was struck by the reality that most refugees never make it to countries such as Canada, which might be willing to offer permanent protection, and instead remain in protracted states of limbo.
Following a stint at the Canadian Embassy in Beijing where she gained an appreciation of Canadian diplomacy and policy considerations, she returned to Canada with a clear cause and career goal. Using the academic avenues open to her, she began exploring how the voluntary programs of government resettlement and private sponsorship operate alongside of Canada's obligations in international law to refugees who claim asylum. Her research examines, analyzes, and ultimately advocates for the protection needs of the refugees she left behind in India, as well as those of other refugees who wait patiently, but powerlessly, around the world.
Labman reports that "Crossing Law's Border: Canada's Refugee Resettlement Program" grew out of her Ph.D. thesis, which she completed in 2013. The focus of the future book, however, changed considerably after the Trudeau Government introduced its Syrian refugee resettlement program in 2015, she notes.
"My work," she points out, "is bookended by the resettlement of Indochinese refugees in the 1970s and the recent Syrian arrivals.
"While both moments were driven by a humanitarian impulse to help unknown refugees, in the intervening years much of the private sponsorship program has involved family reunifications."
Labman notes that most private sponsorships over the past few years have involved family re-unifications. Private sponsors voluntarily accept financial responsibility for the care and integration of the refugees that they adopt.
She adds that her family and several friends in their Wolseley neighbourhood have privately sponsored a family from Colombia.
Labman is concerned about the Federal Government's shift in refuge policy more to private sponsorships in recent years. It used to be, she says, that government took responsibility for two-thirds of refugee sponsorship with private sponsors the remaining third. Currently, private sponsors account for two-thirds of refugees coming to Canada.
"There is a danger in becoming overly reliant on individual Canadians," she as-serts."
She also writes and advocates for the suspension of the Safe Third Country Agreement between Canada and the United States, under which refugees must claim asylum in the first country they reach. Labman argues the United States is not a safe country for refugees.
Labman is greatly concerned about the effects of the ongoing Covid-19 pandemic for refugees. "There is a lot more uncertainty and disappointment," she says. "Many refugees have been waiting a long time already to be re-united with family in Canada. But our borders are closed."
For refugees already recently arrived in Canada, she points out, the lockdown only adds heightened challenges as they adapt to a new country.
And Labman is wondering what Canadian refugee policy will look like after the pandemic is over. "Will a financially-strapped government be willing to bring in thousands of refugees from all over the world?" she asks. "Will private sponsors have the financial means and ability to support refugee families?"
About a year ago, Labman shifted from teaching law at the University of Manitoba to taking up the position of Associate Professor of Human Rights at the University of Winnipeg's Global College. "The position encourages greater community engagement and I get to work with students from a broader range of backgrounds and perspectives while spending all my time talking about refugees, international law and human rights."
With a young family – her son, Hugo, is eight and her daughter, Yael, is five – the move also lessened her commute and allows her to bike and walk to work until she, like many others, moved to working from home in March.
She continues to works closely with the Immigrant and Refugee Community Organization of Manitoba and currently sits on their Board of Directors.
Labman reports that she will have a second book coming out in August – "Strangers to Neighbours: Refugee Sponsorship in Context" – this one a b edited collection that offers the first dedicated study of refugee sponsorship policy. She notes that one of the chapters is being written by Madison Pearlman (who, this writer profiled in the December 7, 2016, issue of the JP&N).
As Labman's research assistant at Robson Hall, the two women co-authored an article on refugee sponsorship and now, as a newly-minted young lawyer, Pearlman is contributing a chapter on Operation Ezra, our Jewish community's successful effort to sponsor more than 50 Yazidi refugees and reunite them with family here.