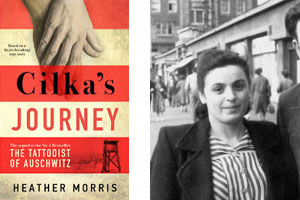 Cilka's Journey"
by Heather Morris
(St. Martin's Press 343 pg.)
Reviewed by MARTIN ZEILIG
Right at the beginning of "Cilka's Journey", author Heather Morris states that the novel "weaves together facts and reportage with the experiences of women survivors" of the Holocaust and the experiences of women sent to the Soviet Gulag system at the end of the Second World War.
It is a novel and does not represent the entire facts of Cilka's life, she acknowledges.
But, what Morris has done is to create a convincing and moving portrait of courage, survival, love and hope under the most terrible of circumstances in the 20th century.
Heather Morris is a native of New Zealand, now residing in Australia. In 2003, she was introduced to an elderly gentleman, Lale Sokolov, who "might just have a story worth telling." This led to her first book, "The Tattooist of Auschwitz" —a number 1 New York Times bestseller and #1 international bestseller. It tells the story of a Slovakian Jew who is forcibly transported to the concentration camps at Auschwitz-Birkenau. When his captors discover that he speaks several languages, he is put to work as a Tätowierer (the German word for tattooist), tasked with permanently marking his fellow prisoners.
"Cilka's Journey" is based on the real life of Cecília "Cilka" Klein, a character introduced in "The Tattooist of Auschwitz".
Morris writes that she first learned about Cilka from the "first hand testimony" of Lale Sokolov.
"'She was the bravest person I ever met," Sokolov said to the author. "'Not the bravest girl; the bravest person. She saved my life. She was beautiful, tiny little thing, and she saved my life."
Cilka was just sixteen years old in 1942 when she was shipped in a cattle car with other Jews to Auschwitz-Birkenau, where she was forced to become the commandant's sex slave.
After Auschwitz is liberated by the Soviet Army in January 1945, Cilka is charged as a collaborator by the NKVD (Soviet secret police) for sleeping with the enemy, and because of her role in Block 25 — from where the women used as disposable sex slaves by the Nazis were sent to the gas chambers.
'"Speaking other languages would have us believe you are a spy, here to report back to whoever will buy your information,"' says one of the men interrogating Cilka. "This will be investigated in Krakow."'
"You can expect a long sentence of hard labor," another officer says.
On July 1945, Cilka, along with many other women prisoners, is herded into a closed straw lined railway wagon on a train bound for Vorkuta Gulag, Siberia, 160 kilometres north of the Arctic Circle.
Cilka had been sentenced to 15 years imprisonment, although in the end she is released after 10 years.
In Siberia, Cilka faces challenges both new and terribly recognizable, including the unwanted attention of the guards. But, when she meets a kind female doctor, Cilka is taken under her wing and begins to tend to the ill in the camp, struggling to care for them under brutal conditions.
Confronting death and terror daily, Cilka discovers a strength she never knew she had.
When she begins to tentatively form bonds and relationships in this harsh, new reality, Cilka finds that despite everything that has happened to her, there is, as is stated, "room in her heart for love."
At various points throughout the novel, Cilka silently recalls her past both in Auschwitz and during happier times at home in Bardejov, Czechoslovakia with her parents. The author writes those flashback passages in italics. This is an interesting and useful literary technique.
Kudos also must be given to Morris for including two important sections at the end: "Additional Information", written by the author, and an Afterword: "Vorkuta—the White Hell", by historian/writer/journalist Owen Matthews.
The reader learns that upon release Cilka was sent to either Ryzyne or Pankrac Prison in Prague before eventually returning to Czechoslovakia.
"Cilka was back home, and life with a man she loved, whom she met in the Gulag, could begin," writes Morris. "Cilka and her husband settled in Kosice, where Cilka lived until her death on July 24, 2004. They never had children, but those who I have met who knew them spoke of their great love for one another."
"Cilka's last sight of the Auschwitz-Birkenau death camp would have been of the wrought-iron sign erected over the gates: Arbeit Macht Frei— 'Work Brings Freedom,'" Matthews writes. "The first thing she would have seen on her arrival in the Soviet Gulag camp at Vorkuta was another sight: 'Work in the USSR is a matter of Honor and Glory.' Another declared that 'With an Iron Fist, We Will Lead Humanity to Happiness.' A taste for sadistic irony was just of the many traits that Nazi Germany and Stalin's USSR shared.
"Reading about the Gulag begins to seem like a story of another planet, too distant for comprehension." Cilka Klein had remarkable strength of character. She was motivated by a will to live and by love.
That was her triumph. It's a lesson for us all.