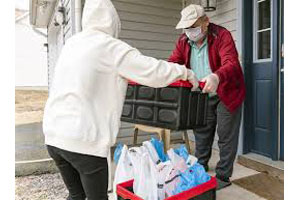 By HARRIS GULKO
The coronavirus causing COVID-19 was confirmed to have reached Canada on January 27, 2020, after an individual who had returned to Toronto from Wuhan, Hubei, China, tested positive. Because seniors are so vulnerable to COVID-19, health officials have asked people 70 years of age and over to self-isolate at home. But, after three months at home, most want to go out into the world again. It is discouraging for seniors to see people of other ages resume activities. They feel excluded. Still, they want to be safe.
Covid-19 is exacerbating loneliness, especially among seniors. But even before the onset of this terrible virus, many older people were experiencing an epidemic of social isolation and depression. One study found that loneliness is as dangerous to one's health as smoking 15 cigarettes a day. It can lead to dementia or Alzheimer's, heart disease, a weakened immune system and a shorter lifespan.
Until now, the loneliness epidemic has been fought with programs like Meals on Wheels, the formation of senior centers, etc. But in the era of COVID-19, Meals on Wheels have barred physical, and thus social, interaction. Many centres where seniors could find assistance and companionship have had to close, forcing older adults to become homebound without the benefit of the socialization they previously enjoyed. This is having a serious physical and mental effect on many of them.
"Older adults are wondering if their lives are going to end shortly for reasons out of their control," said Dr. Linda Fried, dean of the Mailman School of Public Health at Columbia University. "They're wondering if they'll be able to get the care they need. And most profoundly, they're wondering if they are going to be cast out of society."
Especially vulnerable during this pandemic are older adults who have suffered previous trauma. Dr. Gary Kennedy, director of the division of geriatric psychiatry at Montefiore Medical Center in New York City, has seen this happen to several patients, including Holocaust survivors.
As Canadians continue to isolate, many are gaining empathy for the reality seniors face. The deaths of dozens of seniors in Canada from COVID-19 – especially in retirement homes – have been an unfolding horror for anyone who may have doubted how serious the coronavirus pandemic really is.
Dr. Samir Sinha, director of geriatrics at Sinai Health and University Health Network in Toronto, says COVID-19 has shown Canada how much more needs to be done to protect seniors' health and well-being. "Now we're seeing what many of us in the hospitals knew would eventually start happening — people would start dying," he said. But, in addition the risks to physical health, both Sinha and Dr. Theresa Tam, Canada's chief public health officer, note that the protective measures of physical distancing and isolating seniors — who are already at heightened risk of loneliness and feelings of depression — can take a toll on their mental health. "Staying connected has never been more important," Tam said, encouraging Canadians to keep in touch with loved ones through phone or video calls.
Many seniors also don't have people they can rely on to bring essential supplies to their door — and can't afford store delivery services. These are areas that non-profit agencies are trying to address. The federal government has pledged $9 million to the United Way — which funds community-based charitable organizations across the country — to help vulnerable seniors during the COVID-19 pandemic
Prime Minister Trudeau pledged more help for vulnerable Canadians struggling with the coronavirus crisis. The money will fund supports to help seniors self-isolate safely, with a focus on those living in low-income or precarious housing conditions, said United Way spokesperson Anita Khanna. Services will include delivering groceries, picking up and dropping off prescriptions, providing transportation to medical appointments and "friendly-check in phone calls," she said. Seniors can also call 211 in most areas across Canada to access information and support.
The Old Age Security (OAS) program, which provides most Canadians over 65 with a modest pension, is at the top of the list of financial support for seniors. In addition, the federal government offers the Guaranteed Income Supplement (GIS), which can substantially improve the quality of life for low-income seniors
Seniors Minister Deb Schulte said that seniors who qualify for Old Age Security (OAS) will be eligible for a one-time, tax-free payment of $300, and those eligible for the Guaranteed Income Supplement (GIS) will get an extra $200. Those eligible for both will receive $500. Schulte said seniors are facing extra dispensing fees for prescriptions, added costs for grocery delivery services and taxi fees when they might normally take the bus. "It's all small amounts, but it adds up," she said
As COVID-19 continues to sweep through long-term care facilities, Ontario and Quebec are struggling hard to contain outbreaks — while British Columbia and other provinces have managed to keep infections under control. Experts say that's because B.C. took swift, coordinated and decisive actions to stop the transmission of the virus, such as providing adequate protective gear and financially supporting front-line staff to restrict their movement between sites. There have been 111 deaths in long-term care facilities in B.C., including hospitals, compared to more than 2,500 in Quebec and 1,500 in Ontario.
In conclusion, what wearing a mask does and what it does NOT do: Wearing a non-medical mask is a way to cover your mouth and nose to prevent your respiratory droplets from coming into contact with others or landing on surfaces. BUT there is currently no evidence that wearing a mask (whether medical or other types) by healthy persons can prevent the wearer from infection with respiratory viruses, including COVID-19.