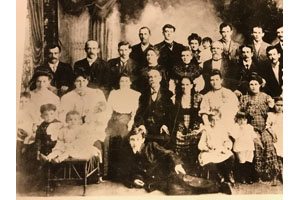 By GERRY POSNER
Many of us who have roots in Canada can trace our origins to Eastern Europe. It does not matter which country our ancestors started from in Europe – the story is the same in one way or another. One venturous soul makes his or her way and gradually, the rest follow, sometimes over a period of years.
And often, for a variety of reasons, one sibling chooses to remain behind in the old country. The contact between those in America and those back in Russia, for example, is not easy, but it exists until it doesn't. War, Communist regimes and ultimately the passage of the older generations usually triggered the end of the letters. With the end of that minimum contact, the names of the family that stayed behind are lost and thus a family relationship is over -unless and until…
Eileen Sever, a former Winnipeg resident living in Los Angeles and a descendant of the Donner family, recently was able to re-establish a family relationship that had been lost for over 115 years. It only happened because of two key parts – a diary and technology. Eileen, whose cousins include Shell relatives in Winnipeg and about whom a story was written in 2019 in the Jewish Post & News, made the happy discovery of a branch in Russia that had almost been forgotten.
The story began long ago and it revolves around Eileen's grandfather, Elisha, and his twin sister, Tanya Donner. The pogroms were in full force and the Donner family decided to move out of Nikolaev in Ukraine. The family was a large one – 17 children, of whom 11 made it into adulthood. Of the 11 children, 10 were ready to leave Ukraine, but Tanya, already married by 1904 and living in what is known as Kherson with children, could not depart with the family. The way Eileen tells it is that, in 1904, her great- grandfather Aaron Donner, the man who had fathered all of these 17 children, went to Kherson to say goodbye to his daughter Tanya and her family. He recorded his trip in his diary – all in Yiddish. That was a good move, genealogically speaking.
Sadly, like so many other families, the details of the Donner (sometimes spelled Doner) family history were not discussed much in the family once they arrived in Canada. The grandparents had died at a time when Eileen and her cousins were too young to inquire about their origins. There were no pictures or letters of the Kherson relatives either. In short, it was as if the family left behind had vanished. This is a story familiar to many Jewish families.
Now, Eileen as it turned out, was well positioned to delve into a genealogical pursuit of her family. In 1998, after retirement, she began a 20 year stint at the Los Angeles Public Library, History and Genealogy Department. As a hobby, she started to collect family history. She recalled seeing the diary of her great-grandfather as a youngster and she wondered whatever had happened to that diary. Well, one of her cousins, former Winnipegger Arthur Donner, had in fact located it and had it translated from Yiddish into readable English. And, there was the story relating to Elisha's sister Tanya left behind in Ukraine and the farewell visit by the great-grandfather, Aaron. Her married name as revealed by the diary was Yablonsky.
It could have ended there. However, a group of people working with Eileen in the Genealogy Department decided to have a DNA test completed for them by Ancestry.com and their results were then uploaded or at least delivered to MyHeritage.com, headquartered in Israel. Eileen was skeptical about this whole process but, lo and behold, it turned out a cousin was discovered in Poland. Eileen still remained dubious, but reluctantly emailed this supposed cousin, asking if the cousin was a Yablonsky. The answer came almost immediately. This supposed Polish relative, whose name, it turned out, was Sasha, was a grandchild of Tanya Yablonsky.
Tanya, though separated from her family in Canada, had still managed to survive – and continue to have children. Ultimately, Tanya had over 200 descendants. Only one person did not make it through the wars, the Gulag and indeed the Russian revolution. The family was spread out through St. Petersburg, Moscow, Kiev, Israel and, as Eileen was to discover: Poland. It turned out that Tanya lived until 1959 and Sasha had memories of sitting on his great-grandmother's lap, listening to her tell him about her father, Aaron Donner. Sasha even provided Eileen with a family tree and, with the facility of Facebook, Eileen was able to connect with various branches of that side of the family. The diary is now being translated into Russian.
What is one to make of this story? To me it is all about the value of keeping a diary and as well, the beauty of DNA testing. There are many critics of the public access to DNA results, but in this case, what can be said for sure, is that the family ties were never "Severed" (sorry, I couldn't resist) – all due to Aaron Donner's diary and DNA.